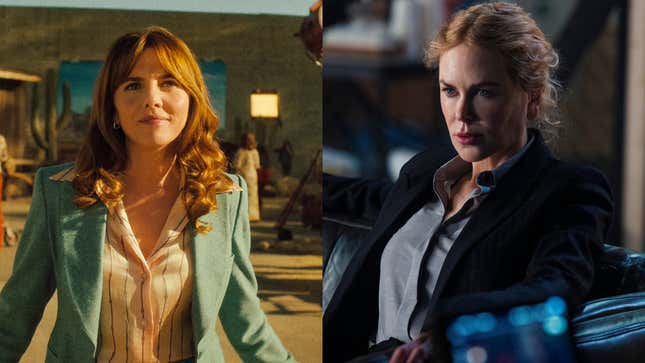 Welcome to the weekend edition of What's On. Here are the big things happening on TV from Friday, July 21, to Sunday, July 23. All times are Eastern. [Note: The weekly What's On will publish on Sundays.]

Nicole Kidman, Javier Bardem reteam for Apple's anmimated Spellbound
---
1. Minx brings the horny brigade back together
Starz, Friday, 9 p.m.: Minx soars to new heights in its second season after being canceled by HBO Max and rescued by Starz. In Ellen Rapoport's provocative comedy about the employees of a women's erotic magazine, Joyce (Ophelia Lovibond) and Doug (Jake Johnson) become famous after finding a new investor, while the rest of their team goes through identity crises. Check out our review of the season and our new interview with Johnson about it.
---
2. Taylor Sheridan can't stop, won't stop with Special Ops: Lioness
Paramount+, Sunday, 3:01 a.m.: Yellowstone's Taylor Sheridan has a fresh drama—and, to everyone's surprise, it's not a prequel with a year in the title. Special Ops: Lioness follows Joe (Zoe Saldaña), a Marine tasked with befriending the daughter of a suspected terrorist being surveilled by the CIA. The spy show also stars Nicole Kidman, Michael Kelly, Morgan Freeman, Dave Annable, and Sam Asghari. And while this one is indeed an original, look for Paramount+'s potential announcement about a Kidman spin-off now that Yellowstone is coming to an end.
---
3. Freeform drops new animated series Praise Petey
Freeform, Friday, 10 p.m.: Annie Murphy's post-Schitt's Creek career continues to expand in interesting ways. After Russian Doll, Kevin Can F**K Himself, and Black Mirror, she leads the voice cast of the animated comedy Praise Petey. Created by SNL's Anna Drezen, the show centers on New York City It girl Petey, whose life comes crashing down when she leans into modernizing her father's small-town cult. John Cho, Christine Baranski, Kiersey Clemens, and Stephen Root co-star. Here's a bit from our review:
Despite this pedigree, Praise Petey isn't destined to go down in the history books. It's the type of show you might put on in the background while doing the dishes or folding laundry, or maybe play on your laptop to unwind before bed.
---
4. Make it a three-movie weekend with They Cloned Tyrone
Netflix, Friday, 3:01 a.m.: The satirical sci-fi comedy They Cloned Tyrone could just be the palate cleanser you need post-Barbie and Oppenheimer. (And this one doesn't require sitting in a theater for seven hours.) The film centers on an unlikely trio hot on the trail of a nefarious government conspiracy. Jamie Foxx, Teyonah Parris, John Boyega, David Alan Grier, and Kiefer Sutherland star.
---
5. Steph Curry tells all
Apple TV+, Friday, 12:01 a.m.: Directed by Peter Nicks, Stephen Curry: Underrated chronicles the four-time NBA champion's rise to becoming one of the country's most influential and dynamic basketball players.