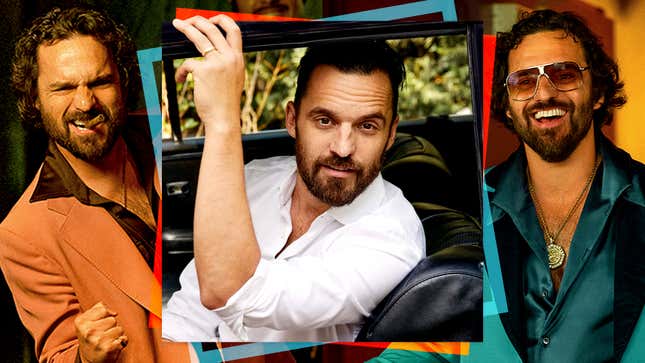 Jake Johnson is shedding his Peter B. Parker spidey suit from Across The Spider-Verse and donning loud '70s looks again because, thankfully, Minx is back. HBO Max's loss is very much Starz's gain in the strong second season of Ellen Rapoport's risqué, charming comedy, which finds publisher Doug Renetti (Johnson) and magazine founder Joyce Prigger (Ophelia Lovibond) in uncharted territory: They're kinda-sorta famous. And Doug, ever the slick and beguiling businessperson, naturally makes rash decisions to keep his top-dog spot in the buzzy company's hierarchy.
Jessica M. Thompson on "The Invitation" and everyone's favorite horror trope
But Minx isn't the only project the New Girl vet has coming in 2023. Johnson makes his directorial debut with the upcoming indie Self-Reliance, which he also wrote and stars in. After premiering at SXSW earlier this year, the film will be released on Hulu this fall. The A.V. Club spoke with the actor in June (before the SAG-AFTRA strike) about finally sitting in the director's chair, why he enjoyed the "very different" second season of Minx, his beloved coming-of-age films, and his deeply relatable love for television. (And yes, we follow up on whether he finally worked with Oscar Isaac on Spider-Verse.)
---
The A.V. Club: Let's start by talking about the journey of Minx being canceled by Max and rescued by Starz in such a short period of time. Was it a relief to know season two will still air since you were almost done filming it?

Jake Johnson: Of course. Although for us, it was a bit different. We were shooting the final episode when we found out HBO Max dropped Minx. We then got word pretty quickly from our studio that three other streamers were already currently bidding on it, and that the negotiations were going to take a while, so not to announce it. So what was really heartwarming was the reaction from critics and fans. It started with the former but then there would be a fun tweet from a viewer like, "I'll burn the town down," or something. But we already knew we would land somewhere. I tried to make a cryptic post with a "more to come," but if anything, when you make things, you never know if it'll connect with an audience. When people care, it feels ten times better. So it turned out to be a gift from HBO Max because it connected us more to our base.
AVC: What did you enjoy getting to do more of as Doug evolved in season two?
JJ: I love playing Doug Renetti. He's fun and flashy. I genuinely think he's a good businessperson. That's what I focus on apart from his flaws. What I liked about season two is he's put in a corner a little bit. He gets cut down, but like a true cockroach, it's hard to kill him. What I also love about Doug is he keeps pushing, angling, and won't quit. [Series creator] Ellen, writer Ben Karlin, and the whole team listened to the audience. They'd pick up on the little things people would say. Some showrunners double down on their own genius, saying "The audience will catch up to me." What I respect is they said, "Let's meet them somewhere or explore this more." In shooting it, it felt very different because it feels bigger. It's a heightened version of season one.
AVC: It does feel like Doug is more desperate to hold on to his position of power but is failing. Why do you think he's losing out compared to Joyce?
JJ: He was the boss. He's hired everyone, but he gave away Minx at the end of season one. I think he sees it's a blunder, and in season two, he has to pay the price for it. And that price is she has 51 percent of the control. There are episodes coming up where you see she is able to flex and Doug doesn't have the same control. Forty-nine percent is not good enough. When he gave it away, he had zero, so he's happy with the 49 initially. But that is a cancer that slowly eats away at them.
AVC: How does all of this affect Doug's romantic relationship with Tina [Idara Victor]?
JJ: The Doug and Tina stuff in season two was shocking for me as a non-writing actor on Minx. They went in a way I didn't think they would. I'm curious how they'll proceed. With certain shows, with each season you think, "Maybe there'll be more, or maybe not." In this case, I don't see how we don't continue in some way. If Starz doesn't pick it up for season three, I personally need Ellen to write a short story to wrap up their arc because I went, "Now what?" They were bold and made big moves. Season two doesn't end with a "business as usual" vibe with them, or with anyone.
AVC: You said last year that in season one, episode eight is your favorite, when Doug and Joyce go on The Dick Cavett Show. Do you have a favorite episode in season two?  
JJ: I do. It's the fourth one, "Life, Liberty, And The Pursuit Of Sexiness." It's directed by Anna Borden, and it's when Doug and Bambi [Jessica Lowe] have a secret project. It's what Doug wants to do with Minx next; it's his path on it. They present it to [new magazine investor] Constance [Elizabeth Perkins] and Joyce. You get to see how Doug would move forward with the magazine. It's pivotal because it's ridiculous and funny, but it ends up showing who has the power now.
AVC: The second episode features Doug and Joyce scrambling to premiere Deep Throat, a porno from the '70s, on the big screen. This is a bit of a weird transition but speaking of groundbreaking movies, are there any particular films that spoke to you when you were younger? 
JJ: When I was a little boy, I remember seeing E.T., and my brain exploded. It was the first time I cried in a theater. I loved it. I wanted to be Michael. It was the first time I saw a movie and I just got it. In my early high school years, a friend showed me Wes Anderson's Bottle Rocket and Rushmore (co-written by Anderson and Owen Wilson) back-to-back. I thought, "Whoa, that's incredibly funny, interesting, weird, and it's got a story." That's the tone I wanted to live in forever.
AVC: Do you feel like those movies made you want to pursue comedy and acting?
JJ: Yeah, definitely. A movie like Bottle Rocket, if that wasn't made, I never would've made my movie, Self-Reliance. Acting depends on each part. Minx for me is obviously Boogie Nights. New Girl was Cheers and other sitcoms. Each job will have something unique. But for me, when I watched Bottle Rocket, it was what I believed an indie should be. It's why I'm interested in indies more than a big-budget blockbuster or massive romantic comedy. The idea of an under $10 million movie, and Self-Reliance was $5 million, with a weird tone that finds its audience is very exciting to me.
AVC: What made you decide to go behind the camera for Self-Reliance after writing other films like Win It All and Ride The Eagle?

JJ: I knew from the beginning. Self-Reliance has a wilder tone. It's comedic, there's an adventure, there's a love story, and it's a thriller. It's all in 90 minutes. It's meant to be manic. I want you to be scared when you're scared, but I also want you to laugh when you're scared. I think it's okay if two people have different reactions as long as you've enjoyed the ride. I didn't want to debate with another director about the tone, which was so clear to me. The beauty of making a movie with a $5 million budget is that we sold to Hulu. They're releasing it on September 8. They came in aggressively after our South By Southwest premiere. They bought it, and it was theirs. From that moment on, we don't need to have everybody in the whole world watch it and love it. We just have to justify that purchase in this movie world. In terms of direction, I didn't want anyone to cheapen it by saying "Let's open it up for more people to like it." I'm okay with the movie finding its right audience.
AVC: I love that approach so much. Since you were clear on the tone, what was it like to also act and direct yourself in it? Was it weird?
JJ: It was weird and absolutely wild. But it was really cool because of the people in it. I worked with Anna Kendrick again after Drinking Buddies. She was a true professional. She was about to start her own directing journey so she felt like a real partner-in-crime. Andy Samberg came in to shoot a couple of scenes; he also produced it and gave notes. He was really helpful. We have people like GaTa, Christopher Lloyd, Eric Edelstein, and Jeff Kober, who played the landlord in New Girl.
I was able to mix in some new faces and blood along with the people I've worked with. Biff Wiff plays my character's best friend and just crushes it. It was a nice mix of different levels of experience and energy for me. When I did New Girl, I pitched the whole Nick and Tran [Ralph Ahn] relationship to creator Liz Meriweather, about how Nick meets this older man, and they become friends. It was nice to do a version of that with Biff Wiff and not be pitching it, and just say, "This is it." Liz was a different beast in that if she liked an idea, she'd say yes. But in a lot of movies, directors say no because you're hired just to act.
AVC: How did you prep for taking on this new challenge? Did you have conversations with some of the people you've worked with in the past?
JJ: I did. I reached out to most directors I had worked with and had a lot of sit-downs with them. Same with writers. I would send them the script to get their thoughts. It's nice to be in L.A. and have a community of talented people. You just have to buy them lunch to get tips. [Laughs.]
AVC: You've said before you got the idea for Self-Reliance years ago, but you ended up writing it during the pandemic. How did working on it in isolation change or affect the original idea?
JJ: It pushed the loneliness aspect to the forefront. The premise is that my character, Tommy Walcott, goes on a dark web-hunting game. He has 30 days to survive. It's loosely based on a Japanese reality show [Susunu! Denpa Shōnen] about a contestant who won prizes after being placed in extreme situations. In order to live, he was locked in an apartment. He had a mental breakdown. He hated it. It was dark, but it was massively popular. It blew my mind. So that was what I wanted it to evoke. And then during the pandemic, it really molded into a story about missing people and the importance of listening to yourself, especially with how divided everyone was getting. I thought, "It's really important to trust yourself and follow your own way." And man, I missed people. So those themes got heightened here that might not have before.
AVC: Do you think you'll direct again?
JJ: I hope so. I don't know. I enjoyed doing it for an indie movie, but I really love television so much. My real love is TV. I love it when characters become like those from a novel that you can keep revisiting. I like working with the same people and the rhythm it brings. So possibly, but I would love to do TV, so maybe I could direct a pilot even if I don't write it. I have always loved it in a way that's so different.
AVC: Obviously I can relate.
JJ: [Laughs] Right? It's just that good. And there's so much of it.
AVC: Sorry to switch to a movie now, but I wanted to ask about Across The Spider-Verse. What was it like to play Peter B. Parker this time as a doting dad?
JJ: It was different. Honestly, with voice acting, you have to follow the director and producer's lead. I try not to form my opinion or judgment of the stuff. I don't see the whole animation until everybody else does. It's not like a movie where I'm on set and I think, "This feels right or wrong." Obviously, the movie is incredible and those guys are wildly talented. I loved this version of Peter.
Although in the next one, I'd like to see Peter B. Parker remind people that he can kick some ass. In the first film, what's interesting is he's a reluctant hero. He's Spider-Man as we know him; he's wise-cracking. Then he got a bit older and fatter, and he doesn't want to be a hero. Who would want to if you're balding? [Laughs] But in meeting Miles Morales, he has to. Miles brings up for Peter how the next generation is excellent. And now Peter has a kid. It inspires him to do something meaningful in the world. So I'm hoping that wakes him up in the next film and reminds him he's Spider-Man, and he kicks ass, you know?
AVC: Something that blew up online after our Random Roles interview last year is when you said you wanted to work with Oscar Isaac. He voices Miguel O'Hara in Across The Spider-Verse. Your characters share a few scenes, but did you finally get to work with him?
JJ: No, we didn't get to work together sadly because it was all voice acting separately. It was anticlimactic.
AVC: It's a big year for you with Minx, Spider-Verse, and Self-Reliance. But what else are you excited about?
JJ: My buddy Gareth Reynolds has been on this podcast, The Dollop, for years. He pitched me an idea to do one together. I've never been overly interested in podcasts because it's an oversaturated market. So I've always thought, "Ah, who cares." But we did record for fun. We're making a podcast independently, not with a studio. We're mostly doing it because we've been friends for so long. He lives in Ojai now so we don't see each other as much. But we are doing a Dear Abby-like call-in show. [Laughs] Don't worry, it's not overly sincere. We're trying hard but it's not like we have real advice. Think of it like bad uncle advice.
AVC: To be honest, sometimes you need bad uncle advice.
JJ: Thank you. That's what we thought. And people have been calling in. It's been so fun, complicated, and strange. It's called We're Here To Help. We've been secretly recording it, that's why as you can see I have an official microphone and all now. Look at me, all high-tech. That's been a quiet obsession for now. Projects can take so long to film. What's fun about making this podcast without being attached to a studio or big media is we're literally just doing it on our own time, our producer is putting it all together, and we'll release it soon. We are paying out of pocket. The best part is, and the internet taught me this a long time ago, that people are really funny. Not just the stand-up comedians—some of them are great, some are good. But random people online? They're really funny. So that's helping with the podcast.