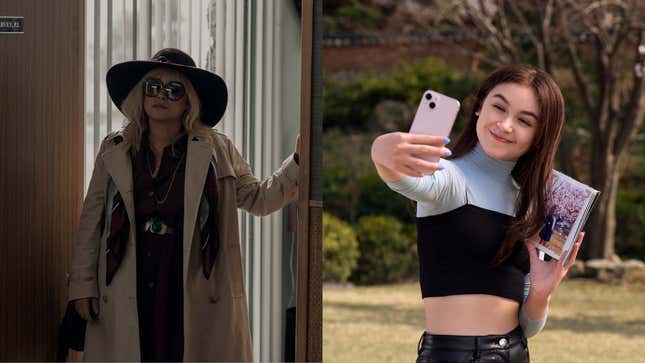 Welcome to What's On, our weekly picks of must-watch shows. Here's what you need to watch from Sunday, May 14, to Thursday, May 18. All times are Eastern. [Note: The weekend edition of What's On drops on Fridays.]

Young Mazino talks "Beef," needle drops, and karaoke
---
The biggies
High Desert (Apple TV+, Wednesday, 12:01 a.m.)
Ben Stiller and Patricia Arquette, who teamed on Severance, continue their collaboration for Apple TV+ with High Desert, which they co-produced. The show follows Arquette's Peggy Newman, a former addict in Yucca Valley struggling after the death of her mother. She decides to start fresh by becoming a private investigator, and joins forces with an infamous PI, Bruce (Brad Garrett). The dark comedy is created and written by Nancy Fichman, Katie Ford, and Jennifer Hoppe-House, and the cast includes Matt Dillon, Rupert Friend, Bernadette Peters, Weruche Opia, and Christine Taylor.
---
XO, Kitty (Netflix, Thursday, 3:01 a.m.)
Netflix's charming To All The Boys trilogy is officially in its spin-off era. Author Jenny Han returns as an executive producer for XO, Kitty, which centers on Lara Jean Covey's younger sister, Kitty (Anna Cathcart). Now a young adult, she moves to South Korea hoping to reconnect with her long-distance boyfriend. Naturally, she's about to discover that relationships are more complex than she believed. John Corbett and Sarayu Blue reprise their roles from the movies, and cast additions include Yunjin Kim, Choi Min-young, Sang Heon Lee, and Gia Kim. Here's a bit from The A.V. Club's review:
By the end of episode five, it starts to come together, and you can feel the Han magic kicking in. There are a lot of balls in the air, and when they all land in the finale, you realize XO, Kitty is primed for a better, richer, more interesting season two.
---
Hidden gems
Angel City (HBO, Tuesday, 9 p.m.)
HBO's three-part docuseries Angel City unpacks how the titular Los Angeles-based professional women's soccer team was created during the 2022 season. The team is notable for having majority female ownership, including Natalie Portman, Julie Uhrman, Kara Nortman, and Alexis Ohanian. Arlene Nelson directs.

---
Rainn Wilson & The Geography Of Bliss (Peacock, Thursday, 3:01 a.m.)
The Office star Rainn Wilson is stepping out of Scranton, Pennsylvania's shadow to find happiness in other parts of the world. He'll lead Geography Of Bliss, a five-part travel docuseries where he travels around the globe to learn about different cultures and how they find happiness. The show is based on Eric Weiner's book, The Geography Of Bliss: One Grump's Search For The Happiest Places In The World. Wilson will journey to places like Ghana, Iceland, and his own backyard of Los Angeles to do some soul-searching. Watch The A.V. Club's interview with him about the show and his new book.
---
I Survived Bear Grylls (TBS, Thursday, 9 p.m.)
Anyone who's survived Bear Grylls deserves to be the star of their own show. TBS taps into this concept with its latest competition series titled (quite literally) I Survived Bear Grylls. The famous survivalist challenges contestants' adventurous abilities by giving them a tough competition in the wild. The winner will walk away with a cash prize and probably some scars for life. Look for The A.V. Club's interview with Grylls on the site this week.

---
More good stuff
Anna Nicole Smith: You Don't Know Me (Netflix, Tuesday, 3:01 a.m.)
Directed by Ursula Macfarlane, You Don't Know Me is a documentary that traces the life of model and actor Anna Nicole Smith, who died at the age of 39 in 2007. The film will feature previously unseen footage from home movies and interviews as it tries to get to the heart of who she was and how she handled her fame.
---
Queenmaker: The Making Of An It Girl (Hulu, Wednesday, 12:01 a.m.)
If you've ever wondered whether Gossip Girl was real in some form, Queenmaker is the docuseries for you. Directed by Zackary Drucker, it explores the rise of the popular mid-2000s gossip blog Park Avenue Peerage, which became famous when New York City's It girls, including Paris Hilton and Tinsley Mortimer, took over a chunk of the media landscape. The blogger's identity eventually shocked everyone. (Hint: she's an outsider, much like Dan Humphrey.)
---
The Family Stallone (Paramount+, Wednesday, 3:01 a.m.)
Kardashians who? A new family is ready to take on reality TV with The Family Stallone. The unscripted series follows the daily lives of actor Sylvester Stallone and his fam, including his wife and three daughters, who are all exploring their own career paths. Al Pacino and Dolph Lundgren will also make appearances.
---
Can't miss recaps
Succession (HBO, Sunday, 9 p.m.)
Barry (HBO, Sunday, 10 p.m.)
Somebody Somewhere (HBO, Sunday, 10:30 p.m.)
Ted Lasso (Apple TV+, Wednesday, 3:01 a.m.)
Top Chef (Bravo, Thursday, 9 p.m.)
Yellowjackets (Showtime app, Friday, 3:01 a.m.)
---
Ending soon
East New York (CBS, Sunday, 9 p.m., season one finale)
Waco: The Aftermath (Showtime, Sunday, 10 p.m., season one finale)
9-1-1 (FOX, Monday, 8 p.m., season six finale)
All American (The CW, Monday, 8 p.m., season five finale)
9-1-1: Lone Star (FOX, Tuesday, 8 p.m., season four finale)
The Big Door Prize (Apple TV+, Wednesday, 12:01 a.m., season one finale)
The Masked Singer (FOX, Wednesday, 9 p.m., season nine finale)
True Lies (CBS, Wednesday, 10 p.m., series finale)
Mrs. Davis (Peacock, Thursday, 3:01 a.m., season one finale)
Law & Order, Law & Order: SVU (NBC, Thursday, 8-10 p.m., season finales)
Station 19, Grey's Anatomy (ABC, Thursday, 8-10 p.m., season finales)
Young Sheldon, So Help Me Todd, CSI: Vegas (CBS, Thursday, 8-11 p.m., season finales)