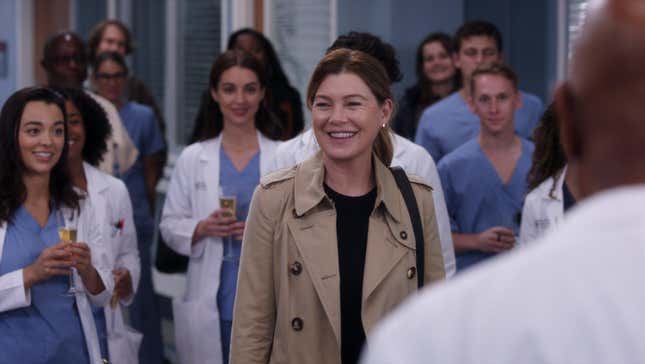 Before anyone asks: Yes, Grey's Anatomy is still on.
Even 19 seasons in, ABC's medical drama continues to rake in viewers. Its fall finale in November 2022 was watched by 3.72 million people live (that number almost tripled within a week, thanks to Hulu). Grey's returned on February 23 in an episode that marked a major milestone as series star Ellen Pompeo left the show. If you were one of the 3.5 million viewers who tuned in hoping for a sweeping, emotional exit for Pompeo's Meredith Grey—well, that's not how it happened.
In a relatively relaxed outing, titled "I'll Follow The Sun," Meredith takes her three kids to Grey Sloan for her last day as Chief. Her final surgery there to save a beloved author isn't a success. Her goodbye party is underwhelming (Wrong cake! Shitty decor! No sad speeches!). Her relationship with Scott Speedman's Nick Marsh ends because, even though he finally confesses his love for her, she takes off for Boston with her family for a fresh professional start. And no one deserves a new beginning more than Meredith fucking Grey.
Meredith has been put through the wringer over the years. I would venture to dub her as one of TV's unluckiest characters: Her mother died of Alzheimer's, her half-sibling died in a plane crash, her best friend left the country for a new job, and her husband met with a fatal car crash. There's more: She almost drowned, suffered a miscarriage after seeing her husband getting shot, and years later gave birth during a hospital power outage. A patient attacked her brutally, she was in a coma after getting COVID, and her ex-boyfriend died while she was in said coma. And I've only scratched the surface. Is it any wonder she's ready to leave Seattle, or that Pompeo is ready to step out of Mer's shoes for a well-deserved break?
All of this is exactly as soapy as it sounds. Meredith has overcome an insane amount of trauma to become a successful surgeon and mother. But it's precisely because of all she's endured that fans were expecting a grander farewell. The only noteworthy moment in "I'll Follow The Sun" was a parallel to her epic season two "Pick Me, Choose Me, Love Me" speech to Derek (Patrick Dempsey). Now, she makes it clear to Nick that she's picking herself, her job, and her kids, an excellent way to highlight her evolution. Otherwise, her "last episode" was lackluster; unlike other character exits, there were no tear-inducing montages to be found. Maybe that's a good thing.
For seasons, Grey's Anatomy has been kind of a mess, and this ongoing season works as its own sort of messy revamp. Five regulars have scrubbed in as interns, but they're too fresh to keep anyone tethered to the show. As always, there are chaotic potential romances dangled in our faces (Link and Jo, Jules and Blue) while married couples go through poorly manufactured issues (Maggie and Winston, Owen and Teddy). Pompeo—one of the last three original cast members left standing—is now gone, while Chandra Wilson and James Pickens Jr.'s Bailey and Webber haven't got meaty storylines in a long, long time. As much as Grey's tries to move toward the future, they aren't ready to completely close the door to the past.
With multiple episodes to go, Mer's move is the clearest example yet of season 19's strategy in that sense. If fans are ever going to latch onto and root for the new regulars, they need a reason to stick around. A huge, sorrowful episode, as lovely as it would've been, could've suggested a more permanent goodbye for Grey's. But we already know Pompeo is returning in the finale, and that she'll continue to narrate every remaining episode of the season.
There's another big change looming around the corner, with Krista Vernoff leaving at the end of season 19. After working as a writer for multiple years, she became the showrunner in 2017. While she's helped lead a resurgence, her narrative choices have been questionable, including Justin Chambers' direly handled exit as well as Alex Karev, April (Sarah Drew), and Arizona (Jessica Capshaw) being written out for no good reason. Some new blood on the other side of the camera would also offer the chance to reinvigorate the series.
So if Grey's renewed for (a final?) 20th season, it will look even more different. To ensure some familiarity, the writing has calmly left the door open for Pompeo to return whenever she wants to. It might not happen—Sandra Oh, Katherine Heigl, and Chambers haven't done it yet—but it gives the audience something to look forward to. Listen, at this point, we'll take all the crumbs we get. That's why I'm already looking forward to all the progress Mer has made in Boston when Pompeo returns to close out season 19. We may get our emotional farewell, and a clearer answer on the show's future, then.