The first season of the captivating new drama Killing Eve has come to a thrilling close. Phoebe Waller-Bridge's dynamic series proved to be every bit as multifaceted as its two leads, as much a black comedy as a murder mystery and character study. Killing Eve's globetrotting hunt for a killer dredged up other conspiracies, but its greatest accomplishment was getting Jodie Comer and Sandra Oh in a room together. Comer's Villanelle was a seductive but unhinged hired gun, taking equal delight in twirling in tulle as dispatching some name on a list. Throughout the season, this Russian assassin led a beleaguered Eve Polastri (Oh) on a merry chase, inadvertently pulling the American expat out of a rut.
After weeks of circling each other in a most tantalizing fashion, Villanelle and Eve Polastri meet face to face once more, in a finale that left us wanting more. So The A.V. Club has gathered around the old watercooler to discuss cliffhangers and pillow talk.
Note: Plot points of "God, I'm Tired" are discussed in this post.
---
Katie Rife: "I've lost two jobs, a husband, and a best friend because of you."
"Yeah, but you got some really nice clothes out of it."
This exchange between Sandra Oh's Eve Polastri and Jodi Comer's Villanelle exemplifies everything I loved about Killing Eve, whose eight-episode run I binged over the course of a week. I was less taken with the second half of the season, which sidelined the sexually charged cat-and-mouse game between Eve and Villanelle, so thank god that it ended with the two of them, face to face, in Villanelle's bedroom, exchanging Phoebe Waller-Bridge's brilliantly witty dialogue. (Apologies to the rest of the writing staff, but her episodes are just better.) I was struck throughout the season by Killing Eve's use of fashion, both on an aesthetic level and as a visual shorthand for the beautiful but shallowly psychopathic Villanelle, so to have a plot point in the finale center around a designer coat just seemed right. Eve's trashing of Villanelle's apartment also beautifully mirrored Villanelle invading her home in "Sorry, Baby," reflecting another of the show's visual themes: intimate, traditionally feminine spaces violated by violence. (A knife, incidentally, is also a really intimate way to kill someone.) Most of all, I was struck by the way the show unapologetically occupied a singularly female-driven space while inverting stereotypes by being cold and twisted and violent, just like its dangerous, intriguing villain. After this and Fleabag, I'll be following Phoebe Waller-Bridge wherever she decides to go next.
---
Meg Brett: When I first saw the promos for Killing Eve, I was really just excited to have Sandra Oh back on my TV screen, but goddammit I love this show; the writing, the acting, the underlying obsessive and sexual nature of the story. It's all great. And the eight-episode arch was just the right length to keep my attention while still throwing in curveballs that don't detract from central plot. The cat-and-mouse game between Eve and Villanelle comes to a head in a finale that had me both bursting into laughter and on the edge of my seat. We all knew this episode would have Eve and Villanelle come together in the end, but I was a little weary of how it would happen—thankfully, "God I'm Tired" didn't disappoint. I can't wait to see what happens next season. But for now, please excuse me while I go binge-watch Phoebe Waller-Bridge's Fleabag.
G/O Media may get a commission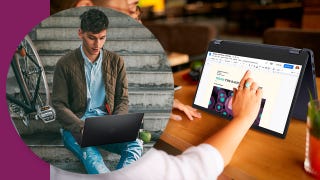 Ends August 15
Best Buy Anniversary Sale 2022
Ends August 15
Best Buy has a number of different promotions happening all for its Anniversary Sales Event. Laptops, tablets, TVs, you names it. Whether you're heading back to school or just trying to fill your home with some new tech, there is something here on sale that you've likely been waiting for.
---
Caroline Siede: Despite a seemingly infinite number of standout moments in "God, I'm Tired," the one I can't stop thinking about is Eve's confused reaction to Villanelle's neighbor trying to mime "ours," the French word for bear. As a longtime Grey's Anatomy fan I didn't realize just how much I'd missed having Sandra Oh on my TV until Killing Eve debuted. And while Eve Polastri is in many ways the polar opposite of Cristina Yang, both share Oh's penchant for off-kilter, deadpan delivery. (See also: That incredible moment in the first episode where Eve wakes up screaming only to casually announce both her arms fell asleep.) The best thing about Killing Eve is that you can never quite predict how characters are going to react. And while that's certainly exemplified in Jodie Comer's tornado of a performance, it's also embodied in Oh's subtler one as well. It shouldn't have taken an actor of Oh's caliber this long to find another star vehicle after Grey's, but damn is it nice to have her back.

---
Kelsey J. Waite: Going into Killing Eve's finale, I knew Eve and Villanelle's dance would finally bring them the closest together yet, though how exactly, I wasn't sure. But I should've expected "God, I'm Tired" to be as charged and compelling as the rest of the season. Over eight expertly paced episodes, Sandra Oh's and Jodie Comer's characters have slowly circled and drawn one another out, with Villanelle doing most of the provoking: telling Eve to wear her hair down, sending her clothes she'd never have bought herself, or just straight-up showing up at her house and forcing Eve to have dinner with her. In "God, I'm Tired," it feels like they meet in the middle. The relatively tame Eve finally goes a little psychotic herself in Villanelle's apartment, while Villanelle finds a new vulnerability (if not a totally sincere emotional one, then at least the stab wound in her abdomen). Like everyone, I just want these two to run off together already, but it's exciting to feel like the real chase has only just begun. As a side note, I want to mention that one of my favorite aspects of the show has been David Holmes' music supervision; paired with the on-location shooting across Europe, the playlist of international '60s icons like Anna Karina and Françoise Hardy alongside likeminded modern artists like Cigarettes After Sex and Holmes' own band Unloved has been absolutely delicious. This show can't return fast enough.

---
Allison Shoemaker: I can't stop thinking about that pink dress. One of the most compelling things about the terrific first season of Killing Eve has been its willingness to embrace, and even chase down, contradiction. Villanelle is a brutal, merciless killer; she also occasionally wears a floaty pink dress. There it is, peeking out of her closet as Eve roams her apartment, taking in all the ordinary but luxe details of her quarry's life. Villanelle is that wardrobe full of weaponry and murder costumes, and she's that fridge full of champagne; Eve is a sweater connected to a shirt, and she's a woman who trashes that fridge. Their relationship, and the show, is steeped in these contradictions, perhaps most neatly summed up in the conversation in Villanelle's apartment. What you had for breakfast, what it feels like when you murder someone. Nice life, cool flat, fun job. A woman who won't use a gun, who will use a knife. Killing Eve is a nightmare in a fluffy pink dress, and I miss it already.
---
Danette Chavez: Killing Eve was recommended to me early on as a kind of gender-swapped Hannibal, and while I get the reference—and also feel the show recalls The Thomas Crown Affair with its sexy, complicated core duo—Phoebe Waller-Bridge has made something distinct. It's suspenseful, wickedly funny, subversive, and feminist—in short, brilliant. I had such high hopes for Villanelle and Eve's eventual confrontation, after weeks of Jodie Comer and Sandra Oh playing the most riveting game of cat-and-mouse ever. But "God, I'm Tired" exceeded them; Waller-Bridge's script allowed for so many poignant, funny, and confessional moments, while Damon Thomas' direction put Eve and Villanelle side by side but still worlds apart. There was one other killer combo this episode—Villanelle and Irina (Konstantin's daughter). I'd be down for a spin-off in which Villanelle takes that clever (and really not that annoying) girl under her wing.
---
Gwen Ihnat: I also miss Killing Eve already, but the eight episodes this first season gave us were absolutely perfect. No flab, no filler, just immediately identifiable characters and a titan battle up there with Godzilla versus Mothra. The bed scene, particularly, as they face each other as mirrors; I gasped when Eve became the (attempted) killer, spiting Villanelle, who was trying to become the lover. The two function as the yin and yang of each other; they both have (well, had) older male mentors that they semi-flirt(ed) with, they're both brilliant, they both have difficulty creating meaningful relationships. Is it any wonder that they're so drawn to each other, wondering what the other eats for breakfast?

I keep thinking about the comment from Konstantin's daughter: Is Villanelle a good person? Despite her long death toll, she has some moral limits—she doesn't physically hurt the girl, she doesn't try to kill Eve until Eve tries to kill her, and she had actual feelings for Eve. Villanelle wants what we all want—cool apartment, fun job, and someone to watch movies with—except her idea of a "cool job" is much different from most of ours'. It's a testament to the fascinating character as played by Jodie Comer that we still root for her after all she's done, and I can hardly wait for season two.