Here's what's up in the world of TV for Wednesday, September 21. All times are Eastern.
Top picks
Lethal Weapon (Fox, 8 p.m.): Le-thal Wea-pon! *CLAP CLAP CLAP CLAP CLAP!* Just when you thought McG had perfected Fastlane with Fastlane, that genius bastard went and proved us all wrong with Lethal Weapon the TV series. Now, Wednesday night television has a true top pick, now and forever. Clayne Crawford and Damon Wayans Prime star in the television adaptation of the film that had way more sequels than you'd think. (It had three, and Lethal Weapon 4 happened 11 years after the first. "Too old for this shit," indeed.) Loose cannon, play-by-the-rules—you know the deal. "It's clear from the moment they meet, this partnership could be lethal." Yes, the synopsis also knows the deal, and so does Noel Murray in his pre-season review. But you know what? That whole "knowing the deal" is what makes this a top pick. It's basically the opposite of this:
Oh, and if you haven't gotten around to it, you should really watch Rectify. Hopefully, if you get one thing from Lethal Weapon's role as perpetual Wednesday night top pick, let it be this.

Speechless (ABC, 8:30 p.m.): Time to fall in love with another new ABC family sitcom—fingers crossed. Tonight marks the series premiere of the Minnie Driver-led Speechless. Hit us with the synopsis, press release! "Maya DiMeo moves her family to a new, upscale school district when she finds the perfect situation for her eldest son, JJ, who has cerebral palsy. While JJ and daughter Dylan are thrilled with the move, middle son Ray is frustrated by the family's tendencies to constantly move, since he feels his needs are second to JJ." Also, Cedric Yarbrough's around, and that's a good thing in our books.
G/O Media may get a commission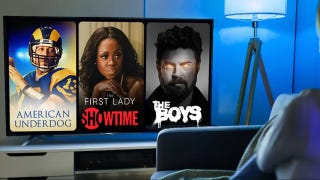 UNDER $1
99¢ Prime Video Channels
Mr. Robot (USA, 10 p.m.): That's a wrap, you Hacks. (Are Mr. Robot fans called "Hacks?" We should be.) Rami Malek won an Emmy and Mr. Robot's signing off for the season. What a week for our robot (and Robot) emotions. Plus: "fsociety is in too deep rn. an old friend reveals all to elliot. sh*t gets real af." Alex McCown-Levy's been known to get "real af" himself during his Mr. Robot reviews, so this should be good.
Premieres and finales
The Goldbergs (ABC, 8 p.m.): This is The Goldbergs' Breakfast Club episode. We know this because the episode is titled "Breakfast Club." Get those ratings, ABC. Anyway, The Goldbergs returns tonight for its fourth season, and it's Adam's first day of high school. It's also Beverly's first day as a substitute teacher. Or so she thinks. "Adam works on his new persona for the first day of high school that he hopes will up his coolness level. Meanwhile, Beverly gets her teaching certification to become a substitute teacher. But when she is demoted to sub-janitor, she sends the Goldberg kids to a Saturday detention, but it is Principal Ball who must oversee the kids." Don't you forget about The Goldbergs, folks. Seriously. Set your DVRs.
Survivor (CBS, 8 p.m.): This season of Survivor is Millennials versus Generation X. To that, we only have one thing to say:
Blindspot (NBC, 8 p.m.): Blindspot returned last week, but tonight marks the premiere for the show in its actual timeslot, the family friendly 8 p.m. And what's more family friendly than missiles and drug cartels, right? "The team races to stop a corrupt DEA agent from selling stinger missiles to a drug cartel as Weller fights to keep everyone together under the increasing pressures of Jane's rift with the others and the uncomfortable addition of Nas as co-leader." Blindspot is for the children.
Modern Family (ABC, 9 p.m.): Obviously, it's a show that's gone on for awhile—children have grown up, you know—but Modern Family starting its eighth season is just weird. So is the passage of time, but mostly eight seasons of Modern Family. In "A Tale Of Three Cities," the latest season premiere of Modern Family, the Dunphy/Tucker/Pritchett unit take the episode title very literally: "After recent trips take the Dunphys to New York; Mitch, Cam and Lily to the Midwest; and Jay, Gloria, Manny and Joe to Juarez, Mexico; the Pritchett-Dunphy-Tucker clan reunites in its eighth season premiere with all of the families converging at home for Father's Day." Modern Family apparently isn't on the same calendar as the rest of us, which is actually great, as Kyle Fowle's own traveling will prevent him from posting his review until Thursday morning.
Empire (Fox, 9 p.m.): The first bits of notable information in the press release for the third season premiere of Empire are that "French Montana and Birdman Guest-Star." So it looks like Empire is ready to start things off on a sour note, as opposed to the steady week-to-week escalation of last season. (Never forget Joshua Alston's season two reviews of Empire, y'all.) Especially since the episode, "Light In Darkness" (oh really?), "picks up exactly where Season Two ended." Yay?
Law & Order: Special Victims Unit (NBC, 9 p.m.): There are now 18 seasons of Law & Order: SVU. There are now 18 seasons of Law & Order: SVU. There are now 18 seasons of Law & Order: SVU. There are now 18 seasons of Law & Order: SVU. There are now 18 seasons of Law & Order: SVU. There are now 18 seasons of Law & Order: SVU. There are now 18 seasons of Law & Order: SVU. There are now 18 seasons of Law & Order: SVU. There are now 18 seasons of Law & Order: SVU. There are now 18 seasons of Law & Order: SVU. There are now 18 seasons of Law & Order: SVU. There are now 18 seasons of Law & Order: SVU. There are now 18 seasons of Law & Order: SVU. There are now 18 seasons of Law & Order: SVU. There are now 18 seasons of Law & Order: SVU. There are now 18 seasons of Law & Order: SVU. There are now 18 seasons of Law & Order: SVU. There are now 18 seasons of Law & Order: SVU.
Unusually Thicke (Pop, 9/9:30 p.m.): The second season premiere of Alan Thicke's actual show titled Unusually Thicke is titled "Cell Mates." We were going to ask what we're even supposed to do with that information, but then we learned the second episode is titled "The Promposal." So we're just not going to dwell on either of these.
Black-ish (ABC, 9:30 p.m.): Black-ish has not been on for eight seasons, but it still wants to celebrate: So the Johnsons are going to Disney World! And no, you haven't accidentally stepped into the '90s for a solid slot of TGIF. Though, if Salem the cat were to show up in this episode, we'd be down. LaToya Ferguson is dropping in to take a look at the Black-ish season premiere. After all, it's named after her: "VIP." Oh, and Jim Rash is here!
Big Brother (CBS, 9:30 p.m.): This show also has 18 seasons—and this is the finale of said 18th season—but, you know, there's no Mariska Hargitay in any of them, so…
Chicago P.D. (NBC, 10 p.m.): On the other hand, Chicago P.D. is a non-SVU television show where there's actually a chance of Mariska Hargitay showing up. Thank (Chicago) God. Season four of Chicago P.D. takes us to "The Silos," in which "Intelligence investigates a gruesome case." Oh, you don't say?
Designated Survivor (ABC, 10 p.m.): We don't know if you've heard, but Kiefer Sutherland is finally allowed to play a different character on television, and boy, is he reaching for the stars. What could possibly be a more high stress job than one of a super spy who solves terrorism on a literal daily basis? Um, how about the President? Of the United States? (That's Allstate's stand, are we right?) In Designated Survivor, "Kiefer Sutherland stars as Tom Kirkman, a lower-level cabinet member who is suddenly appointed President of the United States after a catastrophic attack on the U.S. Capitol during the State of the Union." Kal Penn and Maggie Q are there too. Also—and this is something the ads don't really focus on—the show is actually a political thriller, as it focuses on Sutherland's Kirkman searching for whoever was responsible for said "catastrophic attack." You can take the man out of Jack Bauer…
Comedy Knockout (TruTV, 11 p.m.): The first season finale of Comedy Knockout is titled "Broke Black Mountain." Does that sound like that's all you need to know? It's not! "Josh Wolf reveals what he calls an orgasm, Kevin McCaffrey knows why white women love mimosas, and Sarah Tiana tells Damien when it's ok to have a weiner in his mouth." Now you know all you need to know.
Falling Water (USA, 11 p.m.): We're still slightly perplexed as to why this show's not just called Rain, but we suppose we'll bite, USA. Falling Water is USA's latest series to not welcome characters (we'll miss that branding forever, okay?!?) Okay, this isn't actually the series premiere—that's on October 13—but hey, a one hour "Special Preview" is worth watching, right?
Regular coverage
South Park (Comedy Central, 10 p.m.)
American Horror Story (FX, 10 p.m.)
You're The Worst (FXX, 10 p.m.)
Documentary Now! (IFC, 10 p.m.)
Streaming pick
Rectify (Amazon Video/iTunes/Netflix/Vudu): Obviously you need to know where to go to watch Rectify. Duh.