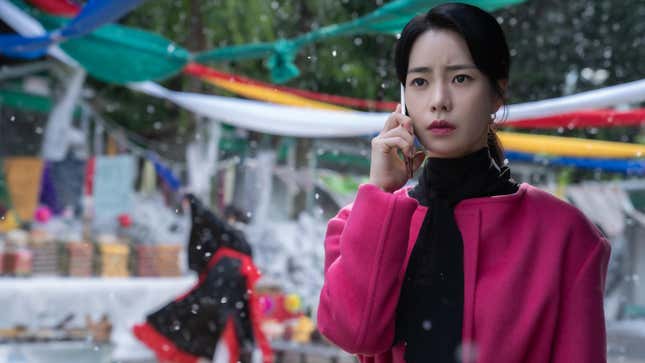 Many of the most popular K-dramas, including The World Of The Married, Temptation Of The Wife, Reborn Rich, and My Name, center on a protagonist who has dedicated their life to seeking some form of revenge. (A lot the best of South Korean cinema does this, too, from I Saw The Devil to Park Chan-wook's acclaimed Vengeance Trilogy.) Netflix's buzzy original drama The Glory is the latest standout, a project in which acclaimed writer Kim Eun-sook and director An Gil-ho build an excellent revenge tale fueled by an intense case of school bullying that's infused with biting class warfare. Now, three months after the release of the first eight episodes, Part 2 arrives on March 10, promising the conclusion to this most dangerous game.
The victim turned vengeance-seeker is Dong-eun (longtime Hallyu star Song Hye-kyo), an impoverished student who dreamed of being an architect before she was run out of high school by a group of bullies. Anyone thinking of schoolyard taunts will be shocked by the first episodes of Part 1, which depict the extent of the physical torture she endured (portrayed in extensive flasbacks by a cast of young actors), as well as her resolution that she shouldn't be the only one to suffer. Over the next 20 years, the bullies live their lives, unscathed and unrepentant, while Dong-eun works towards her life's mission of vengeance. Her complex plans are then set in motion in the present day, as she recruits a network of helpers, including abused mother and amateur P.I. Hyun-nam (Yeon Hye-ran) and smitten doctor Yeo-jeong (Lee Do-hyun). After Part 1 established the plot, along with the show's prestige-melodrama tone and quick pace, Part 2 starts off strong in the first two episodes (the only ones provided for review), with Dong-eun holding onto the bullies' life-ruining secrets.
Of course, a compelling setup only provides half of the intrigue necessary for a can't-miss revenge drama, and The Glory finds the rest through its team of villains. The five are almost caricatures of well-known tropes—ice queen Yeon-Jin (Lim Ji-yeon), god-fearing hypocrite Sa-ra (Kim Hieora), playboy heir Jae-jun (Park Sung-hoon), gold digger Hye-jeong (Cha Joo-young), and cocky punk (Myeong-o) Kim Gun-woo—but they're elevated by the intricacies of their relationships to each other, which range from smaller-level bullying to a twisted romance. The group's dynamic is based on shared history and mutual intimidation, and it's fascinating to watch all of these bad people behaving badly (and alternately turn on and rely on each other) as Dong-eun's revenge plan begins exposing decades of secrets.
Though Dong-eun has schemes for each of the bullies, her main adversary is ringleader Yeon-jin, who is now a famous weather forecaster with a rich husband, Ha Do-yeong (Jung Sung-il), and an adorable daughter. Yeon-jin gets the most backstory of the bunch, and Lim's performance is ferocious and charming, showing the softer sides of unrepentant and cruel character as well as her fear of losing her family. Meanwhile, Do-yeong is in the dark about his wife's past, and Dong-eun begins to lure him toward her side as they bond over the board game Go in a "vengeful woman seduces her enemy's husband" plot that's made much more captivating by Song and Jung's chemistry.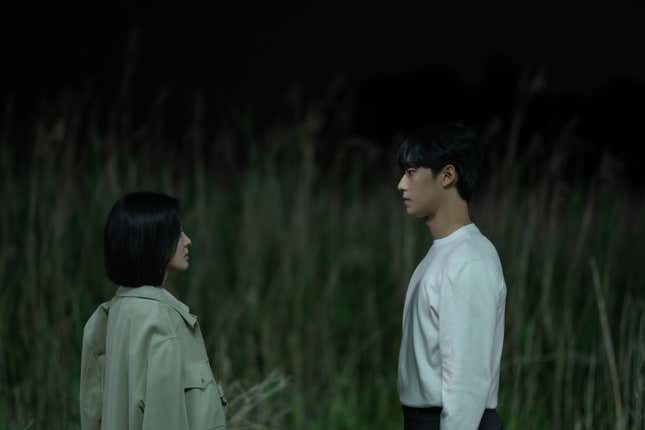 Song's leading turn, too, is plenty admirable. As a woman only motivated by revenge, she's intensely calculating, and even her poetic narration is laser-focused on her plans at every moment. Dong-eun also grew up with a neglectful single mom and, since her spirit was broken by teenage abuse, she's short on trust. (Any desire for companionship has long laid dormant.) She keeps up a cold, guarded wall to keep her helpers from truly connecting with her—and at times it can also block out viewers. However, well-placed flashbacks are sprinkled throughout as reminders of her post-traumatic behavior, and Hyun-nam and Yeo-jeong provide the series with moments of levity, with their friendly overtures brining out Dong-eun's compassionate side. As it becomes clear throughout that neither the bullies nor Team Dong-eun will walk away from this interpersonal war unscathed, she elicits as much sympathy as her lieutenants.
The sprawling show does lean towards classic K-drama maximalism in its many storylines, however. But still, each plot contributes to building the central revenge tale—no easy feat. Later, it becomes clear that Dong-eun is not just seeking vengeance for herself but also someone else, which adds another level to the scheme and should prompt surprised shocks, not fatigued sighs, from viewers. We're also treated to another compelling mystery away from Dong-eun thanks to Yeo-jeong, who is still reeling from his father's traumatic death. As the series slowly reveals the details of that passing and how it's still affecting Yeo-jeong, his motivations for becoming Dong-eun's executioner come into focus, revealing a deeper side to the doctor than as just a faithful suitor.
What's more, these intricate story beats are heightened by The Glory's gorgeous cinematography, which underlines the differences between wealthy and working-class worlds, balancing the luxurious exteriors around Dong-Eun's rich targets with bleak everyday urban settings. It's can't-miss-a-second plotting (a worthy continuation of the series that doubles down on its twists) with can't-look-away framing.
---
The Glory Part 2 premieres March 10 on Netflix