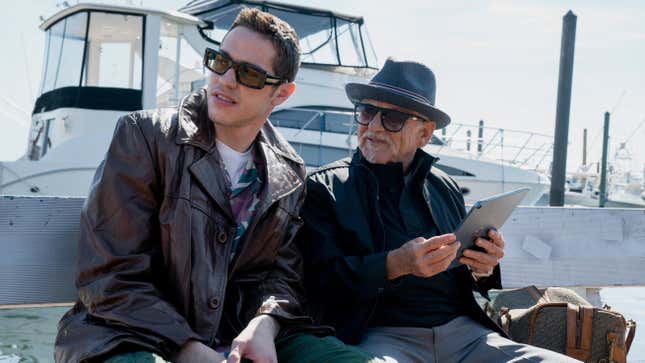 When you envisioned Pete Davidson's Bupkis, did you picture the world's most-talked about comedian dancing around dirty and bloodied, or wielding a variety of deadly weapons? Perhaps not, but that's the tone of the first trailer for Davidson's Peacock series, premiering on May 4. This show seems to be approaching half-hour comedy in the way some other auteurs have been manipulating the form of late, which is to say that it might indeed be funny but is also kind of intense.
Alfonso Ribeiro on working with Tyra Banks and his favorite dancers
Much has been written about how Davidson's semi-autobiographical comedy about living with his mom was already made (back in my day, it was called The King Of Staten Island and it was directed by Judd Apatow). But this version has a little more edge, and also Joe Pesci, who can be found toking up with his on-screen grandson in the new footage. Plus, there's his new on-screen mom, Edie Falco, who admonishes her son "Peter" for stealing Dave's "klingon sword."
Davidson has expressed on multiple occasions, including recently, how he felt dehumanized by all the jokes made at his expense during his time at Saturday Night Live. Yet here he clearly doesn't mind making fun of himself, or at least of his image. From the sardonic look of a customs agent asking about drugs, to his sister lamenting how everyone's always asking about her brother's dick, to the litany of mean headlines (ending with "Butthole Eyes"), Bupkis stuffs all the typical "Pete Davidson" clichés into the trailer. It's a somewhat interesting blurring of reality and fiction, down to the fact that the comic's real-life girlfriend Chase Sui Wonders plays his on-screen love interest.
There are a number of other famous faces in the trailer, including an intimidating Bobby Cannavale, a loose-cannon Simon Rex, and Charlie Day in the role of therapist. Jon Stewart, Ray Romano, Brad Garrett, Kenan Thompson, and Al Gore, of all people, are among the trailer's other stars, while the expected guest roster further includes La La Anthony, Colson Baker (a.k.a. Machine Gun Kelly), Steve Buscemi, Charlamagne Tha God, Philip Ettinger, Paul Walter Hauser, Sunita Mani, Oona Roche, Cliff "Method Man" Smith, and Marissa Jaret Winokur.
Interestingly, the trailer ends on a joke not about Davidson's hectic personal life, but about his pal John Mulaney's. "We're in comedy. You've gotta be able to walk away from anything in your life in 30 seconds flat. That's why I got nothing tying me down," Mulaney advises his friend. "You have a kid," Davidson reminds him, to which Mulaney replies, "Oh yeah." Guess everyone's getting in on the joke in Bupkis.