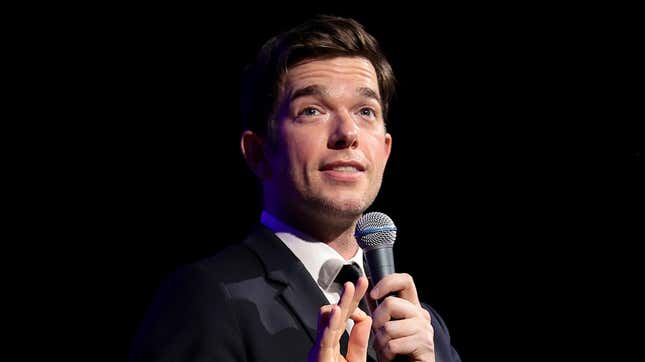 John Mulaney has a new Netflix special on the way. Titled John Mulaney: Baby J, the hour-long set will premiere on the streamer on April 25.
The Alex Timbers-directed special features songs from Mulaney's Sack Lunch Bunch collaborator, David Byrne. Baby J was filmed in February 2023 at Boston's Symphony Hall.
Baby J marks the comedian's sixth outing with Netflix, following 2012's New In Town, 2015's The Comeback Kid, 2017's Oh, Hello with Nick Kroll, 2018's Kid Gorgeous, and the Emmy-nominated special John Mulaney And The Sack Lunch Bunch.
Mulaney first took the show on the road in March 2021, under the title From Scratch. The comedy tour gave Mulaney a platform to discuss his publicized stint in rehab following an intervention spearheaded by fellow SNL alum Seth Meyers, as well as his relationship with Olivia Munn and their child—born in November 2021.
Early reviews of From Scratch praised Mulaney's newly utilized confessional approach, as he delved into his substance abuse and other headline-making stories of 2020 and 2021.
Reviewing the show for Vulture, Jesse David Fox writes, "Mulaney's show wasn't a show. Candid, loose, sometimes hard to watch, sometimes so funny it made the audience convulse in laughter, it was a writing session. He was doing all-new material, not attempting to work in any of the jokes he was building in outdoor shows before rehab. It was raw, both in its frankness and in the complete lack of polish that we typically associate with Mulaney's work."
It's too soon to say if Baby J sticks to this less-refined style that contradicts the strait-laced comic's previous work for Netflix, but a broader audience may soon see a different, more personal side of Mulaney.
Mulaney solidified his divorce with Anna Marie Tendler in January 2022, meaning Baby J will not feature a performance from the critical, foul-mouthed French Bulldog Petunia, of whom Tendler maintains custody. Mulaney made his most recent televised performance on SNL in February 2022, where he hosted for the fifth time. Over the last year, he's held voice acting roles on Human Resources, Big Mouth, Chip 'n Dale: Rescue Rangers, and Puss In Boots: The Last Wish.