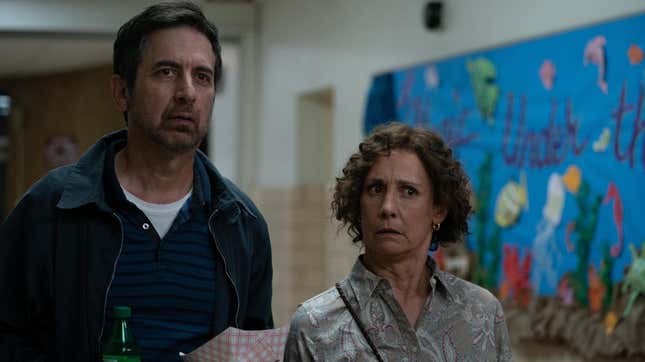 With his directorial debut, Somewhere In Queens, baritone legend Ray Romano is doing what he does best: Light, New York-based family comedies about the Italian American experience. Bringing fellow sitcom stalwart—and Oscar nominee—Laurie Metcalfe to dinner will seal the deal for anyone looking for a movie they can watch with their parents this spring.
AV Club Interviews Tom Kenny and Bill Fagerbakke
Somewhere In Queens sees Romano in a familiar position. Packing up and moving from Long Island, where Everybody Loves Raymond takes place, to Queens, where Long Island takes place, Romano plays the middle-class owner of a construction company. Naturally, he expects his son, Sticks (Jacob Ward), to take over the business someday. Well, if the boy wasn't an NBA prospect with scouts hounding him after games.
But that's only part of the story in this trailer, which is jam-packed with plot and features Romano referring to his wife's vagina as "the shoot." It's also the story of his son's relationship with a girl (Sadie Stanley) who dared to ask for more meatballs at Sunday dinner. After the relationship falls apart as young love so often does, his basketball game crumbles, and so do his college prospects. So Romano does what any sitcom dad would do: He begs his son's ex to take him back so that he can get good at basketball again.

Somewhere In Queens seems like the perfectly charming material for Romano to get his directing chops up before he inevitably helms an episode of Pete Davidson's Bupkis. It's also the type of material we like to see from the comedian. It certainly beats the activities of his peers, e.g., complaining about comedy on college campuses. Still, Romano did bring Sebastian Maniscalco to the party, so he's clearly trying to grab that Gen Z demographic.
Somewhere In Queens opens in theaters on April 21.