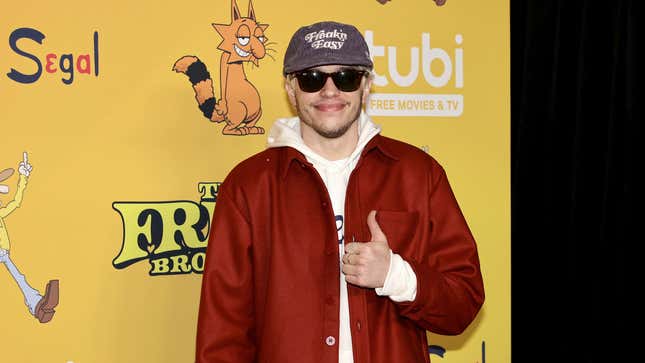 Pete Davidson knows everyone finds him annoying, at least according to the new trailer for Bupkis. Yet, for a guy no one can stand, he certainly gets incredible opportunities. For example, for the first time since leaving the show in 2022, Pete Davidson will attempt to show up to work at SNL again. Despite his penchant for missing episodes because he was too busy dating the most famous woman on Earth, Davidson will host the show on May 6.
That time David Spade put David Bowie in his place
The comedian will promote his latest semi-autobiographical offering Bupkis, a new series about being Pete Davidson that somehow stars Joe Pesci. The series debuts on Peacock on May 4, giving Davidson fans a little amuse-bouche for his comedic stylings and the return of Chad.
Additionally, Davidson released a trailer for Bupkis during an appearance on The Breakfast Club this morning. During the talk, Charlamagne tha God tackled the tough questions: "Why is the show called Bupkis" (Davidson thought it would look cool on a t-shirt), and were any working titles "centered around [Davidson's] penis," which the comedian maintains is "normal sized." More importantly, Davidson expressed his excitement for the show and the cast.

At one point in the interview, Davidson busts out his flip phone to read from the cast list, beginning a trend of celebrities using flip phones, and began reading its impressive roster. He's right to be proud of the cast, because it includes Edie Falco, Joe Pesci, Bobby Cannavale, Ray Romano, Brad Garrett, Charlie Day, Keenan Thompson, Sebastian Stan, Steve Buscemi, Method Man, Jon Stewart, Al Gore, Cam'ron, J.J. Abrams, Derek Gaines, Paul Walter Hause, Jane Curtain, Machine Gun Kelly, Jordan Rock, Chris O'Donnell ("aka the original Robin," Davidson said, as he laid out Burt Ward for no reason), John Mulaney, Simon Rex, Nathan Fillion, Jadakiss, Stacy Keach, and, here's a name you don't hear every day, Shane Gillis. We do have to give Davison props for not burying Gillis' name in the cast list, considering he was fired from SNL for racism before he even appeared on the show, but sometimes you push boundaries, and sometimes you miss.
The trailer is much closer in tone to something like Barry than expected. The lighting is dark, the conversations are tense, and everyone's telling Davidson what a piece of shit he is. Bupkis premieres on May 4 on Peacock. The trailer is queued up below, but the whole interview is worth a listen.