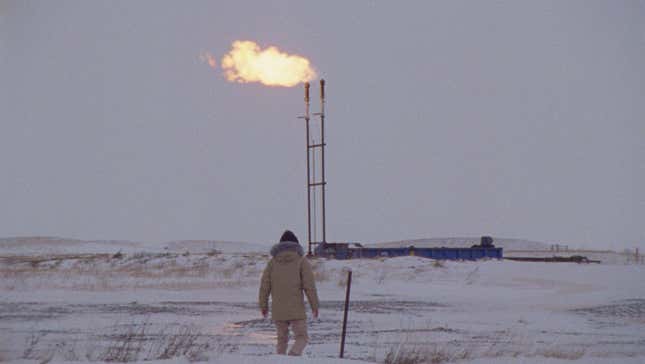 The FBI is not entirely thrilled about the existence of Neon's new eco-terrorism thriller How To Blow Up A Pipeline, according to a new report from Rolling Stone. The film—adapted from a non-fiction book of the same name by Andreas Malm, about the ethics and efficacy of sabotaging the oil industry in response to climate change—was apparently the subject of a recent alert from the law-enforcement agency, distributed to various local authorities.
"Hellraiser" director David Bruckner reveals key ingredients of the franchise
The FBI, as it turns out, is one of as many as 23 different state and federal agencies that have issued notifications about the film, which depicts a fictional crew of terrorists coming together to blow up the titular oil pipe. (The film does not, as noted in the Rolling Stone piece by Jana Winter, include any kind of actual instructions for how to go about building bombs to blow up a pipeline; we can only hope the FBI ends up flagging its colleagues over at the FTC for this blatant case of false advertising.)
In the alerts, the FBI's Weapons of Mass Destruction Directorate instead focuses on the movie's ability to potentially inspire viewers, raising concerns that "The film has potential to inspire threat actors to target oil and gas infrastructure with explosives or other destructive devices." The Bureau also warned local authorities to maintain heightened attention and vigilance surrounding the nation's precious, precious pipes, lest any movie fans in their vicinity be driven into a cinematic rage.
Director Daniel Goldhaber didn't get into the specifics of the FBI's thoughts on his movie, but did tell Rolling Stone that the film—which has drawn strong reviews from critics, including a much-coveted denunciation from noted film crank Armond White—is "a work of fiction that addresses one of the real world's most pressing issues by telling a story about eight characters who believe that destroying an oil pipeline is an act of self-defense."