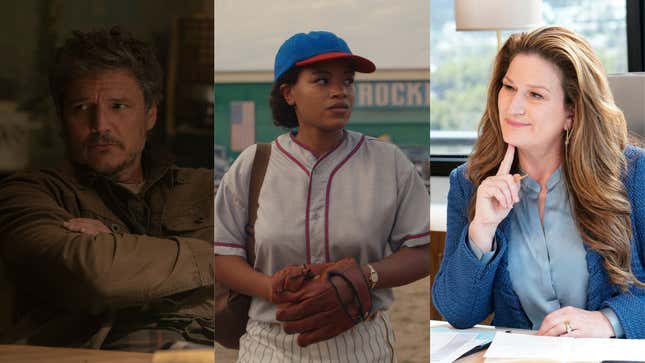 Who doesn't love a rebel? If you don't want to join most of the country by tuning into the Super Bowl on February 12, or if you're understandably watching only the 13-minute Rihanna halftime show (that's unskippable, we're afraid), then here are some alternate Sunday offerings and TV shows to catch up on if the Super Bowl isn't for you.

---
1. Puppy Bowl XIX
HBO Max/Discovery+/Animal Planet, Sunday, 2 p.m. ET: You don't have to care about football to enjoy the best part of every Super Bowl day: the three-hour Puppy Bowl. This year's matchup features 120 rescue pups from across the U.S. and highlights their animal shelters. Dan Schachner returns for his 12th year as a referee.
---
2. The Last Of Us (HBO Max)
If you still haven't caught up with HBO's The Last Of Us, there's no better time. And this way you'll be ready to join the action for the rest of season when episode six arrives next Sunday. (Episode five dropped on Friday to avoid clashing with the Super Bowl). Based on a video game of the same name, TLOU is developed by Craig Mazin and Neil Druckmann. Set in a post-apocalyptic United States, the show follows a smuggler named Joel (Pedro Pascal), who is tasked with escorting a teenager named Ellie (Bella Ramsey) to safety. The duo encounter several enemies and form a father-daughter-like bond in the process. Gabriel Luna, Anna Torv, Nico Parker, Merle Dandridge, Melanie Lynskey, Storm Reid, and Jeffrey Pierce also star.
---
3. New Sunday night episodes, including Mayfair Witches and Your Honor
The Last Of Us may have changed nights to air a new episode, but not these confident competitors. If watching the Super Bowl isn't your thing, you can tune into new episodes of AMC's Anne Rice's Mayfair Witches, PBS' All Creatures Great And Small, or Showtime's Your Honor at 9 p.m. ET. Don't forget about MGM+'s Murf The Surf and Showtime's Murder In The Big Horn at 10 p.m. ET.
---
4. Comedy Central's The Office marathon
Comfort sitcoms serve as excellent counter-programming to the Super Bowl, and this is where Comedy Central thrives. The network has a whole day planned so that anytime you want to switch channels, something funny is ready to greet you. From 10:40 a.m. to 6 p.m. ET, episodes from season one and season two of The Office will air back-to-back. If you want to tune in before The Office, Comedy Central will have your back with episodes of Parks And Recreation. Or come in after The Office eps for a long run of South Park.
---
5. American Auto (NBC/Peacock)

Speaking of hilarious sitcoms, NBC's American Auto has flown under the radar for too long. Created by Superstore's Justin Spitzer, this workplace comedy deserves far more attention, and it's worth spending your Sunday binge-watching it. Season one is available on Peacock, while season two is currently airing new episodes every Tuesday on NBC (episodes from season two arrive the next day on the streaming platform). The series follows the employees of an auto company called Payne Motors, who deal with the fallout of a new CEO joining the team. Katherine Hastings (Ana Gasteyer) is an excellent leader, but she knows nothing about cars. Thankfully, she has a ragtag team of higher-ups to help her out. The cast includes Harriet Dyer, Jon Barinholtz, Tye White, X Mayo, Humphrey Kerr, and Michael Benjamin Washinton.
---
6. A League Of Their Own (Prime Video)
Is it cheating if we divert your attention from football to baseball for a minute? We promise it'll be worth your time. This is a perfect opportunity to catch up on last year's A League Of Their Own (if you haven't already). Will Graham and Abbi Jacobson's series take on the 1992 film of the same name is a delightful and diverse sports dramedy. Set in 1943, it unpacks the creation of the all-female baseball team the Rockford Peaches. Expect lots of passionate baseball talk, but also lots of passionate lesbian love stories and excellent performances. The cast includes Jacobson, D'Arcy Carden, Chanté Adams, Roberta Colindrez, Kate Berlant, Kelly McCormack, Gbemisola Ikumelo, and Molly Ephraim. P.S.: Better catch up on ALOTO and American Auto now before they get unfairly canceled.
---
7. You (Netflix)

If spending the evening watching football players feels like a chore, maybe spending time with a fictional stalker and killer is more to your liking. Netflix released the first half of You season four on February 9. The first five episodes follow Joe Goldberg in London as he escapes his gory past in America. Joe now lives as Professor Jonathan Moore and mingles with an elite Brit crowd, but he retains his murderous tendencies. Season four's second part premieres on March 9.
---
8. What to watch on various streaming platforms
An advantage of not watching the Super Bowl is that you get to enjoy whatever the hell you want. And if you need help wading through the heavy quantity of TV shows available across all the major streaming platforms, The A.V. Club has handy guides for Netflix, Hulu, Prime Video, Apple TV+, Peacock, and Disney+.