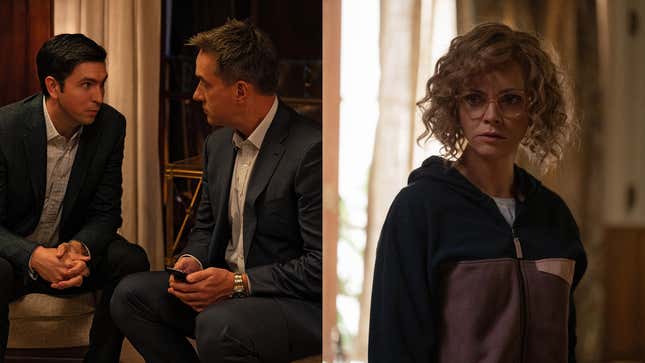 Welcome to the weekend edition of What's On. Here are the big things happening on TV from Friday, March 24, to Sunday, March 26. All times are Eastern. [Note: The weekly What's On will publish on Sundays.]

Alfonso Ribeiro on working with Tyra Banks and his favorite dancers
---
1. The Roys, our favorite twisted TV family, return for Succession's final season
HBO, Sunday, 9 p.m.: Admit it, you can already hear Nicholas Brittell's pitch-perfect Succession score in your head. HBO's award-winning drama is finally back after more than a year away. This season will unpack plenty of Roy clan drama now that Logan (Brian Cox) has effectively cut his children out of the family business, thanks to his son-in-law, Tom Wambsgams (Matthew Macfayden), snitching on them. How will they function with Logan, Tom, and Greg (Nicholas Braun) on one side and Kendall (Jeremy Strong), Shiv (Sarah Snook), and Roman (Kieran Culkin) on the other? And just what is Connor (Alan Ruck) up to? We have no idea, but that's what this fourth and final season is for. The A.V. Club will recap the show weekly.
---
2. Get ready for more teenage cannibalism in Yellowjackets
Showtime, Friday, 3:01 a.m.: Buzz buzz, Yellowjackets is back. After an acclaimed first season, the Showtime drama returns for a second round with 10 highly anticipated episodes. Set in two timelines, the show follows a group of high school students stranded in the wilderness after a plane crash in the '90s, and then it tracks what the surviving adults are up to now. The new episodes will hopefully answer burning questions, like what happened to Shauna's (Sophie Nelisse) baby in the woods and what the hell Lottie (Simone Kessell) is doing in the present day. Look out for The A.V. Club's recaps each week, timed to the Friday release on the Showtime app. Yellowjackets will air on the linear cable network on Sunday nights. As you wait, you can sort through some wild fan theories.
---
3. Kiefer Sutherland is back, dammit, in the espionage drama Rabbit Hole
Sunday, Paramount+, 3:01 a.m.: Kiefer Sutherland is seemingly made for TV spy dramas. After playing 24's Jack Bauer and an unexpected President in Designated Survivor, Sutherland now leads the thriller Rabbit Hole. Here he stars as espionage agent John Weir, who is framed for murders he didn't commit and gets entangled in a conspiracy theory that's far above his rank. The cast includes Charles Dance, Rob Yang, Meta Golding, and Jason Butler Harner. Here's a bit from The A.V. Club's review:
No one can explain what goes down in this timely but bizarre TV series. It's all ludicrous. However, against all odds, Rabbit Hole turns it into a somewhat compelling show.
---
4. Hulu's musical rom-com Up Here is, well, here
Hulu, Friday, 12:01 a.m.: Parenthood's Mae Whitman and The Flash's Carlos Valdes are the new rom-com duo to watch. They star in the 1999-set musical series Up Here, co-created by Steven Levenson, Danielle Sanchez-Witzel, Kristen Anderson-Lopez, and Robert Lopez (the latter two of "Agatha All Along" fame). Whitman and Valdes play Lindsay and Miguel, who fall in love only to discover that their biggest obstacles are the fears in their heads, which tend to manifest as song-and-dance routines. Here's an excerpt from The A.V. Club's review:
When a hero in a Broadway musical has feelings that are just too intense, they break into song. Sometimes strangers around them will repeat the lyrics or even dance. Are those songs happening in the world ... or in the hero's head? "Both!" responds Up Here, a cute if flimsy new offering that charts the bumpy love affair between two neurotic New Yorkers with periodic forays into razzle-dazzle.
---
5. Reese Witherspoon and Kacey Musgraves present My Kind Of Country
Apple TV+, Friday, 12:01 a.m.: In a TV landscape full of musical reality shows, what's another one, right? At least My Kind Of Country has an exciting pedigree, thanks to executive producers Reese Witherspoon and Kacey Musgraves. The competition series aims to break down barriers in country music by inviting diverse contestants from across the globe to Nashville. The winner will receive a massive prize from Apple Music and the company's unprecedented support in launching their songs. Here's a bit from The A.V. Club's review:
On this show, when Mickey Guyton tells an artist that she has been cut from the first round, "This is not the end of the road for you," she means it. As she later shares, this now successful musician "knows what it's like not to be cheered for." It's this spirit of shared humanity and mutual respect that makes My Kind Of Country something different, even special.

---
6. It's finale time for a bunch of Apple TV+ shows
Apple TV+, Friday, 12:01 a.m.: While the streaming platform welcomes My Kind Of Country, it's gearing up to end a few ongoing shows. Shrinking (from Ted Lasso's Bill Lawrence and Brett Goldstein) will wrap up, as will The A.V. Club's recaps of the comedy. Jason Katims' tearjerker Dear Edward also concludes, along with the third season of the Octavia Spencer-starrer Truth Be Told. (And it's not on Apple TV+, but the two-part finale of Daisy Jones And The Six also drops on Prime Video at 12:01 a.m.)