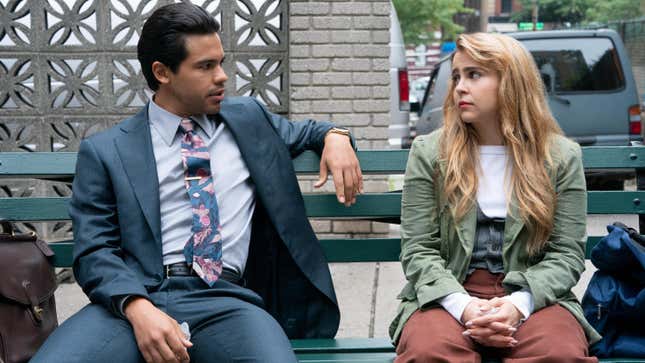 When a hero in a Broadway musical has feelings that are just too intense, they break into song. Sometimes strangers around them will repeat the lyrics or even dance. Are those songs happening in the world ... or in the hero's head? "Both!" responds Up Here, a cute if flimsy new offering from Hulu (out March 24) that charts the bumpy love affair between two neurotic New Yorkers with periodic forays into razzle-dazzle.
The creative team has a distinct Broadway pedigree. Jointly conceived by playwright Steven Levenson (Dear Evan Hansen), with tunes by Robert Lopez (The Book Of Mormon) and Kristen Anderson-Lopez (the duo behind Frozen's "Let It Go"), the series is based on a musical by the Lopez pair that got mixed reviews when it played the La Jolla Playhouse in 2015. Executive producing and directing the pilot episode is Thomas Kail, who staged a little-known show called Hamilton.
Up Here's premise is inherently theatrical: What if the voices of doubt and distrust in your head were actually embodied by people from your past—who sang to you? Thus thirtyish Lindsay (Mae Whitman) wakes up each morning next to her dentist fiancé with her nitpicking mother (Katie Finneran), morbidly fretful father (John Hodgman), and pushy seventh-grade frenemy (Sophia Hammons) sitting on the bed, warbling about how nice it is "to know someone." Of course, Lindsay barely knows herself, let alone her oblivious, bland fiancé, so one morning she abandons him and moves to New York to become a writer. (It's set in 1999, when people still did that.)
Wide-eyed innocent arrives in the big city: another classic musical trope. Soon Lindsay has acquired a tiny room (or closet), a shady roommate (Ayumi Patterson), and a job at a bookstore. A meet-cute with junior investment banker Miguel (Carlos Valdes) at a bar leads to fooling around at his office, which ends with him weeping in the middle of foreplay and running away. Lindsay is confused, but curious. Thinking she can turn the anecdote into fiction, she tracks him down and instead, falls hard.

G/O Media may get a commission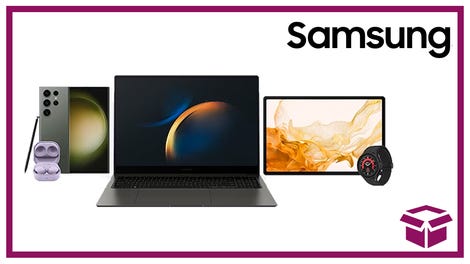 24 hour deals
Discover Samsung - Daily Deal
What's Miguel's problem? He still hasn't gotten over a girlfriend whom he caught cheating on him two years ago. Since then, he's reinvented himself as a corporate shark, while still a scared marshmallow inside. He too has mental tormentors only he can see and hear: an insanely doting mom (Andréa Burns), a high-school mean girl (Emilia Suárez), and the corporate bro (Scott Porter) who cuckolded Miguel. (Porter is especially funny as the alpha douche who constantly exhorts Miguel to man up.)

Both protagonists are socially awkward nerds, with painful histories and uncertain futures. He's a withholding, frustrated artist; she's a quirky, frustrated writer. Are Whitman and Valdes worth following for what is essentially a four-hour rom-com with perky musical interludes? The actors are low-key charming, but the heavy lifting is left to the scripts and tunes. Both pale in comic verve and songwriting craft when compared to the recent series Up Here most resemble: Zoey's Extraordinary Playlist and Crazy Ex-Girlfriend.

Sure, musical theater stans may get a frisson when Miguel breaks into song after he and Lindsay hook up in the bathroom of a copy shop, walls flying away to reveal a corps of dancers. The tunes are catchy, lightweight pop- and rock-flavored ballads of longing or ecstasy. They're performed to some energetic choreography. But the musical numbers don't grab you like the bangers in the ill-fated Smash, or the witty, encyclopedic pastiche of Schmigadoon! They're more like sonic wallpaper, soundalikes from a forgotten radio station. Eye-rollable lyrics won't win any converts, either. Lindsey mopes in the apartment, unsure whether to go out and meet boys: "What if I try to change this ever-looping tune? / What if let them see the dark side of my moon?"

Instead, the most memorable numbers are ones that feature guest stars. Broadway legend Brian Stokes-Mitchell pops up as a famous children's book author who invites Lindsay to a burlesque club and later, in Miguel's jealous imagination, croons of stealing her from him with Dr. Seuss-style innuendoes. The sensational Micaela Diamond (currently on Broadway in Parade) materializes as Lindsay's goth-punk schoolmate with no fucks to give who (in Lindsay's bad-girl fantasy) takes her out to a club to dance crazily and get laid. The actors playing voices in our lovers' heads—especially comedy diva Finneran—are mostly wasted.

The struggle to be true to yourself while reinventing yourself: a potentially rich theme. Love is about trust, communication, connection. "Can you ever really know someone?" the show asks, and answers with a shrug: "Yes and no." Fine, but the emotional journey there is more cloying than moving. Lindsay and Miguel break up and reconcile repeatedly. If you bail on this relationship halfway through, it's unlikely you'll come crawling back.
---
Up Here premieres March 24 on Hulu.