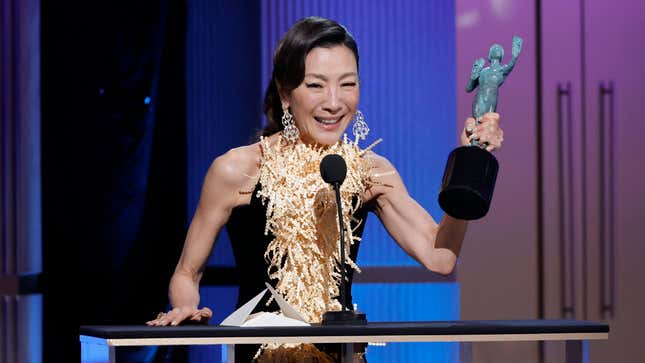 Hollywood's most famous union members were at the Fairmont Century Plaza Hotel in rain-soaked Los Angeles for the Screen Actors Guild awards. It was a cold and wet weekend in the typically sunny city, but that didn't stop the Guild from handing out more awards to Everything Everywhere All At Once. (Nothing is going to stop Hollywood from that.) After winning big at the Producer's Guild, ‌EEAAO took home four awards tonight, including the biggest one, Outstanding Ensemble. The cast used it as a moment to honor the 94-year-old legend, James Hong.
Why Christian Bale just can't quit David O. Rusell
Hong reminded us that his first movie was with Clark Gable, when producers told him, "Asians were not good enough and were not box office, but look at us now," he said. He's right; it was a historic night for Asian representation. Three of the "jerks" that worked with Hong on EEAAO are leaving with statues tonight. Michelle Yeoh is heading into the Oscars with a laundry bag of awards, and she made tonight count with one endlessly charming acceptance speech for Outstanding Female Actor.

"Fuck," Yeoh said. Maybe all award shows should just be on YouTube from now on. "Thank you for giving me a seat at the table. Tonight you have shown us that it is possible. I am grateful and my mom will be eternally grateful to you. Thank you. I'm going to walk away."
Hollywood heart-tugger Ke Huy Quan continued tugging heartstrings with a win for Outstanding Performance by a Male Actor in a Supporting Role. "This is a really emotional moment for me," Quan said. "Recently, I was told that if I was to win tonight, I would become the first Asian actor to win in this category. When I heard this, I quickly realized this moment no longer belongs to just me but to everyone who asked for change. When I stepped away from acting, it was because there were so few opportunities. The landscape looks so different now than before."
"To all those at home who are watching, who are struggling and waiting to be seen. Please keep going because, one day, the spotlight will find you."

Jamie Lee Curtis kept the ‌Everything Everywhere All at Once train a-rolling this award season with a win for Outstanding Performance by a Female Actor in a Supporting Role—classic 64-year-old nepo baby shit. It was her first SAG nomination since 1995's True Lies. But, more importantly, she beat out Oscar-favorite Angela Bassett, who famously did the thing.

Brendan Fraser got some more love this award season for The Whale. Winning Outstanding Lead Actor, Fraser recalled advice from Sir Ian McKellan: "Be good, be brief, and be seated." It was his first SAG nomination since Crash. One day, he'll get nominated for a less divisive movie.

Sally Field took home a well-deserved Lifetime Achievement Award and even got Andrew Garfield, the Peter Parker to her Aunt May, to present it. "You're a North Star to all of us," he said as he took audiences from The Flying Nun to Norma Rae.

It's a tale as old as time: Bob Odenkirk snubbed again. Jason Bateman's dramatic text messaging and head nodding won him the Outstanding Performance by a Male Actor in a Drama Series for Ozark—another award show to drop the ball on giving Bob Odenkirk his due. The same was true when The White Lotus, not Better Call Saul, won Outstanding Performance by an Ensemble in a Drama Series.

Speaking of The White Lotus, Jennifer Coolidge won "Outstanding Performance by a Female Actor in a Drama Series" for her dramatic role in The White Lotus. Good on the SAG awards for deciding what genre that show fits in.
Also on the HBO front, Jean Smart picked up another award for her role on Hacks, this time for Outstanding Performance by a Female Actor in a Comedy Series. A surprisingly emotional Christopher MacDonald accepted the award on her behalf, which she dedicated to the numerous guest stars on the show.
Jessica Chastain picked up an award for George And Tammy and fell up the stairs to deliver her breathless thank you speech. She tells aspiring actors she "looks forward to working with them." Those she did work with, however, weren't in the mix. Chastain shared the award with her co-star Michael Shannon, who was, somehow, not nominated. What can we say? Sam Elliott's mustache deserved that award for Outstanding Performance by a Male Actor in a Television Movie or Limited Series for 1883. He knew how to work the crowd, calling the award "the most meaningful acknowledgment" in his 55-year career.
The SAGs said "yes, chef" to us making another "yes, chef" joke. The food is stale, but The Bear (the non-cocaine one) continues to win awards, with Jeremy Allen White getting an Outstanding Performance by a Male Actor in a Comedy Series to go. It is a hilarious performance, we guess. Where else would you put that thing?

Abbot Elementary won the "Actor" for Outstanding Performance by an Ensemble in a Comedy Series. The cast took the stage with Quinta Brunson telling the audience that her ensemble "brings her down to Earth," recognizing that being a producer and creator is "the worst."
Correction: An earlier version of this article misspelled Ke Huy Quan's name. The article has been updated to reflect the correct. We regret the error.