Car Seat Headrest reimagines 2011's fiery Twin Fantasy with a bigger budget, while Poliça and Stargaze turn in the stirring Music For The Long Emergency, and Brandi Carlile finds strength in forgiveness on the lovely, languid By The Way, I Forgive You. These, plus Superchunk, Ought, and more in this week's notable releases.
---
[Matador]
Grade: A
When Car Seat Headrest frontman Will Toledo shifted from homemade recordings to his full band's debut—2016's gloriously raw Teens Of Denial—it became clear that his blustery, achingly funny songs, and not his charmingly ramshackle early sound, were his secret weapon. On his latest, Toledo recreates his intimate Bandcamp classic Twin Fantasy on his broader canvas. What was merely implied on the 2011 release is now exuberant; the shaky drum machine of "Bodys" is now a relentless pulse, the dirty organ on "Twin Fantasy (Those Boys)" is now crystal-clear but no less heartbreaking. Car Seat Headrest is nothing without rough edges, and there are still plenty of those; Toledo's fiery energy—especially on epic centerpiece "Beach Life-In-Death," still a jaw-dropping series of gear shifts—remains intact. With the new Twin Fantasy, Toledo has done the unimaginable: created a reboot that matches its original in tone, passion, and excitement.
RIYL: Energy. Fun. Despair. Barbaric yawps. Pavement. Bigger budgets.
Start here: "Cute Thing," a song that name-checks Frank Ocean and James Brown, references "Ana Ng" by They Might Be Giants, but never feels cloying or overly self-aware. [David Brusie]
G/O Media may get a commission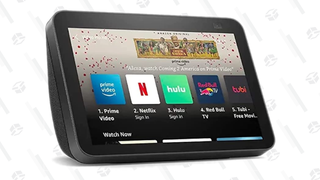 ---
[Totally Gross National Product]
Grade: B+
There's a strange but rewarding matching of talents that takes place on Music For The Long Emergency. Much as electronic pop act Poliça and European orchestral collective Stargaze have collaborated to create a record that sounds little like their other respective recordings, so too does the content have a strange bifurcated nature that nevertheless works as a greater whole. The first half of this intriguing partnership hews toward mournful pop songs, from the positively stately and soulful "Fake Life" to the menacing electronic grooves of "Marrow" to the practically AOR torch-song vibe of "Agree." But then, "Cursed" introduces atonal noises, and a pummeling rhythm section matched to frustrated and distorted vocals pushes it to a dark place, and the subsequent track, "How Is This Happening," turns into a 10-minute epic lament. By the time the title song closes out with a nine-minute odyssey, all easy categorizations are gone. The conclusion is both stirring and reflective, an unusual amalgam of styles and forms that feels appropriately uneasy—a soundtrack for these uneasy times.
RIYL: Poliça. Stargaze. If someone gave Explosions In The Sky a great singer and a whole lot of drugs.
Start here: The record is all over the map, so take your pick: "Agree" is the most conventional pop offering, but "How Is This Happening" is one hell of an achievement, a meditative reflection on confronting darkness. [Alex McLevy]
---
[Merge]
Grade: A
The most groan-inducing cliché that followed the 2016 presidential election predicted a influx of artistic masterpieces, because creators would channel their rage into bold new art. A year into the Trump regime, it's too early to tell if that will actually happen, but Superchunk's ironically titled 11th album gives some credence to the cliché. Recorded quickly and announced unexpectedly, What A Time To Be Alive is the rawest Superchunk album since the band's 1990 debut and undoubtedly its most ferocious. The band's well-honed style of highly melodic, punk-inflected indie rock remains, but with a serrated edge. There's minimal polish and no accoutrements beyond the core instruments of guitars, drums, and bass, making it the first Superchunk album without keyboards in more than two decades. The hooks remain plentiful, but the rage is palpable, like when Mac McCaughan opens "I Got Cut" with, "ALL THESE OLD MEN WON'T DIE TOO SOON," the only words rendered in all caps in the lyric sheet. Turns out fury suits Superchunk.
RIYL: Sing-along rage. Complaining that Come Pick Me Up and Here's To Shutting Up were too mellow.
Start here: The title track is basically What A Time To Be Alive in a nutshell, a pleasing mixture of hooks (that are vintage Superchunk) and barbs (like the blistering chorus, where McCaughan sings, "To see the rot in no disguise / Oh what a time to be alive / The scum, the shame, the fucking lies / Oh what a time to be alive / Oh what a time to be alive"). [Kyle Ryan]
---
[Dead Oceans]
Grade: B+
In 2015, Marlon Williams' self-titled debut established the New Zealander as a young front-runner in Americana, a studied songwriter with a moody croon straight out of the 1950s. On his sophomore release, Make Way For Love, Williams' penchant for shimmering, swooning arrangements is alive and well, but driven by a darker, more adventurous spirit that goes a long way toward maturing his sound. Written in the aftermath of Williams' breakup from fellow Kiwi folk newcomer Aldous Harding, Make Way charts the extremes of love, from sweltering euphoria ("Come To Me") to melancholy disorientation ("The Fire Of Love"). Williams' emotive baritone, as ever, commands center stage, but it's the album's experimental elements (the Suicide-ish drum machine on "Party Boy," the strange synth accompaniments throughout) and subtle psychedelia (as on the spellbinding "Can I Call You") that push Williams' sound to a more interesting and promising place—one akin to the cinematic art-rock stylings of Anna Calvi, for instance, but with Williams' unmistakable stamp.
RIYL: Roy Orbison. Angel Olsen. Weyes Blood. Anna Calvi. '50s teen dramas like Rebel Without A Cause. Ennio Morricone.
Start here: Few breakup albums actually feature both parties, but on "Nobody Gets What They Want Anymore," Harding joins Williams to turn their bittersweet separation into a resplendent psych-pop affair. [Kelsey J. Waite]
---
[Low Country Sound/Elektra]
Grade: A-
As the title implies, Brandi Carlile's sixth studio album is about deriving strength from forgiveness and gratitude. But the lovely, languid folk songs on By The Way, I Forgive You also offer nuanced looks at life's everyday complications. "The Joke" is a beacon of hope for those discouraged by today's political climate, while "Sugartooth" provides a sympathetic portrait of someone grappling with addiction. Working with producers Dave Cobb and Shooter Jennings, as well as long-time collaborators Tim and Phil Hanseroth, Carlile drapes these sentiments with ornate detailing: woodsy acoustic guitars, Elton John-esque piano swing, and the occasional orchestral accent or hollering sing-along. Carlile's self-assured delivery crests on the album-closing, gospel-tinged "Party of One." Her voice cracks with emotion as she relays how holding on to someone is much more difficult than leaving them—but then reiterates that giving up is not an option.
RIYL: Bob Dylan's '60s output. Jason Isbell And The 400 Unit. Dolly Parton's self-penned country tunes. The Pretenders.
Start here: Brisk folk-rocker "The Mother" is a sweet song that illuminates why Carlile is so proud to raise her strong daughter, Evangeline. [Annie Zaleski]
---
[Merge]
Grade: B+
On Ought's third LP, singer Tim Darcy has aged out of the art-house anxieties that became his band's instant calling card following the release of its 2014 debut, More Than Any Other Day. But the Montreal quartet has always supported its nauseous singles with moodier, well-tempered songs that belie Darcy's commitment to classic pop songcraft, and the gentle production touches and exquisite turns of phrase ("A precious secret / Like a bird inside a vest") that appear throughout Room Inside The World make it feel like the first Ought record whose defining characteristic is its subtlety. Darcy is more at ease at the mic, too, crooning like a kempt Robert Smith over the hoovering Stereolab funk of "These 3 Things" and whipping up new shades of melancholy on centerpiece track "Desire." Though it's hard not to miss the old energy, ultimately, the band's newfound sense of stability turns out to be a good look for them—and one that suggests the milk of human kindness does a body good.
RIYL: Stereolab. The Cure. Punk bands with well-stocked libraries.
Start here: Like the best songs in Ought's back catalog, "Desire" takes its time developing, and instead of building to a cathartic shout-along, the band carefully sculpts a finale that packs a more complex emotional punch than anything it's done in the past. [Marty Sartini Garner]
---
Shannon & The Clams, Onion
[Easy Eye Sound]
Grade: B
On 2015's Gone By The Dawn, Shannon & The Clams made the first real shake-up to its ramshackle sock-hop sound with the addition of Will Sprott's keyboards and organs. The band attempts a much bigger leap forward on Onion, its first album for Dan Auerbach's Easy Eye Sound and first produced in part by the Black Keys singer himself. His penchant for more extravagant, layered songs is all over the record, at times, like during the not-quite-arena-ready chorus of "Backstreets" or the limp psychedelia of "It's Gonna Go Away," pushing the group toward a bigger sound but not embellishing it enough to pull it off. As a result, some tracks land in an odd middleground between the grandiosity Onion seemingly wants to achieve and the shambolic charm that made The Clams one of the most unique bands to come out of the Bay Area garage-rock scene. Luckily, that scrappy spirit lives on in the album's many moments of glorious abandon—the giddy shout-chorus endings of "I Never Wanted Love" and "Love Strike;" Shannon Shaw's pained, raspy crooning on "Did You Love Me"—which easily outnumber its over-ambitious misfires.
RIYL: '50s rock. T. Rex. Girl groups. The Black Lips.
Start here: Shannon & The Clams' love of '50s pop has made the band's ballads as vital as its rowdy rockers, and the slow-dance-worthy "Did You Love Me" ranks among the group's very best. [Matt Gerardi]
---
[Matador]
Grade: C+
How To Solve Our Human Problems (Part 3) makes the strongest argument yet that Belle & Sebastian's EP series is meant to be cherry-picked from and rearranged at the listener's discretion. Covering musical territory that stretches from the roller rink to the coffeehouse to Stuart Murdoch's postmodern girl-group laboratory, its five songs don't form a cohesive whole, but they do call out to the previous discs. "Everything Is Now (Part Two)" puts regret-tinged verses to the mostly instrumental closer from the first EP, while "Best Friend" gets a big boost from the same Motown staccato that launched Part 2's standout, "Same Star," into orbit. "Best Friend" brings How To Solve Our Human Problems to a close, but there's a tug of anticipation as its star-crossed-roommates story winds down. The ear expects another burst of strings, another chord progression, the sound of Murdoch's unaccompanied coo, but it doesn't come. As a conclusion, "Best Friend" achieves something even more impressive: At the end of the third EP in three months by a band 22 years into its career, it leaves you wanting more.
RIYL: God Help The Girl. ABBA. "Pull Shapes" by The Pipettes.
Start here: "Best Friend," in which guest vocalist Carla Easton tries to tamp down feelings for the person sleeping in the other room, but the orchestral arrangement keeps dredging them up and up and up. [Erik Adams]
---
Fischerspooner, Sir
[Ultra Music]
Grade: B-
New York's Fischerspooner broke wide in 2001 with its slickly repackaged synth-pop and stylized theatricality, but the black-hole collapse of electroclash all but consumed it—even as 2005's Odyssey proved it had more beyond just performance-art posturing and pretty-okay Wire covers. Sir, the duo's first album in eight years, thus comes off like a reboot. Produced by the shit-hot Boots, its songs slink and smolder rather than strobe, now more in conversation with modern R&B than '80s new wave. (On "I Need Love," frontman Casey Spooner even tries out the kind of warped-cassette vocal filter beloved by Future.) It also recontextualizes the group's sex-crazed struts as political statements: Panting singles "Top Brazil" and "Togetherness"—with their talk of "take it all the way" and "denim on denim" friction—are defiant celebrations of the gay male libido, Spooner's said, while the spoken-word "Oh Rio" (a sort of South American Death In Venice, about an aging player lusting after "teenage fantasy" in Brazil) and Depeche Mode-esque opener "Stranger Strange" capture the loneliness of a life spent in constant pursuit of pleasure. Still, even with co-writing from R.E.M.'s Michael Stipe (Spooner's former lover), the songs aren't weighty enough to support those ambitions; the lyrics are still kinda dumb and, occasionally, gross and dumb. (Here's one: "Find a way to jack the stars / And milk the revelations.") That said, Sir updates Fischerspooner's old cocaine throb to surprisingly modern, still sleazily enjoyable, then inevitably exhausting results. It's enough to think it might stick around this time.
RIYL: Boots (both the producer and the patent-leather kind). Kelela. Scissor Sisters. S&M-era Depeche Mode. Pride parades. Walks of shame.
Start here: "Togetherness" is both sexy and bizarre—and totally unlike the kind of wild-abandon club bangers the group behind "Emerge" is famous for—with its lurching beats and cut-up synth swells, plus some ghostly-soul backing vocals from Chairlift's Caroline Polachek. [Sean O'Neal]
---
Purchasing via Amazon helps support The A.V. Club.