Hot on the heels of his critically acclaimed and criminally rejected theme for AMC's Halt And Catch Fire, comedian, podcaster, and A.V. Club favorite Paul F. Tompkins is back to having fun with theme songs. Only this time he's brought some friends.
Yesterday, presumably while killing time in traffic, Tompkins shared this potential theme for Paul Thomas Anderson's new film Phantom Thread, which he admits is "loosely based note-for-note" on the theme from My Three Sons. While the a cappella version is certainly effective and reminiscent of Tompkins' rejected Mindhunter theme, the addition of ukulele really kicked things up a notch.
With a few chords, singer-songwriter and ukulele maestro Jim Boggia transformed the three-word theme into a jumping Gypsy jazz tune that Tompkins dubbed, "Phantom Thrukulele." Soon, in what may be the first instance of song-built-by-Twitter-thread, other musicians were joining in on the fun. Eban Schletter, renowned TV composer and resident talking piano on Tompkins' improv podcast Spontaneanation, added a bit of much-needed theremin to the mix.
G/O Media may get a commission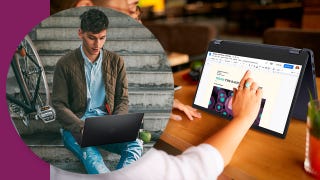 Ends August 15
Best Buy Anniversary Sale 2022
Ends August 15
Best Buy has a number of different promotions happening all for its Anniversary Sales Event. Laptops, tablets, TVs, you names it. Whether you're heading back to school or just trying to fill your home with some new tech, there is something here on sale that you've likely been waiting for.
Then, Motion City Soundtrack drummer and Feliz Navipod host Tony Thaxton came in with a simple shuffle beat that really tied the whole thing together.
Like all of Tompkins' theme song work, this piece is clearly a vast improvement on whatever the original theme to Phantom Thread was. After all was said and done, one twitter user was kind enough to make a more evenly mixed version of the song, which you can enjoy on Soundcloud. Though we would recommend experiencing this beautifully composed piece of music the way it was originally intended: