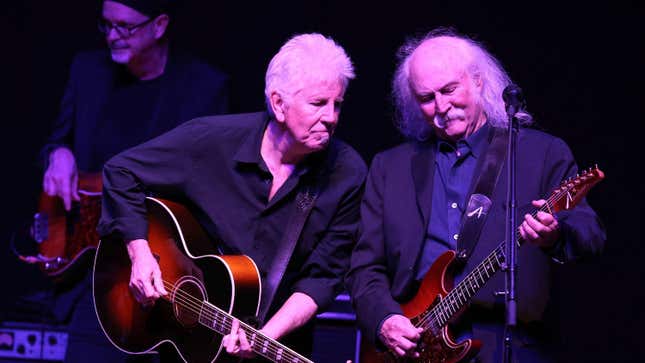 Few relationships in music have been more productive, or contentious—and especially not over a longer scale—than those between the members of Crosby, Stills, Nash, And Young, who lost their first member and sparring partner, David Crosby, when he died last month. Now, Graham Nash has given an interview to AARP about his relationship with Crosby, including the fact that the two men had begun to thaw toward each other in Crosby's final days.
"The fact is that we were getting a little closer at the end," Nash said in the interview. "He had sent me a voicemail saying that he wanted to talk to apologize, and could we set up a time to talk. I emailed him back and said, 'Okay, call me at eleven o'clock tomorrow your time, which is two o'clock on the East Coast.' He never called, and then he was gone." Nash said the voicemail arrived about a week and a half before Crosby's death, which was on January 18 of this year.
In the interview, Nash declines to talk about the negative parts of his relationship with Crosby—"if I concentrate on the bad times, it gets too weird for me"—although he does allude "to his comments about Neil's wife," i.e., harsh things Crosby said about Daryl Hannah in 2015, i.e., the last time CSNY ever played together. Instead, he focuses on Crosby's talents, and musicianship, which the two men explored over a nearly five-decade career together.
David's gift was the unbelievable uniqueness of him as a musician. Crosby was very jazz influenced in his early days. He played in tunings that were very strange, ribbons that were very strange…I know many musicians, of course, and I've heard many musicians over my life. But I have never heard anybody with the same brilliant sense of music and harmony that David had.
His death is like an earthquake: You know that you're in an earthquake, but subsequently, other smaller earthquakes happen afterwards. His death has been like that. It was only two or three days after he passed that I realized that he was actually gone.