Liam Neeson sent us all reeling when, during a press junket for his comedic new revenge film, Cold Pursuit, the actor veered into a bizarre minefield of a story about wanting to kill a "black bastard" after a friend of his told him she was assaulted by "a black person."
"I went up and down areas with a cosh, hoping I'd be approached by somebody–I'm ashamed to say that–and I did it for maybe a week," he told The Independent, "hoping some 'black bastard' would come out of a pub and have a go at me about something, you know? So that I could, kill him."
Now, in a Tuesday morning interview with Good Morning America (via Indiewire), Neeson is working to clarify those comments, asserting that his feelings were born out of a "primal urge" and that he's "not racist." He's also shed some light on the timeline, which was previously murky, saying the incident went down "nearly 40 years ago."
"We were doing a press junket and the topic of our film is revenge," Neeson said of the initial interview. "It's a dark comedy, but its basis is revenge. The lady journalist asked me how I tapped into that. I remembered an incident nearly 40 years ago where a dear friend of mine was brutally raped. I was out of the country. When she came back she told me about this and she handled the situation herself with incredible bravery, I have to say that. I had never felt this feeling before, which was a primal urge to lash out."

He continued, "She said he was a black man. After that, there were some nights I went out deliberately into black areas in the city looking to be set upon so that I could unleash physical violence, and I did it for four or five times until I caught myself on. It shocked me, this primal urge I had. It shocked me. It hurt me. I did seek help. I went to a priest…I am not racist. This was nearly 40 years ago."
G/O Media may get a commission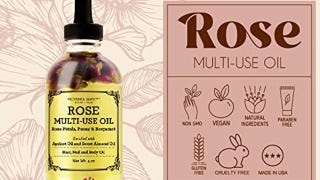 Provence Beauty Rose Multi-Use Oil
As the Daily Mail adds, Neeson also acknowledged how his words could be read as hateful. He also asserted that he would've done the same had his friend's attacker been white. "If he was Irish, a Scot or Brit or a Lithuanian. I know I would have had the same reaction," he said.
"Violence breeds violence," he concluded. "Bigotry breeds bigotry."
Neeson also opened up about the bigotry he witnessed growing up in Northern Ireland, and how innate racism still is in some cultures. "We all pretend we're all politically correct. In this country, sometimes you just scratch the surface and you discover this racism, this bigotry, and it's there."
"I just feel we need to be honest," he later told Kelly Ripa and Ryan Seacrest on Live with Kelly and Ryan. "I grew up in a society where there was a lot of bigotry in Northern Ireland between Protestants and Catholics and I'm so sick of it." Later, he asserted "the need for dialogue."
While Neeson has been criticized for the comments, some pundits are looking at them in a different light. John Barnes, an ESPN commentator and former soccer player, for example, passionately put forth a defense of the actor. Barnes, who experienced a slew of racist attacks during his professional career, believes that Neeson is simply telling the truth about how pervasive prejudicial thought was at that time in history. "So for this one black person who raped this woman, he then looked at it as all black people are rapists. Now, what he's actually saying is, 'This is what I thought, this is what I saw, and I am ashamed and I am horrified, and after a week I thought to myself, 'What am I doing?'" he said.
He continued, "As much as people are now jumping on this bandwagon of how terrible it is, what he's done is he's come out and told the truth. He [Neeson] should be applauded for saying, 'Yes, I was an unconscious racist and after a week I realized I was'. And people are going to be afraid of admitting it now because of what's happened to Liam Neeson."