Stewart Lupton, singer of influential New York band Jonathan Fire*Eater, died on May 28 at the age of 43. Below, Lupton's former bandmate (and A.V. Club columnist), Paul Maroon, offers a remembrance. 

My dear friend Stewart Lupton passed away last week. We grew up together in Washington, D.C. We went to the same school and, from the ages of 15 to 25, spent most of our free time together, working on music. Since I heard the news, I've been reading through his poetry and songs. It's been bittersweet. I loved his sense of humor. Back when we were kids, nobody was funnier, and his wit is everywhere in his writing—self-deprecating, goofy, quick. But I also know there was a lot that Stewart wanted to do that his struggles with addiction—and ultimately, mental illness—wouldn't let him do. That's on the page, too. For those of us who knew him, the tension there—between possibility and loss—hurts.
Stew arrived in New York in 1994 at age 19, two years after I did. We shared a room in the apartment our band, Jonathan Fire*Eater, rented. We bought a broken bunk bed, which, to our initial amusement, would crash to the floor every so often, with us in it. We worked shitty jobs and rented a grim rehearsal room on Stanton Street with mirrored walls. At night, we'd walk to Max Fish over on Orchard Street, up to Sophie's on 5th St., or to the Old Homestead bar on 1st Ave. Any place that wouldn't card us.
Stewart seemed to know everybody already, even on first arrival. Folks were drawn to him, always. Patrons and bartenders would greet him by name. And he would dutifully introduce the rest of us, though people plainly only cared about him. His humor, his artistic curiosity, his interest in you, whoever you were, all made folks want the seat by his. Stew was charming, but unlike many charming people he was sincere, almost defenseless. A month or two in, he was already saying goodbye to Jon Spencer at the end of the night as he got into his cab. (I also remember being impressed that Jon Spencer took cabs, as no one I knew did.)
G/O Media may get a commission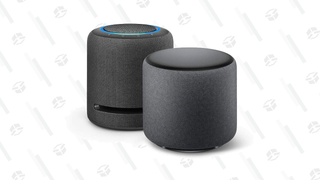 25% off - Prime Exclusive
Echo Studio + Echo Sub Bundle
Back in our 8 x 10 room, Stewart talked about the writers he admired, and I'd go look up Joseph Brodsky or struggle through Yeats on his recommendation. He played "Visions Of Johanna" over and over again, and we'd watch videos of Richard Pryor doing stand up. Stew stopped doing laundry (I do think he had started at some point), and he suggested a sock pile for the two of us—both clean and dirty—that we would both draw from. (No.) When I was grumpy, he called me "Crankasaurus Rex," which was disarming—and if I complained, proved his point. He playfully threw my two-volume biography of Winston Churchill, The Last Lion, into the shaft of our building, saying it didn't fit in with what we were trying to accomplish.

Months on the Lower East Side gave us some songs, but not enough for a record. So we decamped to an old farmhouse owned by Tom's parents in Alpine, New York, squeezing all our equipment into the stone basement. We spent 10 days playing and writing that first visit. Taking retreats like this would become a ritual. We looked forward to them like crazy. It's how we made a lot of our music.
These trips were also our chance to have Stewart all to ourselves—away from New York, his non-stop social life, and forces that would eventually start to pull him and us apart. Nobody was as much fun as he was during those weeks. Stew was a consummate ringleader. His jokes broke us all up. His insistence that we tell ghost stories (the rest of us thought we were too old) was just part of his refreshing lack of self-consciousness. When we wrote music it was together, setting up and playing until something good came about. But Stewart would have to sit in a dark corner, away from all of us so his microphone wouldn't squeak. You could forget he was there, and I think it bored him. He would play this joke: flying out of the darkness into the middle of the room, his dress shirt off and tied around his head in a bandana. He would be flexing his muscles and pointing at them, in turn pointing at us, too, yelling full-force, his microphone going bananas with feedback—all in that crouch folks like Henry Rollins sing from. The rest of us would quickly switch into playing hardcore music to join in.

It is tradition with Tom's parents that guests leave a drawing on the wall at end of a visit to their house. Here is Stewart's from one of our trips upstate: croquet, Spider-Man, and toast hot from the toaster are all celebrated here.
I've been looking at this drawing and photographs of Stewart, listening to his music. Stories keep coming back that I had lost for a while. My reaction—How did I forget that about Stewart?—is the same each time. But I won't let that happen again. The last time I saw him was in Los Angeles, about two years ago. We talked with excitement about music that we recorded years ago getting reissued. (It hasn't yet, but I hope it will soon.) We talked about his parents and our families.
We also talked about some of the pain and sadness in his life. And I will miss him very, very much. I'm sorry it was so hard, Stew. I pray it's easier now.