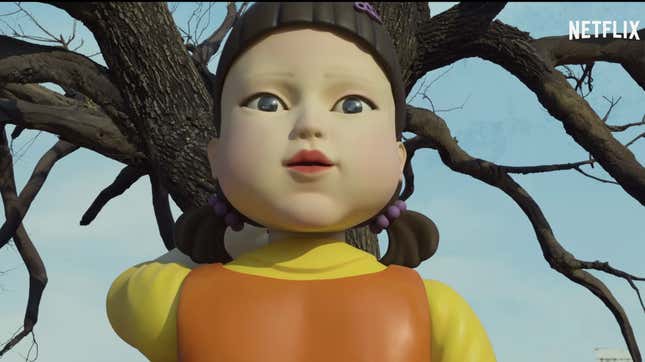 Contestants, welcome to the dystopia! Netflix's juggernaut South Korean hit Squid Game was a violent, scathing satire about surviving under capitalism, so of course the streaming service turned it into a real-life game show. (Remember when they were going to make a Hunger Games theme park?) A new teaser for the reality competition series Squid Game: The Challenge debuted at Tudum, Netflix's global fan event, and, well, yeah, it looks like Squid Game.
James Cromwell is taking a stand for vegan milk
In the brief clip, anonymous jumpsuit-wearing figures prep the creepy warehouse for contestants to arrive, with shots of impressive set-building and some iconic images from the series. There's also a glimpse of the actual contestants prepping for a game of red light, green light with the infamous giant doll, Young-hee.
Pre a previous release regarding Squid Game: The Challenge on Tudum's website, "456 players will compete to win $4.56 million, the largest cash prize in reality television history. Through a series of games, each player will be pushed to their limits and forced to ask themselves just how far they'll go to win, with opportunistic alliances, cutthroat strategies and timely betrayals to follow."
While nobody died in the making of Squid Game: The Challenge, the series was nevertheless reportedly produced under "absolutely inhumane conditions," according to a few anonymous contestants. Multiple people apparently collapsed during red light, green light, and the challenges ran hours longer than what the contestants supposedly signed up for.
Netflix conceded that some contestants needed medical attention, but claimed that "participants were prepared" for the conditions under which the challenges played out. "I'm infuriated by the narrative that Netflix is putting out there, that only [a few] people were injured… we were all injured just by going through that experience," one such participant named Jenny told Variety. "I've never been that cold for that long a period in my life. We couldn't feel our feet or our toes. It was ridiculous. Take some responsibility for the fact that you were ill-prepared for this kind of thing, with this number of people."
Sounds bad, and also in keeping with the Squid Game ethos, sadly. Anyway, you can check out the teaser above, and get ready for real-life Squid Game come November!