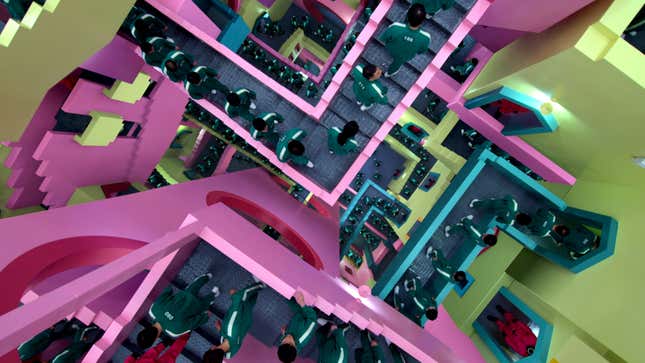 Believe it or not, the reality show based on Netflix's dystopian drama Squid Game appears to have had a dark side. If the competition series didn't have sinister undertones already, allegations from three members of the 456-contestant pool paint an even more uncomfortable picture, of freezing temperatures, marathon challenges, and going to bed hungry.
Netflix plans to make you freeloaders finally cough up the dough
In a new report from Variety (which can and should be read in full here), three contestants from Netflix's Squid Game: The Challenge reality show detail what they call "absolutely inhumane conditions" on the series' U.K. set. All three individuals spoke on the condition that their real names be withheld since they signed a non-disclosure agreement.
Altogether, their stories point to an overworked cast and unprepared production with rigorous yet disorganized competitions. Sometimes competing in freezing temperatures with little more than their teal jumpsuits on, a number of contestants reportedly collapsed during one "warzone"-like "Red Light, Green Light" game. The A.V. Club has reached out to Netflix's representatives for a comment.
As another player, Marlene, explains, it's not that she didn't expect the competition to be a challenge—it just wasn't the kind of challenge she'd agreed to. Although contestants said they were told the game would last around two hours, they reported the challenge running over seven hours.
G/O Media may get a commission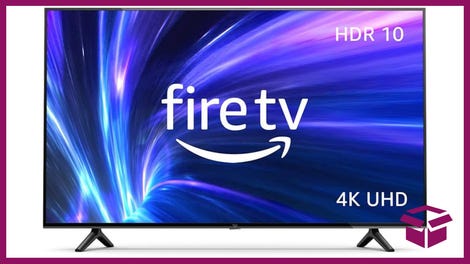 42% Off
Amazon Fire TV 50" 4K Smart TV
"It's not like we signed up for Survivor or Naked and Afraid," Marlene says of the experience filming in the U.K. "The conditions were absolutely inhumane and had nothing to do with the game." While Netlflix has said three people needed medical attention during the challenge, Marlene says she saw four people faint.
In a statement to Variety, Netflix emphasizes that it cares "deeply" about the welfare of its cast and crew, and that "participants were prepared" for the cold weather. But Jenny, another contestant, says she feels disrespected by what she sees as a minimizing depiction of the situation.
"I'm infuriated by the narrative that Netflix is putting out there, that only [a few] people were injured… we were all injured just by going through that experience," Jenny shares. "I've never been that cold for that long a period in my life. We couldn't feel our feet or our toes. It was ridiculous. Take some responsibility for the fact that you were ill-prepared for this kind of thing, with this number of people. "
Update, 2/3/2023: Netflix, Studio Lambert, and The Garden have now responded to this story, issuing a statement that, "We care deeply about the health of our cast and crew, and the quality of this show. Any suggestion that the competition is rigged or claims of serious harm to players are simply untrue. We've taken all the appropriate safety precautions, including after care for contestants – and an independent adjudicator is overseeing each game to ensure it's fair to everyone."