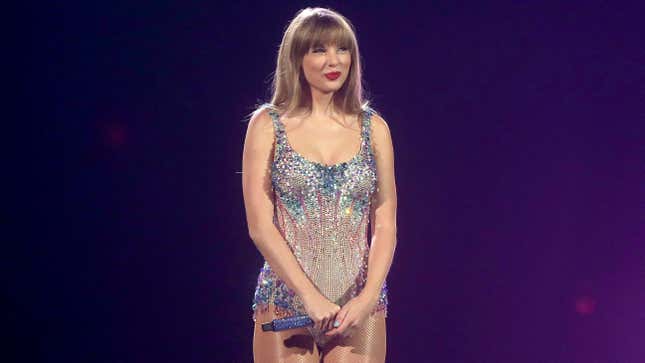 Taylor Swift is not releasing a memoir this year. Typically we publish news about things that are happening, but in this case, the absence of a newsworthy action has in itself become newsworthy. That's because based on a handful of coincidental clues, Swifties convinced themselves that their idol was releasing a memoir this summer, and rushed to preorder a mystery book that is not by Taylor Swift, as Variety confirms.
What Beth Ditto learned from her "Monarch" costar Susan Sarandon
If we need any more evidence that Swifties have gone full Q-Anon in their own sphere, look no further than the fact that they made this untitled, unpublished book by an unknown author a bestseller. Per Variety, the book peaked at #2 on the Amazon book sales chart and #1 on Barnes & Noble's pre-orders chart. (As of this writing, it's dropped to #29 and #3 on those respective charts.)
The fervor apparently started with a TikTok from pop culture podcast what i will say, which claimed insider knowledge of a publisher press release teasing a book that "will have massive publicity" with "global appeal," an alleged celeb author comparable to the memoirs of Prince Harry or Matthew Perry. So how did Swifties extrapolate that she was the high-profile writer behind the book?
The facts are these.
In All Too Well: The Short Film, the lead character, played in her older incarnation by Swift, is revealed to be an author. Conditioned to look for clues to the artist's future moves in her music videos, this image planted the idea that Swift was planning to release her own book in real life.
The alleged memoir press release supposedly said that an official announcement for the mystery memoir would occur on June 13, that number being held sacred in Swiftie lore.
The press release also supposedly contained a page count for the book, 544, which when added together totals… 13. (Swift is on the record as enforcing numerology onto her oeuvre.)
The actual release date for the book is July 9, a date mentioned in Speak Now track "Last Kiss."
Swift recently shared that her Speak Now re-recording would be released on July 7, the close proximity of these release dates reinforcing the belief that the two were related. Speak Now is Swift's only album on which she's the sole songwriter; the emphasis in her announcement on the album being "completely self-written" was further seen as a clue that she had also "self-written" a book.
Further, mentions in the Speak Now (Taylor's Version) announcement of her "unfiltered diaristic confessions" and addressing fans as "dear reader" (both the title of a Midnights track and the thing you'd be if you were reading a celebrity's memoir!) seemed to bolster the book theory.
Perhaps you can see, observing this list of "evidence," how Swifties came to that unfortunately erroneous conclusion. Perhaps seeing it laid out as such only makes the kind of theorizing that goes on in certain social media spheres seem more bizarre. Regardless, many Swifties today are "wearing their clown shoes" (in fandom parlance) after spending $45 American dollars on a totally random and as yet unknown author's memoir. Chalk this up to yet another example of the Easter egg-ificiation of pop culture running rampant over common sense. Hope the book turns out to be juicy enough for all the poor Swifties who are now stuck with it!