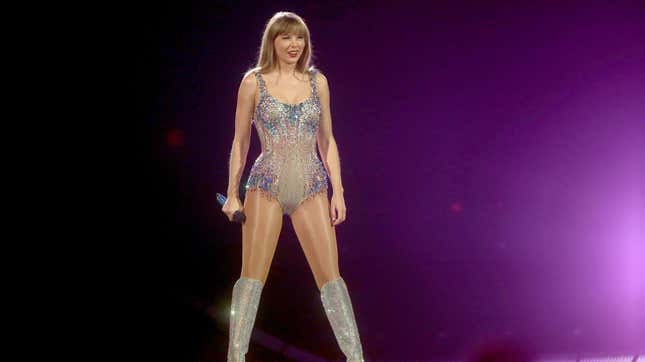 Don't say Taylor Swift didn't warn us. Fans whose parasocial ardor for the pop star surpasses perhaps any other idol on the planet were shell-shocked by the news that Swift had split from her boyfriend of six years, actor Joe Alwyn. Many are still stuck in the denial phase of grief, adamant that the news must not be true until they hear it straight from the source. In lieu of that, all we have to go on is the music—but her most recent work may offer some insight into the Grammy winner's current attitude toward relationships.
Taylor Swift speaks at NYU graduation ceremony
In fairness to the Swifties, it's no wonder that they've formed a certain attachment to Swift's happily ever after. The singer built much of her own mythology on the backs of fairy tales and romantic fantasies. "Love Story" is the most notable example, but her oeuvre is littered with wedding imagery. Her lyrics are filled with heterosexual couples who run away together so that their love might thrive. Perhaps this is the reason that a certain contingent of Swifties became convinced that their icon was preparing to retire at the conclusion of The Eras Tour. She got her happy ending, so now it's time to close the book, right?
But if we listen to her most recent album, Midnights, Swift is explicit that a relationship isn't her priority, particularly a traditional "he kneeled to the ground and pulled out a ring…" kind of relationship. "All they keep asking me is if I'm gonna be your bride," she complains on the album's opening track "Lavender Haze," dismissing out of hand "that 1950s shit they want from me." Swift's true priority, she explains again and again, is her work and her ambition. In "You're On Your Own, Kid" and "Midnight Rain" she reiterates that she gave her "blood, sweat, and tears" for her career, and it's always going to come first. Fame may be a prison, but it's one she chose and will keep choosing. It seems like a message any fan or potential partner needs to understand.
Despite the fact that, from 1989 onward, Swift has been pretty honest about how difficult it is to be in a relationship with her, "sources" close to the couple allege that her most recent ex didn't fully understand that message. "Joe has struggled with Taylor's level of fame and the attention from the public," an insider claimed to People. "They had plenty in common and fell in love in a safe bubble while she was retreating from the world during Reputation. Then the pandemic hit, and they were locked down together and able to continue growing their relationship in this insulated way. But he didn't really 'know' her yet outside of that bubble."
Perhaps Alwyn, like some of her fans, fell for the fantasy of the reclusive folk singer who was ready to give it all up and live by "The Lakes." But the real Swift is the "mirrorball" and the "Mastermind." Even in the quiet pause of the pandemic, she was still "Bejeweled," ready to reclaim her throne as pop's reigning princess at a moment's notice. She once reflected that she felt "frozen at the age [I] got famous," meaning most people still see her as the starry-eyed teen spinning romantic fairy tales. The true Taylor Swift is more complicated and more powerful as an adult, willing to own her ambition no matter what it costs her. Revisiting Midnights might help people understand that.