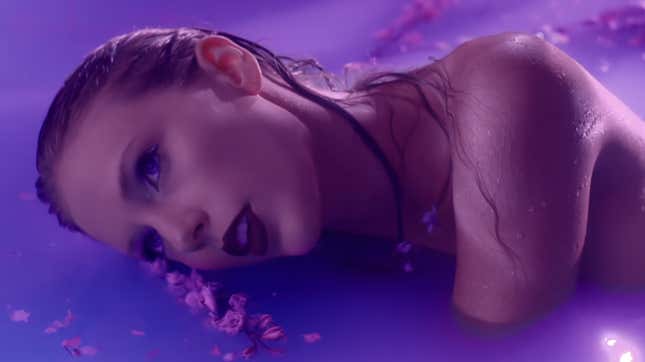 In the "Anti-Hero" music video, Taylor Swift poked fun at her fans for looking for Easter eggs everywhere (and at herself for leaving them). In the "Bejeweled" video, she crammed every scene full of them. The new "Lavender Haze" video falls somewhere in the middle, mostly existing behind a purple smokescreen in one of her most seductive visuals yet.

"The Lavender Haze video is out now. There is lots of lavender. There is lots of haze. There is my incredible costar [Laith Ashley] who I absolutely adored working with," Swift shared on social media at the time of the video's release. "This was the first video I wrote out of the 3 that have been released, and this one really helped me conceptualize the world and mood of Midnights, like a sultry sleepless 70's fever dream. Hope you like it."
The video is characterized by some classic Swiftian heavy-handed visual metaphor (a literal gray cloud hangs over her head while she sings how her lover doesn't "really read into my melancholia"). She puffs a cloud of lavender smoke in the shape of a clock striking midnight; she bathes alluringly in a lavender pool; she enjoys her cosmic love bubble while partygoers gossip and dance around her.
A certain subset of fans will point out, quite fairly, that lavender has had a longtime association with queerness, though aside from her trans co-star, this video has far fewer nods to the LGBTQ+ community than the bonanza that was "You Need To Calm Down." (Swift previously said she lifted the term "lavender haze" from Mad Men.) Other fans are on the watch for signs pointing to Speak Now (Taylor's Version) being Swift's next release. The koi fish gliding through space, for instance, may point to a guitar she played on the Speak Now tour, and even the color purple has an association with her third album.
More than anything else, this video's Easter eggs refer back to the Midnights album itself. There's an incense stick for "Maroon" and a vinyl record emblazoned with "Mastermind" (the constellations on the cover correspond with Sagittarius and Pisces, apparently the star signs of Swift and her longtime boyfriend Joe Alwyn). The weather report may be a subtle reference to "Midnight Rain," while the video's love interest appears as the TV meteorologist recalls the lyric "Karma is the guy on the screen coming straight home to me" from "Karma."
G/O Media may get a commission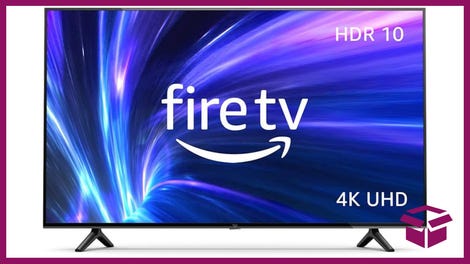 42% Off
Amazon Fire TV 50" 4K Smart TV
It's the continuation of Swift's work becoming a closed loop wherein everything is a reference to itself. Though for an artist whose visuals tend towards romance and whimsy, "sultry" is indeed a departure from the norm. Perhaps a new evolution of Taylor Swift is on the horizon.