Twenty years ago, long before professional poker became the main staple of late-night ESPN programming, the movie Rounders hit theaters. It did alright at the box office, but would go on to become a cult classic among the type of college-aged dudes who only own three movies and one of them is definitely Fight Club. After reading the new oral history from The Ringer, it's easy to see why Rounders had such seductive effect on these young men. It gave them a glimpse into the smoky, underground worlds that exist in the backrooms of every major city.

Co-writers David Levien and Brian Koppelman began their journey to creating Rounders two years before production started, on the night they first stepped foot into the Mayfair. Like the underground clubs you see in the film, the Mayfair was a private establishment in New York City where serious players could go and grind out a living. "It wasn't a home game and it wasn't a legal casino. Professional poker players playing in an illegal setting in New York. It was so fucking cool," Levien says.
It didn't take long for the two writers to realize that this setting was worthy of its own film. They began regularly visiting the club, obsessively writing down everything they heard so they could recreate the feel of the place on the page. Even after they sold the script and were well into the casting process, they continued to frequent the club with Matt Damon and Ed Norton in tow. The actors were eager to learn the intricacies of the game and to get a feel for this world they had no idea was right under their noses the whole time. "The fact that these places were there in a city I'd lived in a long, long time and never knew? It had the spice of an adventure," Norton tells The Ringer.
That's not to say that everything in the movie was true to life. Levien and Koppelman took some liberties with the poker language in the film, making the dialogue feel even more exotic and coded than it already was. "I found this dictionary of old poker terms. And I remember like reading it over and over, trying to incorporate it," Koppelman says. "Nobody walked into a poker room and said, 'Gimme three stacks of high society.' I remember us finding that in this book."
But this mixture of authenticity and exaggeration endeared the film to professional players and helped launch the poker craze of the early 2000s. Two decades later, the writers still find their first film being quoted back to them by every new generation of college kids. "It never ceases to blow my mind," says Koppelman.

G/O Media may get a commission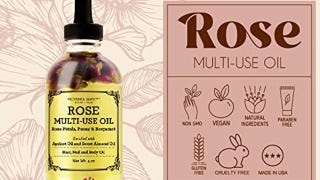 Provence Beauty Rose Multi-Use Oil
You can read the whole oral history here, which includes an account of John Malkovich's cartoonish Russian accent and an interview with poker legend Johnny Chan.

Send Great Job, Internet tips to gji@theonion.com