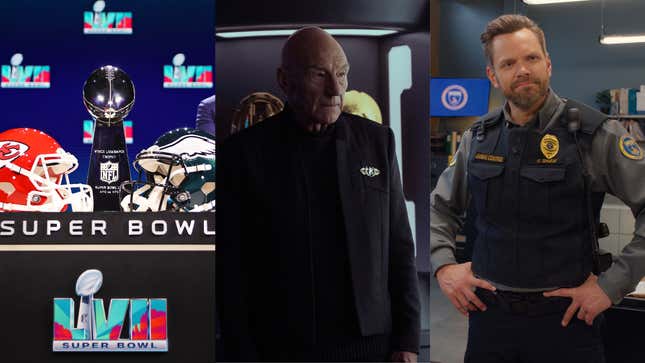 Welcome to What's On, our weekly picks of must-watch shows. Here's what you need to watch from Sunday, February 12, to Thursday, February 16. All times are Eastern. [Note: The weekend edition of What's On drops on Fridays.]

---
The biggies
The Super Bowl (FOX, Sunday, 6:30 p.m.)
The Philadelphia Eagles and the Kansas City Chiefs are ready to duke it out at this year's Super Bowl. Kickoff for the big game—played in Glendale, Arizona—starts at 6:30 p.m. ET, and equally importantly, Rihanna will take over for the halftime show (and there's no telling who might join her onstage).
---
Star Trek: Picard (Paramount+, Thursday, 3:01 a.m.)
The third season of Star Trek: Picard is here. Co-created by Alex Kurtzman, Akiva Gold, Kirsten Beyer, and Michael Chabon, the show follows Starfleet admiral Jean-Luc Picard (Patrick Stewart) in his latter years. The 10-episode final season sees Picard battle a mysterious new enemy who begins hunting his former USS Enterprise crew. The cast includes LeVar Burton, Jeri Ryan, Ed Speleers, Michelle Hurd, and Gates McFadden. Here's a bit from The A.V. Club's review:
Though early episodes may struggle to shake the writing and tonal tendencies that bogged the first two batches, Picard season three is, without question, the show's strongest yet, recapturing a bit of that magic of The Next Generation and nicely utilizing its talented cast.

G/O Media may get a commission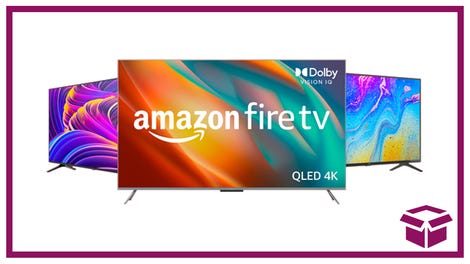 Ooh. stunning.
New Amazon Fire TVs
---
Animal Control (FOX, Thursday, 9 p.m.)
FOX adds to its 2023 sitcom slate with Animal Control, led by Joel McHale, Ravi Patel, Vella Lovell, and Grace Palmer. The workplace comedy chronicles a group of—yup—animal-control workers, including McHale's opinionated and cynical Frank, an ex-cop with a weird ability to understand critters more than humans. Look out for The A.V. Club's review on the site this week.
---
Hidden gems
Jim Jeffries: High N' Dry (Netflix, Tuesday, 3:01 a.m.)
For his fifth Netflix comedy special, nothing is apparently off limits for Jim Jeffries (a recurring theme for most comedians on this streaming platform, huh?). In High N' Dry, he'll talk about everything from stoned koalas and his dad's vasectomy confusion to his own sex drive.
---
Love Trip: Paris (Freeform, Wednesday, 9 p.m.)
If you love dating reality TV shows, Freeform has a pretty fun twist on the format. Love Trip: Paris centers on four aspiring Parisians, er, Americans—who wished they were the lead in Emily In Paris—who live in a penthouse full of potential suitors. Fire Island's Matt Rogers narrates all the drama.

---
More good stuff
Re/Member (Netflix, Tuesday, 3:01 a.m.)
Directed by Eiichirô Hasumi, the Japanese teen horror film Re/Member tells the tale of a group of high school students who find themselves in a murderous time loop. The only way to escape is to spend an entire night in school trying to find the scattered remains of a body hidden within the campus. Creepy.
---
African Queens: Njinga (Netflix, Wednesday, 3:01 a.m.)
Executive produced and narrated by Jada Pinkett-Smith, African Queens: Njinga is a docuseries exploring the lives of prominent African queens of the past. Season one focuses on 17th-century warrior-queen Njinga, the nation's first woman ruler known for her diplomatic and military prowess. The show features a mix of expert interviews and dramatic reenactments.
---
Full Swing (Netflix, Wednesday, 3:01 a.m.)
The minds behind Formula 1: Drive To Survive turn their attention to golf with this docuseries, following pros across a grueling competition season that includes the PGA tour, the Masters, and the U.S. Open. The episodes will also dig into the personal lives, rivalries, and relationships of players such as Jordan Spieth, Justin Thomas, Collin Morikawa, Brooks Koepka, Scottie Scheffler, and Ian Poulter, to name a few.
---
Can't miss recaps
The Last Of Us (HBO, Sunday, 9 p.m.)

The Bachelor (ABC, Monday, 8 p.m., season 27 premiere)
The Real Housewives Of New Jersey (Bravo, Tuesday, 8 p.m.)
Poker Face (Peacock, Thursday, 3:01 a.m.)
Shrinking (Apple TV+, Friday, 12:01 a.m.)
RuPaul's Drag Race (VH1, Friday, 8 p.m.)
---
Arriving now
Wu-Tang: An American Saga (Hulu, Wednesday, 12:01 a.m., season three premiere)
The Masked Singer (FOX, Wednesday, 9 p.m., season nine premiere)
---
Ending soon
The Upshaws (Netflix, Thursday, 3:01 a.m., season two finale)
Aggretusko (Netflix, Thursday, 3:01 a.m., season five finale)
Nikki Bella Says I Do (E!, Thursday, 9 p.m., season one finale)