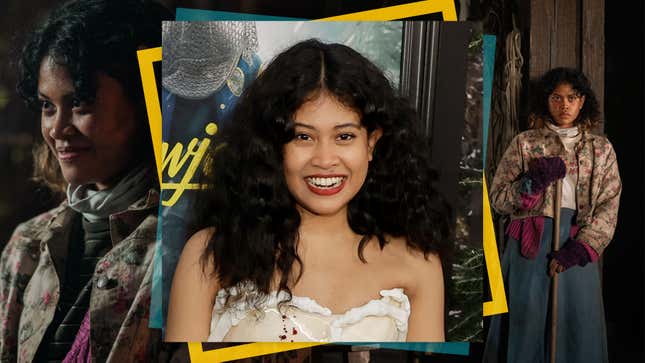 [Editor's note: This interview contains spoilers for Yellowjackets season 2, episode 5]
Never Have I Ever's Poorna Jagannathan and Richa Moorjani on working with Mindy Kaling
Look into Crystal's strange and severe gaze and it's hard to believe this is the first major recurring television role for Nuha Jes Izman, this season's breakout on Yellowjackets. Crystal becomes an eager and loyal other half to Misty (Samantha Hanratty), each of them relishing in the bestie they each never thought they'd find. With secret after secret fostering a fast friendship—when Misty says she thinks what Jack Kevorkian does is "just so brave," Crystal swiftly affirms her—the duo initially look like the only truly happy couple in the wilderness. Until, that is, in "Two Truths And A Lie," when Misty finally reveals her biggest secret of all: On the first night after the crash, she destroyed the plane's emergency transmitter, ensuring they wouldn't get rescued. She and Crystal fight, and Crystal ends up dead at the bottom of a cliff.
Somehow, after all that, Izman still manages to empathize with Misty. (The lasting bond she built with Hanratty over months on location in Vancouver certainly helps.) On the heels of Crystal's series exit, Izman sits down with The A.V. Club to talk about filming that big fall, make the case for why Misty actually has some good qualities, and reveal which Yellowjacket she would align herself with if she were stranded in the wilderness.
---
The A.V. Club: So how did you end up in the role of Crystal?

Nuha Jes Izman: I remember watching the first episode of Yellowjackets … it was so special. Just one of those shows where everything comes together. It's wonderfully written, the cast is amazing, and there's this feeling of nostalgia that I think we crave in shows and movies and films these days that Yellowjackets really has. But, you know, I was in college, drama school, and so I was like, "Wow, I wish they were making this a few years down the line so that I could get a shot at being in it!" Then, I graduated from school, I got the audition in my inbox, and was like "Okay, what are the odds?" But, you know, might as well just do it! I sent in a really rushed self-tape, I had to leave for my job, my survival job at this cafe, and I was like, "Well, I need to send in this tape, so I'm just gonna rock one out." I did it, sent it in, and I didn't hear anything back for a few months. And then I got the call, and they were like "Hey, you got the job! You're gonna be on a flight tomorrow at 1 p.m.! You're flying out to Vancouver!" And I was like, "Okay! Yeah!"

AVC: If you could pick a high and low point from filming in Canada, what would they be?

NJI: A high: There was one moment for episode four, so we'd been at it for weeks now, all of us stuck in that cabin filming together. It was 3 a.m., and everyone was kind of sleepy, so they were half there, trying to keep each other awake. And we all just had a moment where we looked at each other and it was like: "You guys, where are we right now?" You know, we're pretending we're stuck in the middle of the wilderness. It was just such a fun moment to recognize, like, "Oh, I'm so exhausted, you guys are exhausted too, but this is friggin' fun." A low would be … oh, I honestly didn't have any lows filming on this. And I genuinely mean that. I think with this one it was such a dream experience for me that every little thing got me excited, like going to crafty [craft services] and getting snacks was exciting! We had a scene where the entire stage was filled with blue screens for CGI, and I loved that. Because it's like, you know, you hear about being in movies and having everything CGI'ed in, and then you're on set and you're like, "This is really cool."

AVC: I love that early chemistry with Crystal and Misty. Even in the background of scenes, their little giggles are such a point of levity, which makes what ultimately happens so sad. What was it like working with Samantha [Hanratty, who plays young Misty] and how did you two foster that dynamic? 

NJI: It's funny that you mention that, because that was really important to me, I think, the little moments in the background. Because we get our scripts, and so we see "Okay, we might not have a lot of speaking scenes, but a relationship needs to be established." And also again, you're at work. Like I could just stand here, or: "We're gonna be here for the next five hours, let's do something fun." Samantha was so down to do anything. We had a scene where we had to just stand there, and our director was like "Maybe just pick up some sticks." And I look at [Hanratty] and go, "Should we sword fight?" And she was so down to do it, and we ended up doing that, and it gave us something fun to do in the background that also helped establish their relationship. So Samantha was so down to do all of that; I really have a ton of respect for her. She gave me such a safe space to just make bold choices and play around, and she played around with me. We hadn't met each other until the first day on set. We didn't do a chemistry read, nothing. But I showed up on set on the first day and she was so welcoming, but of course it's a test the waters sort of situation: You're meeting someone new and you're working with them. I think the moment we realized we were a lot more alike was that first day, she'd made a joke: I think it was like a silly joke about poo or something.

AVC: As we do.

NJI: Yup. And then she looks at me, almost like, "Oh no, was that too weird?" And I kind of look at her, and sort of double down on her comment and say something even weirder, and we just crack up. We've been best friends ever since. We talk all the time. She's actually landing in New York today, so we're gonna go hang out.

AVC: It's interesting the way that fast friendship mimics your characters on the show. Misty and Crystal's relationship was so recognizable: that feeling of sharing secrets and sharing secrets until you come upon that one thing that tests each other's trust, and you're no longer on the same page. Tell us about how that final sequence—where you go off the cliff—came together.  
NJI: So we had gotten the script for that. We knew it was coming. I was told I was getting five episodes, so I knew it was coming, but we didn't really know. We got the script while we were filming on set, and we ran over to the corner in-between takes and just read it to each other fast. We started learning things about the other character as we were reading the script like, "Oh, my name isn't Crystal, it's Christin? Okay." And [Samantha] was like, "I got rid of my deodorant" and stuff like that. But the day of was really sad. We'd gotten so close over months and months of being with each other, and we knew I was flying out the morning after. So it really was just like, one last time to have fun with each other. And then all the cliff stuff and everything was actually pretty fun–she would push me off the cliff, or I would fall off the cliff, I don't know, we don't really know what happens there! But it was nice, it was fun, it was intense … it really was just one last opportunity for us to have fun together, and I think that helped with the scene. Because neither [Crystal nor Misty] really see it coming. They're just having fun until the moment happens.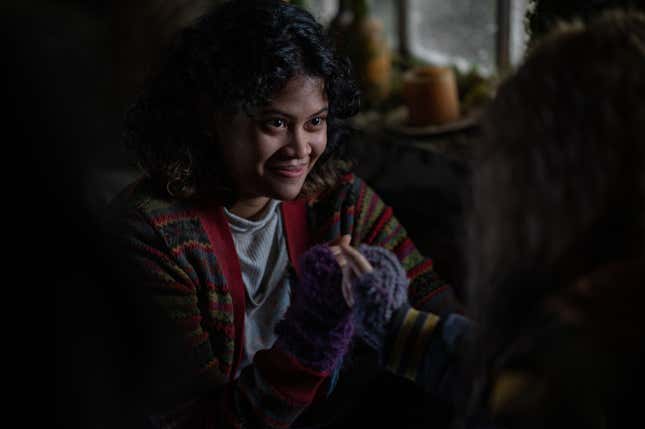 AVC: That feels like so many of the things that happen to the Yellowjackets out in the wilderness. Once you cross that line, there's no going back. Do you think Misty is a good person?

NJI: Coming into this, I really had to find a way to empathize with Misty, and I really do. I think me and Crystal both, we do empathize with Misty because she's just trying. She really tries to do the right thing, or what she thinks is the right thing, but man oh man does she fail 90 percent of the time. But there's something so endearing about constantly wanting to try to fit in, to do the right thing. I think that's why Crystal has such an almost protective feeling towards her.

AVC: The fact that Crystal and Misty are both musical-theater girlies ... that was me and my best friend in high school. Everyone was like, "Shut up. Stop singing." 

NJI: It's kind of the same thing! If anyone came to me and said "Yeah, I did something horrible." If it's your best friend, you kind of justify it for them. You're like "Well, they saw it coming," or "It's fine that you did that; you had reasons." I feel like you justify things for your best friend, and that's what Misty and Crystal do a lot of the time.

AVC: If you were lost in the woods with these characters, who do you imagine you'd connect with most? 

NJI: I think it would be Van. Liv [Hewson] does such an incredible job with Van. Such a complex character, but also a comfort character. You always know that the tension can be cut with a one-liner with Van; they kind of see the humor in situations. And they're so caring, I just feel like they'd also be really resourceful. And they're a survivor. So if I can stick next to a survivor, my chances go up.

AVC: I'm not sure how much you can say, but what's the whole story with this symbol?

NJI: What can I say … the writers really do dive into what the symbol means as the season progresses. At first, I honestly had no idea. It's this thing that the writers do so well: allow the audience to interpret something. Even with the whole "Is it supernatural, or is it them losing their minds?" aspect of it all. I think that's half the fun. Like, you really don't know. Is it a good thing that Lottie's drawing this everywhere and putting this everywhere? Or is it doing them more harm than good? Why is it all around the trees? How did it get there before them? The audience gets to find things out along as we [on the show] do. It's either that, or they find things out before we do and kind of see us figure it out. But I've seen some people talk about getting [the symbol] tattooed on them, and I would just say maybe wait till we find out what it is before you get a tattoo of it on you! [Laughs]

AVC: That's some sage advice. Have you checked out any of the crazy Reddit fan theories about the show? One of my coworkers theorized that Misty completely imagined Crystal in her mind.

NJI: I've seen that one! That she's like an imaginary friend almost. And honestly, we don't know. So we get our scripts maybe a week before we film that episode–so we're figuring things out, like you guys as well. We have no idea what's in store in season three, or what the explanation for a bunch of things are. We're just as in the dark. But we have a little group text with all of us, and every once in a while you'll get one of us sending theories like "Woah! Someone just put this on Reddit–maybe that's actually what's happening!" We're all theorizing as much as everyone else, and love going on Twitter and Reddit and things like that.
AVC: What's next for you?

NJI: Honestly, I'm just taking it day by day. You're auditioning all the time, even when you're filming or right now, in between everything. I'm just kind of seeing where things go. I'm spending time with my family and friends. What I learned is: You get a call, and then you're gone for so long on a project. Just making up for lost time.