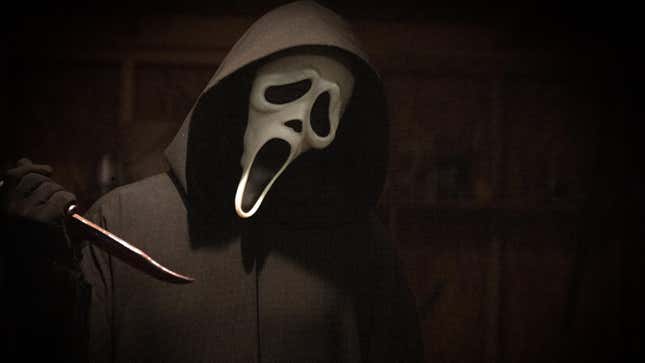 It's hardly been a year since the last installment of the meta-horror slasher franchise Scream debuted, and this Friday brings in a new one with Scream VI, starring Courteney Cox, Jenna Ortega, Melissa Barrera, Jasmin Savoy Brown, and Dermot Mulroney. The production team behind the revived franchise, Project X, says they've figured out the formula to "lega-sequel" success.
When Project X's James Vanderbilt, William Sherak, and Paul Neinstein signed a multi-year first look and co-development deal with Spyglass back in 2019, they were tasked with bringing Scream back from the grave it was laid in with Scream IV in 2011. When the time came, the trio brokered a deal with Paramount to get Scream V going.
In order to minimize the risk for both companies on the film, Scream V was set up as a co-production between Spyglass and Paramount with a $24 million budget. The 2022 "re-quel" would end up earning $140 million in box offices worldwide, and now Scream VI is already predicted to make upwards of $35 million its opening weekend. From the fervor that's already surrounded the new film, this does not seem like the last time we'll see Ghostface.
"If history shows, we should get a chance to live again," Sherak tells IndieWire. "Launching a new franchise from scratch as Project X would be awesome because it's rarefied air. But I also think executing our goal of turning Project X into a business where we can bring more friends of the court in to make their stuff is the dream."
One of the major differences between Scream VI and the other films in the franchise is the absence of Neve Campbell, whose return in Scream V was a pivotal selling point of the franchise's comeback. Ahead of Scream VI, it was announced that Campbell would not reprise the role of Sidney Prescott once more due to inadequacies in pay.
Despite the Scream franchise chugging along just fine so far without her, those at Project X say they'd bring her back into the fold anytime.
"She's such an important part of the franchise, and a cornerstone of the franchise," Neinstein says. "The door is always open. I think we've shown at least in the two that we've done [that] characters always have an opportunity to come back. We think her involvement is so important to the franchise and we wouldn't shut the door on that in the future."
With the revival of Scream proving to be successful thus far, Neinstein says the next goal is to build out a TV and film library teeming with franchise possibilities.
"That's the goal right now," Neinstein says. "You're not going to have a Scream in every library, but there's going to be a couple titles in there worth some mental gymnastics to figure out if you can relaunch."