One week a month, Watch This offers staff recommendations inspired by a new show coming out that week. This week, we're looking at teen dramas, as The CW's Riverdale prepares to throw the subgenre's greatest hits in a high-speed blender.
Degrassi: The Next Generation, "Take On Me" (season three, episode 16; originally aired 2/16/2004)
The best Canadian television imports bring with them a certain specialist appeal. SCTV and The Kids In The Hall tapped the comedy nerds. Recovering drama-club members gibed with the behind-the-scenes happenings of Slings And Arrows. In Canadian-U.S. border cities, tight-knit bands of NHL fans rally around Hockey Night In Canada. And since 1979, drama junkies with a healthy suspension of disbelief have flocked to De Grassi Street.
The Degrassi franchise rides a curious divide: With untested young talent giving unvarnished performances, its various series deal honestly with topics like teen pregnancy, gender identity, and school shootings that put the guy who grew up to be Drake in a wheelchair. When Degrassi: The Next Generation debuted, its emotionally magnified depiction of emotionally magnified years felt of a piece with the wave of nostalgia for John Hughes movies and New Romanticism cresting in the early '80s. The sequel series was both a product of and participant in this trend, with supporting turns from the original Degrassi kids and episode titles cribbed from the likes of Prince, Bow Wow Wow, and a-ha. Though "Take On Me" probably should've been named for "Don't You (Forget About Me)," "We Are Not Alone," or any other song forever associated with John Bender's flannel or Allison Reynolds' dandruff.
An episode-long riff on The Breakfast Club, "Take On Me" indulges this I Love The '80s streak more thoroughly than the average Next Generation installment. The episode is more homage than recreation, drawing on the film's setup and wardrobe while giving the show's third season a chance to catch its breath between a too-hot-for-American-television two-parter and the continuation of a abusive-relationship storyline. Given the show's "It goes there" reputation and overstuffed cast, "Take On Me" is a decent spot to test the Degrassi waters. It's a milder entry with a dash of button-pushing—playing the Ally Sheedy role, Ellie (Stacey Farber) revisits an earlier plot involving self-harm—and the kids all slot neatly into understood, pre-established types that the script can then set about challenging: A brain (Jake Goldsbie as Toby), an athlete (Aubrey Graham, who'd find greater fame when he started recording under his middle name, as Jimmy), a basket case (Farber), a princess (Andrea Lewis as Hazel), and a criminal (Daniel Clark as Sean).
The advantage that Degrassi has over The Breakfast Club is that these characters' stories carry on long after the Saturday they sacrifice together. "Take On Me" pulls from previous episodes—Toby and Jimmy are sentenced to detention during that aforementioned two-parter, "Accidents Will Happen"—just as later episodes will pull from the connections forged in "Take On Me," however lasting or fleeting. Twenty-two minutes long and averse to neat resolutions, Degrassi: The Next Generation was made for binge-viewing—it really ought to be streaming somewhere. (That said, three seasons of the franchise's latest incarnation, Degrassi: Next Class, are available on Netflix in the U.S.) The tiny hints of drama in "Take On Me" are satisfying, but anyone who sat through one of The N's mid-'00s Degrassi marathons knows one episode is never enough. You're going to want to know what happens to Hazel and Baby Drake—though, fair warning from a place of experience: Like Drizzy himself, Degrassi is a Canadian export that's always going to break your heart.
G/O Media may get a commission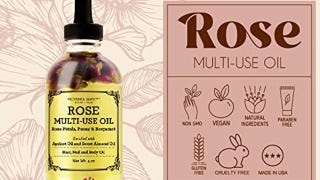 Provence Beauty Rose Multi-Use Oil
Availability: "Take On Me" is available on DVD.