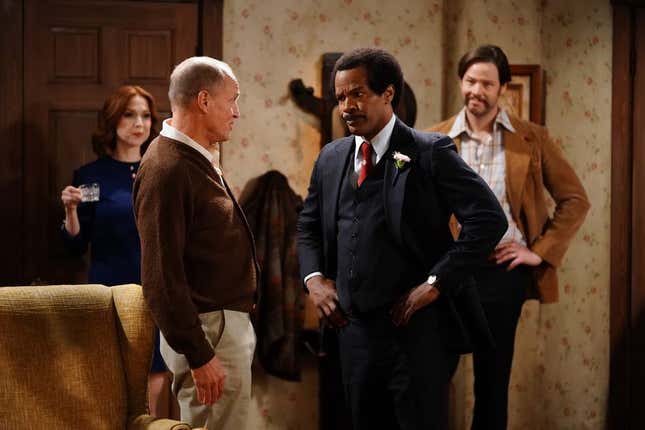 One could argue—and I have—that the closest analogue to the great Norman Lear sitcoms of the early '70s wasn't other TV sitcoms, but rather the intimate social realist theater of the mid 20th century. I've also argued (while comparing the British sitcom Steptoe And Son with its direct American remake Sanford And Son) that maybe someday the classic Lear episodes could be treated like repertory, pulled out of the trunk and performed by new casts, every few years.

If Jesse Armstrong wanted Jeremy Strong to jump in a river, he would have put it in the script
ABC's Live In Front Of A Studio Audience isn't quite what I had in mind. It's a provocative experiment, sure, which I hope the network repeats—but also perhaps reimagines. As fun as it is to see Woody Harrelson do a Carroll O'Connor imitation, and to see Jamie Foxx riff on Sherman Hemsley—and even as oddly sweet as it is to see them both fumble their lines and break character, during a live broadcast—it would've been even cooler to see them approach these roles fresh, as though they were doing a new production of Death Of A Salesman, and not an SNL sketch. What would new versions of Archie Bunker and George Jefferson really look like?

Live In Front Of A Studio Audience was produced and co-hosted (with Norman Lear) by Jimmy Kimmel, who apparently had something different in mind: a little less challenging, a lot more breezy. This special has more in common with the recent trend toward staging canonical Broadway musicals live: stoking the studio audience into clapping and cheering, while teasing the home viewer with the possibility that everything might go haywire.
And that's fine! The results were very entertaining. But the special didn't necessarily honor the spirit of the original Lear shows—nor did it breathe new life into them.

Over the course of 90 minutes, Live In Front Of A Studio Audience presented two full half-hour episodes: All in the Family's "Henry's Farewell" (which originally aired on October 20th, 1973, during the show's fourth season) and The Jeffersons' "A Friend In Need" (the series' first episode, from January 18th, 1975). The extra time allowed for Kimmel and Lear's intros, and to pump in a few more ad-breaks.

The original "Henry's Farewell" is notable as the first appearance of Hemsley as George Jefferson. Throughout the first few seasons of All In The Family, Hemsley was doing Purlie on Broadway, so George's brother Henry was created by Lear as a stop-gap until the actor he really wanted to be Carroll O'Connor's nemesis was available. George's character had been built up over those early years as a bigot to rival Archie. In "Henry's Farewell," when the Bunkers are pressed into hosting a party to celebrate Henry's new job in a new town, Archie's preconceptions about black family life and black success are challenged.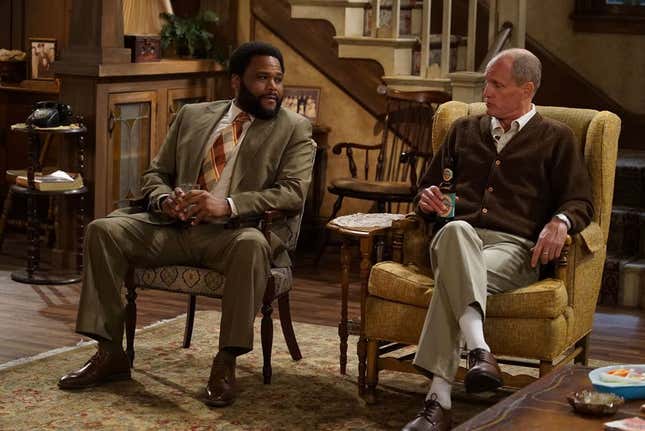 "A Friend In Need" introduced most of The Jeffersons' main characters—including, at the very end, the family's new maid, Florence. The episode also established what was going to set The Jeffersons apart from All In The Family. Rather than being about the Nixon-era culture clash between two different generations of working-class liberals and conservatives, The Jeffersons was about class-consciousness among upwardly mobile African-Americans.

So these are two good episodes to revive. And it's to the credit of "Henry's Farewell" writer Don Nicholl and the team of writers listed for "A Friend In Need" (which also includes Nicholl, plus Michael Ross and Bernie West) that these scripts still have plenty of pop. Sure, some of the cultural references are dated. (As someone who lived through the '70s and watched a lot of TV, I can attest that Groucho Marx impressions were much more of a thing back then.) But the issues the characters argue about haven't changed that much. Racism, chauvinism, authoritarian presidencies, people having a hard time believing that black folks could live in nice neighborhoods… jokes about all of those things don't really need refreshing.

What's fascinating here is what doesn't work. First off: performing the episodes live was a mistake. Lear's shows had their share of applause lines, and studio audiences applauding when a star walked through the door, but the crowd for this special really went overboard with the whooping—especially when Ellie Kemper as All In The Family's Gloria Stivic lectures Anthony Anderson's Henry Jefferson about a possible female president, and about the kitchen as a kind of women's "ghetto."

The live element also preserves the kind of gaffes that the original shows would've fixed with a retake. A boom mike was visible in one of The Jeffersons scenes. Harrelson botched a few lines (at one point he says of a character, "He's never gonna be serious for the longest day he lives!"); and he had a hard time keeping a straight face when Foxx strutted in the first time. When Foxx promptly muffed a line, he broke the fourth wall to point out his mistake, which was cute, but also not at all true to Lear's finely crafted, professional produced little playlets. (All In The Family wasn't The Carol Burnett Show.)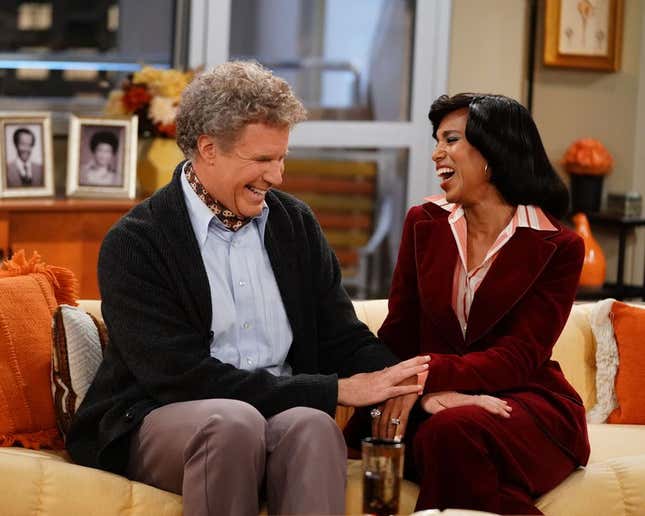 What's perhaps most surprising is that the insults in these scripts lacked snap. One reason why Lear's shows were so popular was that they combined pointed jokes about hot-button social issues with the kind of over-the-top put-downs that anyone could find funny. The actors here didn't cut their teeth on that kind of comedy the way that Rob Reiner or Marla Gibbs did. (And speaking of Marla Gibbs: Her surprise last-minute cameo as Florence in The Jeffersons was the highlight of this whole event.)

Part of the problem could be that so many of these people were doing impressions. Foxx waved his arms back and forth when George walked, like Hemsley. Marisa Tomei did a wavery voice as Edith Bunker, like Jean Stapleton. Ike Barinholtz's Michael Stivic was too Reiner-y—which is a shame, because otherwise, that's an inspired bit of casting.

I am by no means saying that these performances were bad. I really liked Tomei's Edith, who came across as more in on the joke and less exhausted. (When Archie tells Edith to stop eating when she already has a mouthful of food, Tomei's reaction is a fine bit of physical comedy.) Still, the two best performances in this special came from Will Ferrell, doing a very Ferrell-ized take on Franklin Cover's Tom Willis, and from Wanda Sykes, whose Louise Jefferson was very much her own character, and not copied from Isabel Sanford. (I noticed that Sykes seemed the least amused when Foxx slipped up.)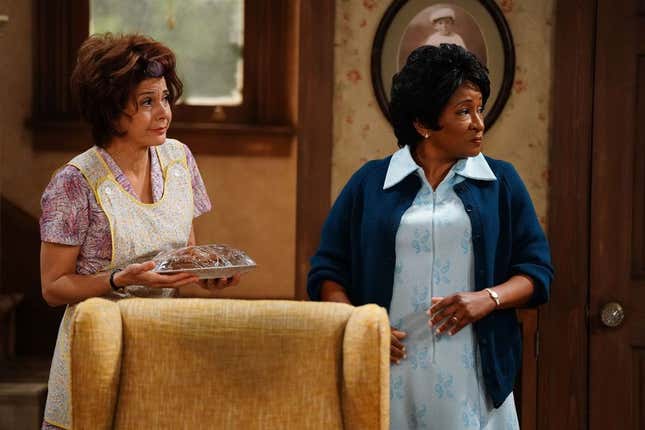 Again: These episodes held up well, and it was enjoyable to see them this way. But it would've been just as enjoyable for ABC to turn over an hour of primetime to airing the originals (even though both were CBS shows). How much more exciting would it have been to see these exact casts, all playing this same material as though they'd never seen a Lear sitcom before? To treat these episodes like the timeless classics they are—and not as nostalgia-pieces—could've been the ultimate compliment to Norman Lear.
---
Stray observations
This likely wouldn't have bothered me on a live-to-tape show, but watching the Bunkers eat a real breakfast throughout that first All In The Family scene kinda wigged me out.

Both of these episodes were directed by sitcom legend James Burrows, who actually got his start in the early '70s, but on a very different set of shows. Burrows was frequently employed by MTM Enterprises, and worked on the likes of The Mary Tyler Moore Show and The Bob Newhart Show (and later Taxi, Cheers, Frasier, and many more). A more genteel kind of comedy is Burrows' specialty… which may also explain why these performances felt a little soft around the edges.

By the way, not to beat a dead(?) horse, but if you want to see a Norman Lear style show updated for the 21st century, Netflix has three seasons of the new One Day At A Time just sitting there. Just because they're not making any more doesn't mean you can't pull down what's already on the shelf.