My World Of Flops is Nathan Rabin's survey of books, television shows, musical releases, or other forms of entertainment that were financial flops, critical failures, or lack a substantial cult following.
After the enormous success of their 1996 breakthrough album The Score, the Fugees—rapper/singer/producer Wyclef Jean, rapper/singer/producer Lauryn Hill, and rapper/producer Pras Michel—had a huge yet fleeting moment. Lauryn Hill's The Miseducation Of Lauryn Hill was even more momentous. For a few years, at least, it looked like Wyclef was poised to be both a prolific solo artist and an accomplished songwriter of hits for other luminaries, like Whitney Houston, whose career he helped resurrect by writing and producing "My Love Is Your Love."
Yet the saga of the Fugees is ultimately one of tragedy and disappointment as much as triumph and complicated genius. In a post-Native Tongues world, The Fugees celebrated black excellence and the immigrant experience, primarily Haitian, in a deeply personal way that feels bolder, if not necessarily radical, in the age of Trump.
Wyclef got off to a great start on the solo front, but his fall was arguably just as big and dramatic as Hill's. People may worry about Hill's mental health, but Wyclef acquired a reputation as a con man and crook thanks to an ill-conceived, controversial vanity run for President Of Haiti (complicated ever so slightly by Wyclef's ineligibility for the office) and his charity Yéle Haiti, which shut down in 2012 after it was discovered that an ungodly percentage of its income went to Wyclef and his associates for salaries and travel expenses and the like, rather than the suffering Haitians it was supposed to be helping.
When you rip off impoverished, desperate people while professing to assist them; help operate a bogus charity; and run for a presidency you are wildly unqualified for, your stock plummets dramatically and/or you are elected the 45th President Of The United States. Wyclef wasn't as lucky as Donald Trump, however, and when he made the mistake of conducting an infamous Reddit AMA a few years back, he learned exactly how far his stock had fallen when he was inundated with mocking questions like, "With all that money you stole from those poor Haitians, why couldn't you help Lauryn Hill out with her tax bill?" and cruel jibes over the spectacular failure of his charity.
G/O Media may get a commission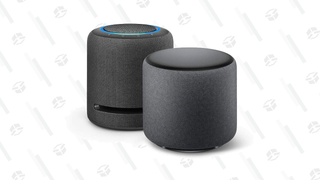 25% off - Prime Exclusive
Echo Studio + Echo Sub Bundle
The Score, The Miseducation Of Lauryn Hill, and, if we're being generous, Wyclef's debut may loom large in the mythology of hip-hop, but so do albums that, at this point, have never been released: the third Fugees album and Hill's official studio follow-up to Miseducation. What the trio didn't go on to do seems nearly as important as what they did, if not more so. They didn't go on to make albums together as the Fugees, or, in Hill's case, make albums at all after a certain point.
Since I covered Lauryn Hill's rivetingly messy unplugged album in a previous entry, I figured it would make sense to further document this strange era in hip-hop through some of its lesser lights. So this entry is dedicated to the ill-fated solo debuts of the Fugees' Pras Michél, Wyclef protégé Canibus, and Fugees collaborator John Forté.
Pras is a standout member of the Fugees in that he stands out for being terrible and for contributing nothing of substance to the trio. As his post-Fugees career established all too indelibly, Wyclef is a pretty corny dude. Wyclef shares many of Pras' faults, but Pras fatally lacks Wyclef's strengths. Wyclef is a cheesy entertainer; Pras is just cheesy.
The cover of Ghetto Supastar, which aspires to be fashion-magazine swanky but has to settle for just barely being in focus, says an awful lot about Pras' ill-fated solo project, none of it positive. Squatting uncomfortably in front of what appears to be a giant disco ball, Pras looks dully through old-Jewish-lady-in-Miami-sized sunglasses, light gleaming conspicuously off the rapper's outsize ring and bracelet. Pras wants to exude bad-boy polish. Instead, he looks as if he's been planted in front of the Studio 54 backdrop at a Sears portrait studio some time in the late '90s and is hoping against hope the results will turn out better than they seem at the time. That slightly sad, desperate air of attempted glamour is reflected in the music as well.
Even "Ghetto Supastar," the song's undeniable highlight and sole (albeit substantial) claim to fame, has a nearly fatal flaw: Pras. The chemistry between slick and sweet R&B newcomer Mya and demented, gravel-voiced folk hero Ol' Dirty Bastard is as inspired as it is unlikely, and building a hip-hop song on the foundation of a Brothers Gibb-penned Dolly Parton and Kenny Rogers duet is pure, shameless pop-rap brilliance. The only thing keeping the song from perfection is Pras' marble-mouthed verses, which are so clumsy and forgettable that many listeners likely blocked them so that they can remember "Ghetto Supastar" fondly as a zeitgeist-capturing slice of pure 1998 pop culture.
Pras could genuinely claim to be a big pop star at that point, what with his hit group and monster single. Yet there's something poignant about the impossible gulf between the suave, effortless playboy Pras depicts himself as and the utter mediocrity sweating his way through filler that is almost impressively forgettable.
Just as it can be difficult to go back and watch sitcoms with screaming laugh tracks in an era where most of the big comedies of the day eschew such tropes as hopelessly old-fashioned and cheesy, it's weird going back to the style of skits found on 1990s rap albums. The four interludes included here take the form of voicemail messages from celebrities ranging from Naomi Campbell (who thanks Pras for showing up at her party for Nelson Mandela) to the current POTUS all audibly salivating with anticipation over Pras' solo album. "When's it coming out? What's the hold up? Will it be a great album, or the greatest album?" A whole bunch of celebrities are just dying to know, or at least their messages suggest as much. The idea is to create a sense of excitement and anticipation around the album, to depict it as a major event, not just another album.
Instead, these sycophantic voicemails from people like Wesley Snipes, Chris Rock, Chris Tucker, and "Left Eye" Lopes, which run the gamut from appropriately phoned-in to disconcertingly committed, only add to the sense of historical irony haunting the album. Because we know exactly how the album is going to turn out: Other than the song that was already a smash, it flopped, and the Fugees never really did too much together afterwards.
On Ghetto Supastar's token rap-rock track "Can't Stop The Shining," Pras is upstaged by Canibus—and really, he's upstaged by everyone on the album. (Compared to Pras, a minor West Coast gangsta veteran like Mack 10 is 2Pac reborn.) For a while there, Canibus didn't just upstage rappers like Pras; he upstaged good rappers as well.
On the 1997 posse cut "4, 3, 2, 1," LL Cool J, a huge, if waning star at the time, got the hottest young rappers in the business, including Redman, Method Man, and DMX, as well as a hungry young battle rapper named Canibus. It was one of those songs that can rightly be said to have changed a genre: A high-profile feud erupted when LL Cool J used the song to lyrically attack the younger rapper for having the audacity to ask to borrow the microphone tattoo on L's arm on his own "4, 3, 2, 1" verse.
Canibus intended the line as a tribute, but LL took it as a diss and delivered a ferocious rebuke to the young MC that briefly reignited Cool J's career and passion for rap. Meanwhile, Wyclef took the red-hot battle rapper under his wing, and together they created something tepid and lukewarm: Canibus' underwhelming 1998 debut, Can-I-Bus.
Listening to Can-I-Bus today is like mainlining 1998. The album begins with the cozily nostalgic sound of a cable modem slowly booting up before Canibus, in a clear-cut case of what can only be described as "make pretend," imagines that he's the world's top computer hacker as well as its best rapper, using complicated, highly technical computer terms like "files" and "password."
The album begins geeky, ends geeky, and in between finds all sorts of room for additional geekiness. "I Honor U" is the closest the album comes to revealing a more personal, emotional side of the rapper. The song begins as an exploration of the dysfunctional relationship between the rapper's neglectful father and his loving and loyal mother, containing observations like, "Of course it's nice the feelin' of courtship / Roses and stuff, women never get it often enough." But whatever pathos Canibus is aiming for is compromised by the distracting gimmickry of the rapper spending much of the song addressing his love of his mother from the very specific point of view of an unborn fetus.
Mike Tyson pops up on "Second Round K.O.," the album's highly anticipated LL Cool J diss song, to lend encouragement and a little star power. But Canibus doesn't exactly help his case or his street credibility by tattling on the older rapper for smoking marijuana while professing to be sober. The only song on the album where Canibus truly sounds free is "Channel Zero." This song feels so personal to Canibus that it almost seems like the sole reason the album exists in the first place. In it, Canibus runs down of a series of popular conspiracy theories involving alien races hiding among us and various other horse shit espoused by Alex Jones. He would probably consider being called the "hip-hop Alex Jones" a bold compliment, which helps explain why he quickly became irrelevant. If any labels thought they could make money off Canibus' "Urkel as a ferocious battle rapper" persona, his anemic album sales quickly proved them wrong.
Though he contributed to The Score on multiple songs, John Forté never had the profile of Pras or John Forté. But when everything connected to the Fugees had the glow like Bruce Leroy in The Last Dragon, Forté got his big chance to shine as well. Unfortunately, the album was a flop, selling under 100,000 copies. That's a shame because, unlike Pras and Canibus, John Forté radiates charisma, and Poly Sci has at least two songs that, in a perfect world, would have catapulted him to fame.
The first is "P.B.E. (Powerful, Beautiful, Excellent)," an damn-near perfect pop-rap dance song that finds Forté swaggering triumphantly over an infectious dance groove in a flow that switches effortlessly from rapping to singing and back again. It's a swaggering manifesto from a man with the beauty and talent to back up his arrogance. "P.B.E." finds Forté in his element. By sharp contrast, the rugged and intense "We Got This" gets its visceral kick from guest DMX, who was then at the top of hip-hop and here illustrates why. Forté makes it all look and seem effortless, but every word DMX raps seems to take something crucial out of him. When he shouts, "I figure this, it's just me against the world / Because all my life, it's been the world against Earl!" we have no choice but to feel his pain.
If "They Got Me," a collaboration with Fat Joe in the dense, atmospheric tradition of Notorious B.I.G's crime narratives, feels surprisingly convincing given Forté's model-handsome looks and prep-school pedigree (he attended Exeter on scholarship, where he played the violin), it might be because Forté was unfortunately genuinely involved the underworld. After his debut flopped, he was arrested in 2000 for trying to transport $1.4 million in liquid cocaine. For those who are not well-versed in drug policy, that's a whole lot of cocaine. Thankfully, Carly Simon, a good friend and longtime supporter of Forté, helped win the rapper a pardon from President Bush (seriously), and after leaving prison the rapper reinvented himself as a singer, activist, and all-around musician.
Listening to these three very different debuts from three very different men made me nostalgic for the strange cultural moment that birthed them. It also made me realize that there's a great Straight Outta Compton-style biopic to be made out of the Fugees' rise and fall. Hell, there's a great biopic to be made out of Forté's life alone. The challenging, iconic role of Lauryn Hill has Oscar written all over it, and as for Pras, well, he seems to have held up pretty well. Maybe he can play himself, as I can't imagine his part being particularly important to the overall story.
Ghetto Supastar: Failure
Can-I-Bus: Fiasco
Poly Sci: Secret success