Amazon Studio's third round of original series pilots debuted last week, presenting two prospective dramas and three prospective comedies (all viewable here) to Amazon users. While those users choose which pilots will become full-fledged series, The A.V. Club has taken a look at all five episodes, with our thoughts on Red Oaks, The Cosmopolitans, and Really posting yesterday. Read on for capsule reviews of the Mena Suvari-starring thriller Hysteria and the supernatural mystery series Hand Of God.
Hysteria
Hysteria is based on a striking, stranger-than-fiction story from The New York Times Magazine in 2012: "What Happened To The Girls In Le Roy," an examination of a strange twitching tic that a group of high-school cheerleaders developed in the small town of Le Roy, New York. The story is terrifying and fascinating: A group of girls of high social status start twitching, and the only known cause is mass hysteria, clinically called "mass psychogenic illness." Hysteria struggles to be nearly as interesting as the story of Le Roy, and ultimately fails in doing so. That's largely because the creator, Shaun Cassidy—yes, the former teen idol (also the creator of Invasion and American Gothic, among other TV series)—moves the focus of Hysteria away from the curious interlocked psychology of the young women infected and instead toward the consequences of social media in an increasingly networked world. That could be an interesting twist on the idea, but it veers too close to "texting is evil" to be anything beyond cheap shock value. The tic, when it starts to affect the teenagers, is a result of watching too many videos online, going out to parties with boys, and grinding on the dance floor. It's a frustratingly simplistic take on such multifaceted source material. (Hysteria also chooses to focus on an illicit relationship one of the teens has with a 36-year-old cop, playing up the officer's tortured soul while needlessly sexualizing and making illicit the camaraderie of the girls.)
The saving grace for the show is Logan Harlen (Mena Suvari), the neurologist working with the girls. Suvari brings surprising gravity and depth to the role—and given her experience in American Beauty, she's familiar with deconstructing the image of the slutty cheerleader. In terms of the pure casework, Logan's story is fascinating: She and her fellow doctors treat the patients with humanity, even when the show doesn't bother. But silly prestige-drama conceits have to be maintained, even here: Logan is given a secretive backstory and a jailed, manipulative brother. It's too bad, because aside from all the stuff that Hysteria thinks should be part of its recipe—an uncommunicative anti-hero cop trying and failing to do the right thing, slutty teenage girls, an uptight career woman with a past, unfounded anxiety about technology and the future—it's kind of interesting. But as it is, it's half-baked and trying too hard. [SS]
Hysteria
Created by: Shaun Cassidy
Starring: Mena Suvari, James McDaniel, Josh Stewart, Ella Rae Peck, Adan Canto
Format: Hour-long thriller
G/O Media may get a commission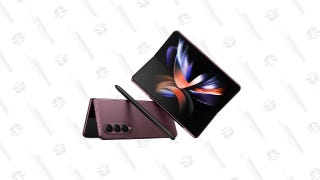 Save Up to $300
Galaxy Z Fold4
Hand Of God
"Saved" is the word of the day for the Hand Of God pilot, though the first adjective brought to mind by this supersized premiere episode is "bleak." Some shows manage to sell such jaundiced perspectives through atmosphere, strong performances, or a tantalizing central mystery, and there are traces of all three to be found here. But as much as Hand Of God is a spiritual successor to Twin Peaks and Lost (not to mention more recent efforts like The Returned, True Detective, and The Leftovers), the first hour-plus of this supernatural mystery is a run-of-the-mill slog.
Part of this can be traced to the amount of background and plot that are crammed into Hand Of God. Burn Notice writer Ben Watkins and Academy Award-nominated filmmaker Marc Forster might only have this one shot at telling the freaky tale of born-again judge Pernell Harris (Ron Perlman), so the pilot goes all in on conspiratorial business deals, scenery-chewing character reveals, and tent-revival mumbo jumbo. The first acts of Watkins' script cast a wide net over a disparate cast of characters—the judge, the wife who cleans up after the judge (Dana Delany), a charming snake of a mayor (Andre Royo), a conniving preacher (Julian Morris), and a sociopathic believer (Garret Dillahunt)—before pulling the line tight and ensnaring this crew of compromised personalities in relatively tight surroundings. Judge Harris is the man who draws them all into the same general vicinity, with Perlman's hulking presence duly felt as a Job who, having survived a personal trauma, turns the tables and remakes himself into a vengeance-dealing vessel of God.
Punctuating the judge's transformation are the scenes of contemporary-drama depravity—onscreen: casual violence and adultery; off-screen: an attempted suicide and the rape that prompted it—that blaze the trail for Harris' take on Old Testament justice. What's unrelenting in the pilot could prove par for the course in future episodes, but the debut of Hand Of God merely meets inhumanity with more inhumanity. Watkins and Forster deserve some kudos for the pilot's mad acceleration, but there's so much happening plot-wise that any attempts to slow down and poke at the mystery of the show come off as lip service. The judge's visions show some creepy-crawly promise, and Delany and Royo occasionally lighten the mood (Dillahunt, meanwhile, is dependably menacing), but Hand Of God is lurid mystery without any pulpy thrills. [EA]
Hand Of God
Created by: Ben Watkins
Starring: Ron Perlman, Dana Delany, Garret Dillahunt, Andre Royo, Alona Tal
Format: Hour-long supernatural mystery