INT. SEWAGE TUNNEL

Dan sloshes through the low tide of a thousand burst alien placentas, his leather duster flapping uselessly behind him—much like the distant memories of everything that happened prior to this scene. He is pursued closely by an army of reptilian hatchlings, their jaws gnashing in mindless, ravenous hunger—or possibly just a free-floating, vaguely defined rage. You can relate.
DAN (v.o.)
Dear readers, for most of you, this is my first column—which is, in turn, the first column to be published since Earth's invasion by enormous alien lizards. Today, I want to break from my usual format to talk to you about the subject of plans. Life plans, and how we all make them, despite our collective certain and irrevocable doom. Instead of asking our young people, "What are your plans? What do you plan to do with your life?" maybe we should tell them this: Plan to be surprised. Surprised by changes in your careers, your relationships—even the websites you like to read. Surprised by reptilian humanoids when they vomit acid on our faces, which makes them easier to digest.
Suddenly, Dan sees a light at the end of the tunnel—one that isn't just a metaphor about how life always works out in the end, of the sort that he would have once loved to drone on about. That light grows brighter and brighter as Dan emerges into a culvert, his good eye blinking in the glare. Behind him, he can hear the sickly surge of Marie's lizard children gaining on him. By the sound of it, they seem to be getting bigger at an exponential rate—growing up so fast, as all children do.
Just as it seems they're going to overtake him, the light surrounds Dan and completely whites out the screen.

CUT TO

INT. SPACESHIP
Dan finds himself standing in a vast room that's filled wall to wall with rows of evenly spaced desks—an open-floor plan he can tell is specifically designed to optimize synergistic interdepartmental communication. He immediately feels as though this is the kind of fun, laidback environment where he can just cut loose and really be creative.
G/O Media may get a commission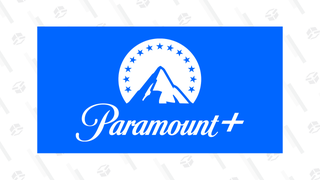 One month free
Paramount+ One-month Free Trial
CORPORATE ALIEN WHO BEARS NO RESEMBLANCE TO ANY PERSON LIVING OR DEAD
Hello, Dan. We're so pleased to have you aboard.
DAN
What? Who are you?
CORPORATE ALIEN WHO HAS ONLY THE BEST INTENTIONS
I represent a group of diverse interstellar media concerns. We have combed the dimensions of space-time looking for talent, such as yourself, to add to our space-portfolio. We're all big, big fans, generally speaking, of your brand.
DAN
My... brand? You mean my columns?
BENEVOLENT CORPORATE ALIEN WHO IS ABSOLUTELY LOVELY IN PERSON
Well, we don't need to get into specifics! Suffice it to say, we believe you will be an integral part of what we see as our one, universal vision. So we've acquired you from that sewer filled with rabid lizards down there.
DAN
So, you want me to… write for you?
COOL, EASYGOING CORPORATE ALIEN
We're interested in exploring all sorts of content revenue models! For instance, short, snackable videos, tailored for social media shares. Or maybe short, snackable listicles, tailored for easy consumption on mobile devices? Wherever your muse takes you, we're here to support it. All we ask is that you also, occasionally splice your own content with that of your fellow assimilated content producers. That way we can create a single, overwhelming stream of exciting intergalactic publishing—a veritable torrent of divergent viewpoints, all gushing forth in perfectly indistinguishable harmony from the same open spigot.
DAN
Uh—
ALIEN WITH SOME GREAT, DISRUPTIVE IDEAS
Now, of course, we will have to make a few changes. It's not 2007 anymore, after all, which is when our research tells us most humans became dimly aware of Dan, in real life. These are gravely serious space-times we live in, Dan, and we hope your writing will reflect that, while also speaking to our far broader audience of interplanetary life. Now is certainly not the time to languish in the kind of inane, self-indulgent tripe you once might have created solely to amuse yourself—like making hacky faux-screenplays, or deliberately amateurish Photoshops, or riffing on some dumb, half-forgotten romantic comedy for seven years straight as part of some inside joke that was funny to maybe 15 people, tops, most of whom have long since forgotten about it. That sort of thing is, frankly, not really aligned with our core.
He gestures at the ship's glowing lithium core.
DAN
Well, I—
ALIEN WHO UNDERSTANDS THE REALITIES OF THE MODERN MEDIA LANDSCAPE
Oh, and naturally, we'll also be publishing your important work in our universal language, Linga, which we use across all of our space-sites, for seamless vertical integration.
He shows Dan a screen bearing a rapidly scrolling mishmash of hieroglyphics—one that manages to be both disorienting and totally bland. 
DAN
Um, is that one of my columns? What are those huge squares plopped in the middle of it?
ALIEN WHO, LOOK, HATES TO BREAK IT TO YOU, BUT THIS IS HOW IT WORKS
Awesome deals! Look, with this one, you can get a great price on a new pair of Zipzorps!
Dan stares glumly at this, his future, thinking wistfully of home and the sewer crammed with salivating, rancorous mutants who wanted only to eat his flesh. Things seemed… simpler then.
ALIEN WHO'S JUST BEING REALISTIC
Also, we're going to need to cut some of your workforce.

DAN
My workforce? You mean my fingers?
The alien holds up a large space-saw, his expression somberly acknowledging the unfortunate sacrifices that, nevertheless, are required if you're to remain competitive in this incredibly unstable field.

Dan slowly backs away, glancing furtively around for an exit. He spies a door marked "AIRLOCK." He makes a run for it. 
DAN (v.o.)
And so, dear readers, I'll leave you with this thought: No, we can't plan our lives. When we try, often we only end up trapped inside them, our refusal to change leaving us stuck in a place we increasingly no longer recognize—maybe with a woman who turns out to be an extraterrestrial lizard queen who's bent on world domination, for example. Or perhaps in a job where you feel like you no longer have any control over your own destiny, and where you spend more time fighting futilely against a constantly turning tide than you do actually making things you enjoy. When that happens, well, you just have to suck it up and make your own destiny, all over again. No, you can't make a life plan. But sometimes, you can make an escape plan.
Dan finishes the three minutes, approximately, of slow-motion running that is required to deliver his typically windy and self-pitying internal monologue to people who have actual, real-world problems and who have to, you know, work for a living. Maybe he should read the fucking news, you know? What is he doing to help, anyway?

Dan finally reaches the airlock and shuts himself inside, right as the Alien Who's Just Doing What It Takes To See A Return On Its Investment reaches it, seconds too late.

ALIEN WHO RESPECTS INDIVIDUAL EXPRESSION
Wait! You can't just bail on us! We had to leverage a lot of space-debt just to acquire you!
DAN
Oh yeah? Well...
He pulls the airlock release lever.
DAN
Put it on my tab.
The airlock explodes, hurling Dan backwards into the cold, indifferent abyss where maybe he can scrounge up a few freelance gigs. 
ALIEN WITH A GREAT SENSE OF HUMOR
You know, I've never actually seen Dan In Real Life.
FADE TO BLACK.