At a keynote event kicking off its annual developer conference in San Francisco today, Apple announced Apple Music, a streaming service that will compete against existing music providers like Spotify and Rdio. With subscriptions selling for $10 a month ($15 a month for a six-person family plan), Apple Music offers much the same proposition as the other contenders—a large library of music available to stream anywhere—but it also has the word "Apple" in it, a feature no other company has been able to match.
Apple executives including Jimmy Iovine and Eddy Cue (with a rambling appearance by Drake) made the case that Apple Music stands apart on the basis of its exclusive features. Those novelties include a live, 24/7 online radio station called Beats 1, which boasts the participation of former BBC Radio 1 DJ Zane Lowe. Because this is a thing Apple believes you should care about, Apple screened a lavish video to herald Lowe's talents. It seemed there was a lavish video for almost every announcement, no matter how minor, in this punishingly long and dull keynote.
Apple Music also includes a social feature called Connect, which allows artists to share songs, photos, and other ephemera with fans through the Apple Music. "Right now, the music experience is fragmented," Apple complained on its liveblog page. "Fans need to use a lot of different services to […] connect with their favorite artists." The solution, naturally, is another service.
The one revelation that drew a mild gasp from the crowd (made up mostly of software developers and press) was Eddy Cue's announcement of the platforms the new streaming service would support. Naturally, subscribers will be able to access their Apple Music accounts on iOS devices, Macs, and the Apple Watch, starting June 30. But Cue also confirmed that the service will come to Windows PCs and Android devices in the fall.
G/O Media may get a commission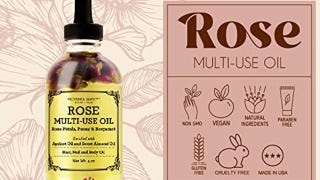 Provence Beauty Rose Multi-Use Oil
Before the Apple Music unveiling, Apple used the event to provide its first glimpses of the upcoming "El Capitan" version of OS X, which will succeed Yosemite as the operating system for Mac computers. Apple vice president Craig Federighi emphasized that El Capitan would focus on "experience" and "performance," a PR-coded way of saying that hopefully El Capitan won't be the hot mess of ill-considered interface experimentation and huge, needless bugs that Yosemite was. To help wash off the Yosemite stink, Apple will be ditching Helvetica Neue, which was introduced as the system font just last year, and replacing it with San Francisco, the font used in the Apple Watch's interface.
Speaking of the Apple Watch, the wearable device got some love, too, with news of Siri refinements and third-party watch face "complications." The next revision of Watch OS will also allow you to use multiple colors when you send a sketch to another Watch user, a thing you will never do.
And iOS 9 was the last big item on Apple's docket today. Coming this fall, the marquee enhancement of the new iOS—on iPads, at least—is multitasking that will let users run multiple apps at once. Fedirighi demonstrated the "Slide Over" feature to bring up the Notes app on his iPad while he continued to browse the web in Safari. It's the perfect innovation for users who might want to, for instance, watch exotic pornography while they, for example, consulted their notes for a news item about Apple product announcements. In addition, iOS 9 will debut a "picture in picture" mode that keeps a video playing on the screen in a small window while you switch to other apps. (Samsung devices have had a similar mode called "Pop-Up Play" for a while now—and for that matter, the "Slide Over" feature bears a resemblance to Microsoft's "Snap" multitasking.)
On the iPhone, a more powerful search function and "deep links" within apps are liable to be the most impactful iOS 9 features once developers incorporate them into their programs. Fedirighi also promised that the iOS 9 updater wouldn't require the mammoth download that iOS 8 did, so hopefully this time you won't have to delete all of your, say, exotic pornography just to make room for a freaking OS update.