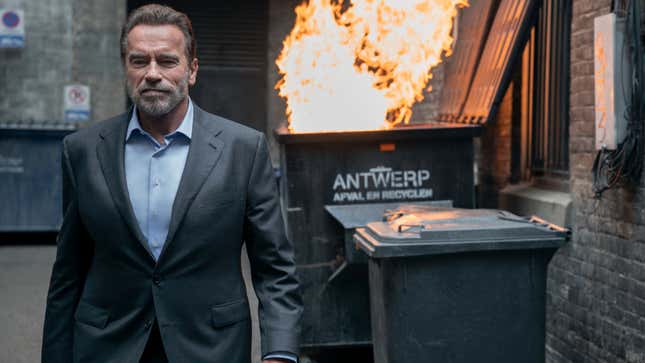 Where there is Arnold Schwarzenegger, there is usually action, and the actor's latest project doesn't appear to mess with that formula. Schwarzenegger is set to make his television debut in the new Netflix series Fubar (which he also executive produces), and a brief first teaser for the action comedy proves Schwarzenegger hasn't lost any of his casually-walking-away-from-an-explosion swagger.
Per the series' logline, Fubar follows a father (Schwarzenegger) and daughter (Monica Barbaro), who learn that they've clandestinely shared a profession for years: undercover CIA Operative. When they're forced to team up as partners, they must reckon with the fact that their relationship has been built on secrets, while simultaneously navigating a "global backdrop of spies, action and humor." Jay Baruchel, Fortune Feimster, Milan Carter, Travis Van Winkle, Gabriel Luna, Andy Buckley, Aparna Brielle, Barbara Eve Harris, and Fabiana Udenio round out the cast.
"Everywhere I go, people ask me when I'm going to do another big action comedy like True Lies. Well, here it is," Schwarzenegger shares in a statement. "Fubar will kick your ass and make you laugh - and not just for two hours. You get a whole season. It's been a joy to work with Nick, Skydance, and Netflix to give my fans exactly what they've been waiting for." Schwarzenegger hasn't had a starring role since 2019's Terminator: Dark Fate, where he reprised his iconic 1984 role.
In his own statement, creator, showrunner, and executive producer Nick Santora called Fubar "by far, the most surreal project of my career."
"I grew up watching Arnold Schwarzenegger films — I'd hit my dad up for a few bucks so I could race to the movies and see the biggest star in the world on the big screen — so creating the first scripted television project for Arnold is unbelievably exciting for me," Santora shares. "The thing I always marveled at was how Schwarzenegger could be funny while still kicking ass ... that's why I wanted Fubar to be a hysterical, CIA-spy comedy mixed with heart-stopping action!"
Fubar debuts globally on Netflix May 25.