In Ashley Judd's new memoir All That Is Bitter And Sweet, she diverts briefly from revelations about childhood sexual abuse and chronicling her charity work to offer an unlikely tangent about hip-hop, condemning the YouthAIDS organization for throwing Snoop Dogg and Diddy concerts because, in her words, "most Rap and Hip Hop music—with its rape culture and insanely abusive lyrics and depictions of girls and women as 'ho's'—is the contemporary soundtrack of misogyny." Not surprisingly, that didn't go over too well with a lot of hip-hop artists or their fans: Twitter soon lit up with responses from people like The Roots' Questlove, who remarked, "At least I got my answer as to why Ash Judd didn't give us so much as a nod on her last visit [to Late Night With Jimmy Fallon]. I'm a criminal." (Or, more to the point, this summation from Odd Future's Tyler The Creator: "Ashley Judd Is A Bitch, Hoe And A Stupid Face.")
In an effort to mend her sudden rift with the hip-hop community (which had once so loved her in films like De-Lovely and Simon Birch), Judd took to Russell Simmons' hip-hop site Global Grind today to clarify her statements. After claiming to empathize with those she offended by self-identifying as "an Appalachian, an oppressed and ridiculed people," and saying that she too would be angry if someone made those same sorts of generalizations about "mountain music and bluegrass," Judd contritely admits that her wording was off, and that she should have made those generalizations only about "some hip-hop," as opposed to "most" of it.
She also pointed out that the backlash on Twitter is based solely on "two paragraphs of my 400-plus page book," and that the outcry has become increasingly "out of context," bringing with it accusations of racism or even suggesting that Judd blames hip-hop for "poverty, AIDS, and the whole of rape culture." That is, when they're not devolving into "death threats" or suggestions that Judd "deserve[s] to be sexually humiliated, dominated, hurt, and raped," which she rightly calls "exactly what I was isolating and identifying."
Still, while Judd apologizes outright—saying, "I absolutely see your points, and I fully capitulate to your rightness, and again humbly offer my heartfelt amends for not having been able to see the fault in my writing, and not having anticipated it would be painful for so many"—she can't help passing the blame around a little:
I take full responsibility for the book. It is my text. However, it was read by scores of people, none of whom gave me feedback that I might be inadvertently offensive. How was this missed? Why wasn't it mentioned until it was too late? Thumbs down to all of us for not having the sensitivity and acuity to catch the paragraphs might be hurtful.
G/O Media may get a commission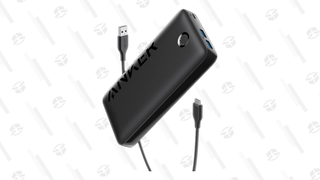 20% Off
Anker 335 Power Bank
So all hip-hop artists composing their response diss tracks, please remember to save a bar or two for Ashley Judd's editors. [via Movieline]