Yup, it's once again time for Ask The A.V. Club, the weekly column where we field your questions about pop-culture and that one thing you think you might have seen on TV that one time, unless you were just dreaming or something. But first, a meatier query:
This Response Brought To You By Encyclopedia Britannica And The Number 3
Most of modern product placement doesn't bug me—I'd be more distracted if Tom Hanks worked for a generic delivery company than FedEx, say. But what's considered the king of product placement in a TV show or movie? I have a hard time thinking of something more blatant than a whole movie based around drinking Coors, like Smokey And The Bandit.
Jeff
Burger King paid Donna Bowman to craft this response:
Funny how Smokey And The Bandit now seems like the good ol' days of corporate synergy. Movies in the '90s got so crassly cynical about this kind of thing that audiences couldn't help but notice—and like film music, product placement you notice is generally bad product placement. My favorite such moment is the Pepsi subsidiary known as Twister. Those intrepid tornado-chasers ate only KFC and Taco Bell, and in the film's climax, they used hundreds of soda cans to deploy their weather machine without including a single Coca-Cola product in the bunch.
The problem isn't new, as the recent Grease DVD commentary points out. A Grease producer made a deal with Pepsi, but neglected to tell the art director, who decorated the malt shop with vintage Coke posters, all of which had to be blurred out in post-production. But in the last 15 years, viewers have gotten savvier and comedy more postmodern, leading to spoofs of product placement as rudimentary as Mike Myers ostentatiously holding up a Doritos bag in Wayne's World, and as multi-layered as Josie And The Pussycats' Target-branded boy band DuJour.
The A.V. Club's staff nominated several movies for the Blatant Product Placement Hall Of Fame. Mac And Me, a 1988 E.T. clone about a stranded alien whose native foodstuffs can only be approximated on earth by Coke, was executive-produced by an advertising executive handling the McDonald's account, leading to an onscreen appearance by Ronald McDonald himself. Fred Savage in 1989's The Wizard should have been third-billed under the Nintendo games his character mastered and the Universal studio tour where the big chase took place. More recently, Around The Bend (with its KFC-centric scavenger hunt) and Harold & Kumar Go To White Castle were just quirky and self-aware enough to make us wonder whether it was product placement at all, or just obsessive cultural specificity.
G/O Media may get a commission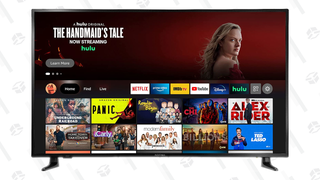 38% Off
Insignia 50" 4K UHD Smart TV
My personal vote for Soul-Deadening Vertical Integration Artifact Of The Century (Moving Pictures Division) is Bye Bye Love, a Paul Reiser comedy about divorced dads who hang around a McDonald's waiting for their ex-wives to drop off the kids for the weekend. Frequent establishing shots of the warm, uriney glow of 1995-era golden arches aren't the half of it. Reiser's daughter has a crush on that hunky cashier. (Those red visors—so chic!) In a syrupy side plot, the stud develops an unlikely friendship with a crusty retiree who's supplementing his Social Security by flipping burgers.
1995 was a banner year for McDonald's Films, Inc.—they also released the Sinbad comedy Houseguest, in which one of the comedian's setpieces involves reciting nearly every item on the menu of the fast-food joint. So maybe the real issue isn't the most blatant product placement in a movie, but the most blatant product placed in the movies. Ray Kroc, please pick up your Lifetime Achievement Award.
You've Waited Long Enough
I've been trying to find out about a song for what feels like 10 years now. I don't know the name or the artist, which is the problem. It's a late-'80s-to-early-'90s-sounding song. The chorus is composed of the line "I can't wait," which then goes into this weird hiccup vocal that ascends and descends to match the music. I seem to recall a video with lava and a woman's silhouette, but that might just be a red herring. Help me, because no one else seems to know what I'm talking about, even though I heard the song at a high-school hockey game during intermission.
Lorin
Steven Hyden responds:
Ten years and no answer to your hockey-game mystery song? Sounds like the pop-culture equivalent of a popcorn kernel between the teeth. Let me be your toothpick—the song is "I Can't Wait," and the artist is Nu Shooz, a husband-and-wife dance-pop duo from Oregon that scored its biggest hit with this weirdly infectious song in 1986, going to No. 3 on the Billboard singles chart and topping the dance chart. Nu Shooz had another top-40 hit that year with "Point Of No Return" (which also was a number-one dance song), before fading into high-school-sports obscurity.
Your memory of the video for "I Can't Wait" does, in fact, appear to be a red herring—no lava or female silhouettes here. Rather, it's yet another video inspired by Peter Gabriel's "Sledgehammer," with plenty of goofy stop-motion animation that holds up about as well as 20-year-old dance pop groups like Nu Shooz.
The Aristocats! No Wait, The Aristocrats! Dammit.
Sometime around 1980, there was a short-lived show whose name was, if I recall correctly, The Advocates. And indeed, it took place in a law firm. The only character detail I can remember was the presence of a stunning blonde who wasn't presented as a front-and-center sympathetic character, as the little hints we get about her are that she's way smarter than anyone else there. (Little as I was, I knew this was not the standard slot provided for beautiful blondes, though I guess WKRP was another such example.) There was some deliciously self-referential episode concerning pushing the envelope on network television, including mention of the Roots episode briefly featuring bare female breasts. The advocates' discussion includes the salient point that these are black breasts, not white, the latter not yet appropriate for prime-time television. I have found it difficult to look up a TV show with this generic title.
Allen K.
Noel Murray sez:
That's because you're searching under the wrong name. The show was called The Associates. It starred Martin Short, and it ran for 13 episodes in 1979 and 1980. Shelley Smith played the blonde—a benignly devious sexpot, according to what I've read. I never saw the show myself, but after it was cancelled, the creative team—who also worked on Taxi—brought Short in for a Taxi episode in which he played a network executive with a similarly nebbishy demeanor.
Stumped No More!
Last week, we gathered three reader questions that had baffled us and passed them on to you, the reading public. And you didn't disappoint us. Here's what you had to say:
A friend and I once saw part of a cheesy action movie that at first seemed to be a straightforward '80s low-budget rip-off of Rambo—we remember the vigilante hero being referred to simply as "Soldier." It did not seem to be a comedy for several minutes; however, it took a bizarre turn—the hero was crawling through a ventilation shaft and came upon a pizza deliveryman, also crawling, who cheerfully exclaimed "Pizza coming through!"
Many e-mails identified this film as Snake Eater II: The Drug Buster, but an e-mail from "CCH" provided the most interesting information:
The hero was called "Soldier" in Snake Eater, but in Snake Eater II, he acquires a surname. He is now "Soldier Kelly." This adds greatly to the already-rich characterization of our hero. Or not.
[Also], the pizza-delivery guy was not quite as random as all that. He was an asylum inmate. For some reason, it was thought that Soldier's—excuse me, Soldier Kelly's—habit of killing dozens of drug dealers in their hideout instead of, say, hollering "Cop!" and getting them all arrested, might betoken some sort of mental illness. Whodathunkit? Anyway, Soldier Kelly is sneaking around in a ventilation shaft, trying to escape or something, when he runs across the pizza-delivery inmate, who is actually sneaking back into the asylum. Go figure.
The A.V. Club has little to add to this detailed report, except to note that alert reader Ben sent in a link to this video review that specifically mentions the pizza guy in the air duct. Also, true fans will want to know about Snake Eater III: His Law as well. All three films star soap-opera regular Lorenzo Lamas (Falcon Crest, The Bold And The Beautiful) as Soldier/Soldier Kelly, and all three were directed by George Erschbamer, whose latest work-for-hire project was Lifetime TV's 2006 Strangers On A Train revamp Double Cross.
I remember a cartoon they used to show on Nickelodeon in the early days, probably 1985 or 1986, that was the story of a man sucked underground into a world populated by people with hoppity-balls for legs.
This question provoked the most discord and the least consensus, but majority vote and a little examination of online materials indicates it's Spartakus And The Sun Beneath The Sea, the English translation of an animated French series based on a French comic. That series did indeed air on Nickelodeon; an extensive website with pictures can be found here, though there's a notable lack of hoppity-ball-legged characters. But you can see them in this YouTube video of the series intro; the legless underground dwellers called the Arkadians seem to glide around on their ball-like fundaments rather than hopping, but they're certainly missing their legs. Unfortunately, the series isn't available in America.
I grew up in London, Ontario, Canada, so my question may be out of your range, but here goes: I remember as a kid watching some children's television program that consisted of one guy with finger puppets in the form of various sea creatures. I distinctly recall a shrimp puppet.
This question was in fact out of our range, but dozens of readers poured forward to help out by identifying it as Fingerbobs. By far, this was the favorite site on the subject, thanks to the extensive pictures, which do in fact show a shrimp-like puppet, "Scampi." The show isn't available in the U.S., but Amazon.co.uk has the whole series in one relatively cheap DVD set. For those who think a little dab of reminiscing is enough, though, a reader named Simon (who characterizes the shrimp puppet as "very scary") contributed this YouTube clip, which makes the show look like just about the cutest thing British children's television ever produced. Unless the spin-off show, Fingermouse, was even more adorable.
Next week: Why hip-hop skits? Name that sound bite! And more, as determined by you. Send your questions to asktheavclub@theonion.com.