Well, that certainly was something.
I hate having to commit to a position on "B.A.N." so shortly after watching it, because it strikes me as the kind of episode that will either grow or lose esteem with time and repeated viewings. I feel confident that I'll love most components of "B.A.N." once the episode is chopped, screwed, GIF'd, and disseminated on Twitter, Tumblr, and The 'Gram. As an episode, it's harder to enjoy and feels a little too experimental, even for a show like Atlanta, that relishes in trying unexpected things. The thing about being experimental is that some experiments fail, and while "B.A.N." is far from a failure, it's so much of a departure that it's bound to be as polarizing as a Nutella sandwich.
Here's the setup: The episode, written and directed by Donald Glover, is a broadcast from Atlanta's alternate-universe Black Entertainment Television. Specifically, it's an episode of Montague, a current affairs talk show with the feel of public access but the aesthetics and tone of Charlie Rose. Host Franklin Montague (Underground's Alano Miller) leads a discussion about toxic masculinity and transphobia in hip hop with guests Dr. Deborah Holt, a humorless scholar, and Paper Boi, who apparently sent some offensive tweets about how he doesn't want to bone Caitlyn Jenner. Then the show throws to a pre-taped segment about a black man who identifies as a white man. Alfred is the only regular character to appear in the episode, and even Earn is limited to an off-screen reference. Between this episode and "Value," we've now spent two weeks away from Darius, precious moments we can never get back.
Regardless of the episode's execution, departing from the main story to do an experimental standalone episode feels weird at precisely the moment when the story is beginning to take shape. Atlanta has never been and hopefully never will be a heavily plot-driven show, but I've never cared more about how the story develops than at the end of "Value," when Van lost her job. Van's gig was the only thing keeping the family afloat, what with Earn off chasing his hip hop dreams, so that's a development that has genuine stakes for the story. Will Van demand that Earn abandon his passion to do something more practical with his life? Is living his dream worth the personal cost? These are all questions I was left with (to say nothing of the shooting from the pilot, which has only gotten glancing references since.)
G/O Media may get a commission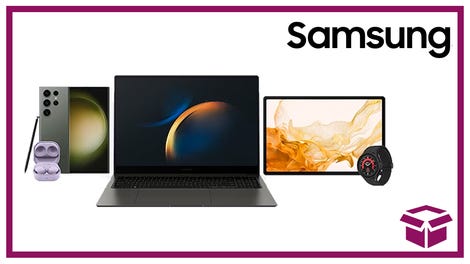 24 hour deals
Discover Samsung - Daily Deal
Instead of providing answers to those questions, Glover drops this wacky one-off that is teeming with interesting, funny ideas, but none of it feels like what I watch Atlanta for. It's a completely different show, a sketch-parody hybrid that seems more appropriate for Adult Swim than FX. (In fairness, there's nothing more Atlanta than a nod to Adult Swim, whose Midtown offices are visible from the highway.) But the episode is also far longer than most of Adult Swim's high-concept series, and it ends up feeling overlong. I couldn't help but thinking this was too fanciful a way to use one episode of a 10-episode season.
The biggest issue for me is that the parts with the character I recognize and care about are the least effective parts of the episode. The dominant literal part of me doesn't understand what Montague is, or why Paper Boi would be invited on it to discuss issues he clearly doesn't care much about. (Or why he would be on a talk show discussing trans issues after maybe shooting someone and definitely roughing up Black Justin Bieber during a celebrity basketball game.) As for the discussion itself, I really couldn't make heads or tails of it. Usually Atlanta is subtle enough that I feel comfortable trying to divine what ideas Glover is trying to get across, but this time I can't call it.
The main theme is evolving attitudes around all sorts of identities, with a parallel drawn between Caitlyn Jenner and the weirdly-coiffed black gentleman who insists he's a 35-year-old white gentleman. The problem is that Atlanta does a lot of exploration of how social media affects culture and relationships, and these are the same platforms through which all of these ideas were debated to death months ago. Between Caitlyn Jenner's primetime interview and the curious case of ally-gone-wild Rachel Dolezal, there's basically no stone unturned here. It's all been memed before. As a result, the Montague segments feel oddly dated. That would be fine if, like the many experimental episodes of Community, "B.A.N." developed the characters or showed them from a skewed perspective. (Something Atlanta's network half-sibling You're The Worst does especially well.) This just gives Alfred lots of opportunities to roll his eyes and crack wise, and while Brian Tyree Henry performs it all well, it doesn't feel like a worthy exercise.
"B.A.N." adds up to less than the sum of its parts, but some of those parts are really, really interesting and funny. Not the Montague segments, but the wrap-around commercials, which have a delightful Tim and Eric vibe to them. The Dodge commercial takes a weird, disturbing turn at the end, and at this point I'm not sure why pre-dumped Swishers don't already exist. The commercials alone were really solid, almost like what B.E.T. would look like in one of Rick And Morty's interdimensional cable episodes. The episode provides lots to chew on, but time will tell how long it takes for the flavor to fade away.

Stray observations
Nutella Sandwich Man is back in a Miss Cleo-style infomercial. (Yes the number is real. It goes to a creepy voicemail. I didn't leave my number.)
Glover does a terrific job with the direction, and put a lot of work into effectively mimicking the various visual styles the episode calls for.
BRING BACK DARIUS.
The other consequence of this approach is that there's no room for the awesome music that makes this show so great.
So who wore it best y'all? Atlanta or Mr. Robot?