Though singer-songwriter John Darnielle has performed and recorded under the name The Mountain Goats since 1991, for some fans the project really began in earnest in 2002, when the band released two albums. The first, All Hail West Texas, was the culmination of the decade that Darnielle had spent spewing songs into a cheap boombox, with only his acoustic guitar and the occasional guest musician for accompaniment. It's a masterful proof-of-concept: a collection of lyrically sophisticated and melodically fluid character sketches, performed with an unusually raw passion that matches the desperation of the subjects. Nine months later, The Mountain Goats released Tallahassee, a polished studio recording featuring full folk-rock arrangements, backing a set of songs about a squabbling married couple. It also makes a case, proving that Darnielle could leave lo-fi behind without sacrificing his creative spark.
In the 13 years since Tallahassee, The Mountain Goats have continued in the direction of that record—which makes 2002 the firm demarcation point between Darnielle's two modes. And just as there are fervent fans who prefer the cleaner-sounding albums, there are plenty of long-timers who liked the band better when it was mostly just Darnielle, recording on cassettes. Those early releases emerged from the era of Xeroxed zines, and had a similar art-for-art's-sake quality. They were the product of a literate young man who was essentially self-publishing annual journals of stories and poems.
It's with the past decade's worth of LPs that the whole Mountain Goats project has started to make sense as music, and not just the work of a great writer who can play a little guitar. That's not to say there weren't a goodly number of beautifully composed Mountain Goats songs between 1991 and 2002. But in the more recent records Darnielle has varied his vocal cadence more, and has taken full advantage of his rhythm section to give songs drive, texture, soul, whatever they need.
No matter the fidelity, Darnielle's choice of material hasn't changed much, even as the scope of his narratives has become more ambitious. He used to write primarily about relationships in crisis, and now he populates his records with an eclectic cast of characters and fills in more detail about their lives. But his train of thought still rolls through dark territory. Darnielle's fascinated by rogues, failures, and people who can't shake off the abuse in their past. And because he's such a warm, good-natured performer, The Mountain Goats' songs rarely feel like a miserable wallow.
G/O Media may get a commission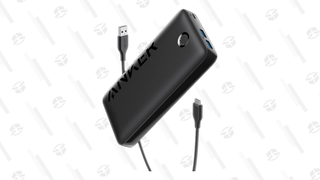 20% Off
Anker 335 Power Bank
As befits a band with such a bifurcated discography, reducing Darnielle's Mountain Goats' output to an hour is tricky for two reasons—one obvious, one less so. The first issue is that Darnielle has been incredibly prolific, especially during the 1990s. The other complication is that so many of The Mountain Goats' songs and LPs are grouped around themes; and excerpting and rearranging them strictly based on the musical flow can result in a disjointed set, with no logical progression of ideas. So to preserve the integrity of Darnielle's storytelling, picture these 20 songs as the free-associative musings of a man on a road trip across America, moving from cheap motel to cheap motel as he thinks back on a hard childhood, friends in trouble, and failed relationships, while trying to hold onto some hope.
1. "You Or Your Memory" (2005)
It's tempting to interpret the bulk of The Mountain Goats' lyrics as being either about Darnielle himself or being inspired by someone he knew, but to turn his words into pieces of a larger puzzle does them a disservice. Most Mountain Goats songs are fully formed impressions of moments and people, whether or not they're fictional. Darnielle has admitted that his album The Sunset Tree is partially about how he survived a childhood dominated by an abusive stepfather—and about how he reconciled with that past after the old man died. The opening track, "You Or Your Memory," is universal as it inventories what gets the singer through the night. Baby aspirin, wine coolers, and thoughts of someone long gone mark just the start of what's about to be an emotional night.
2. "The Legend Of Chavo Guerrero" (2015)
It's a measure of Darnielle's maturation as a writer that 10 years after The Sunset Tree he found a more complex and ultimately more resonant way to return to the subject of growing up with a bad stepdad. Beginning with memories of a colorful wrestler, the song becomes a paean to how the simple heroes of childhood can help a little kid escape for a while. The swift tempo and a cheery melody masks a lot of the anger underlying "The Legend Of Chavo Guerrero," although Darnielle gets his licks in when he addresses his crummy, dead parent, telling him about how Guerrero and his son toured the country happily together, then concluding, "I don't know if that's true / But I've been told / It's real sweet to grow old."
3-4. "Cubs In Five" (1995), "Alpha Sun Hat" (1994)
A healthy number of early Mountain Goats songs take the form of a direct address from one half of a couple toward the other, interlacing vivid scene-setting and undisguised hostility. The pair are usually referred to as "the Alpha couple," because several of the songs about them have "Alpha" in the title; and fans often debate which songs count as part of the cycle. "Alpha Sun Hat," from The Mountain Goats' first official album Zopilote Machine, is a fine representative of the series. It's short, catchy, and filled with telling detail, describing passive-aggressive glares and the sunrise over Tallahassee. But fan-favorite "Cubs In Five"—whether it's officially an "Alpha" song or not—is just as stinging, running down a list of sports and cultural long shots that would have to happen before the singer "will love you like I used to."
5. "Birth Of Serpents" (2011)
While some of The Mountain Goats' songs tell little stories or capture specific moments, "Birth Of Serpents" is more of a barrage of imagery, grouped around the idea of formation and clarification. A photograph develops, a jack-in-the-box springs out, a snake-egg hatches, and so on. Darnielle has said that the lyrics were inspired by a return to Portland—where he used to live—and his hazy, shifting expectations for what he would find there. The music, meanwhile, is The Mountain Goats at their most toe-tapping, with clean melodic lines offering the kind of focus that the singer craves.
6-7. "Palmcorder Yajna" (2004), "Lakeside View Apartments Suite" (2012)
For 2004's We Shall All Be Healed, Darnielle drew on his own memory of hanging around drug addicts (and partaking himself) in between high school and college, and in "Palmcorder Yajna" he sings about gathering with his tweaker buddies, getting high and spacing out. The song has a laid-back, faintly fuzzy feel that fits its subjects' state of mind, even as the lyrics shift from plain descriptions of the scene to something more fevered and hallucinatory. The quieter, moodier "Lakeside View Apartments Suite," from 2012's Transcendental Youth, could be about the same lead character a decade later, still holing up in crummy rooms and getting wasted, but now more often alone, with friends passing through almost unacknowledged. The defiant tone of some of Darnielle's songs about outlaws and bad boyfriends is completely absent here, in this melancholy sketch of someone who's more or less given up.
8-9. "Going To Georgia" (1994), "Going To Queens" (1995)
Another of the recurring series in the band's first decade was the "Going To…" cycle, in which Darnielle has characters traveling to new places, frequently in twos, and often with more of a sense of optimism than the people in the "Alpha" songs. Optimism can come in odd ways, though. The singer of "Going To Georgia" is happy to be heading toward the woman he loves, but he seems even happier about the gun by his side, which he apparently plans to use on her. In "Going To Queens," on the other hand, a couple takes a moment after a shower on a hot July day to fall into bed together. The latter song features the vocals of Rachel Ware, who was a staple of early Mountain Goats shows and records, and who here clarifies that just about any of Darnielle's lyrics could be a woman singing to a man.
10. "Twin Human Highway Flares" (1997)
Similar to "Going To Queens," this slight-but-sweet romantic ballad from 1997's Full Force Galesburg is about lovers who finish off an eventful day on the road by checking into a motel and getting it on. This is one of the most dewy-eyed songs in The Mountain Goats' catalog, full of attentive notes about how the sunset looks filtered through a woman's earrings, and how the wind pushes against her hair and T-shirt. It's no real surprise that Darnielle has said "Twin Human Highway Flares" was inspired by a road-trip with the person who would later become his wife.
11-12. "No Children" (2002), "See America Right" (2002)
Traveling and coupling both take a dark turn in these two songs from 2002's Tallahassee. The first is both mean and funny: a pub-style sing-along that's ostensibly one long rant about how much one half of a pair really hates the other half. The title "No Children" seems to imply that this is is the end for the two of them. (Sure they're breaking up, but at least they didn't breed.) Yet Darnielle has said in the past that he sees the song as positive, because it's about clearing the air rather than bottling up anger. "See America Right," meanwhile, is a twisted kind of love song, describing the great lengths the singer goes to get home to his partner after his car breaks down—although he's quick to add that he's such a determined son of a bitch because his love is "like a dark cloud full of rain that's always right there up above you."
13-14. "Heretic Pride" (2008), "Heel Turn 2" (2015)
Darnielle's feeling of connection with misfits and villains finds perhaps its purest expression in the spirited, tuneful rocker "Heretic Pride," which describes what it's like to wait for an angry mob to show up at the door. Rather than cowering in fear, the protagonist of "Heretic Pride" insists that he's eager for a reckoning, and that he plans to enjoy every moment, from the look on the faces of his accusers to the cleansing heat of their torches. Similarly, the Beat The Champ standout "Heel Turn 2" is sung by a hero wrestler who transitions to the bad guy role, and doesn't seem the least bit sorry about it. "Heel Turn 2" is the rare Mountain Goats track with an extended instrumental passage, which here is more pensive than the song's jaunty first half, perhaps signaling just a little bit of regret for this move to the dark side.
15. "Cry For Judas" (2012)
A sort of Mountain Goats spin on "Sympathy For The Devil"—lyrically, not musically—"Cry For Judas" describes the impulse within all of us to cross lines. "Some things you do just to see how bad they'll make you feel," Darnielle confesses at the start, and while the cascading horns and snappy beat make "Cry For Judas" sound like everyone involved is having a great time, the message is a lot more serious than the music. The song evokes a feeling not unlike having a leisurely afternoon interrupted by a nagging thought of something terrible—and something that might take some explaining.
16. "Against Pollution" (2004)
One of the most intense of The Mountain Goats' "freezing a moment in time" songs, this We Shall Be Healed standout comes from the perspective of a former liquor store clerk, who recalls shooting a robber in the face. He mentions it casually, like it was no big deal, but for the rest of the song he talks about prayer, eternity, and the end times, as though the repercussions of that gunshot are still ringing in his head. The narrow melody and almost monotone vocal enhances the impression of someone who's still paying for one bad night.
17-18. "The Best Ever Death Metal Band In Denton" (2002), "Fall Of The Star High School Running Back" (2002)
Loosely inspired by Darnielle's former job as a psychiatric nurse working in group homes, the album All Hail West Texas contain some of his most vivid character pieces, all about youngsters in trouble. The first two West Texas songs deal with very different kinds of teen outcasts: The former is about a pair of ambitious metalheads who remain convinced of their bright future even as the adults in their lives remain determined to keep them from making music together, and the latter concerns an athlete who gets caught selling drugs. The sound of both is about as tinny and ragged as The Mountain Goats gets, but each creates unshakable impressions in just a couple of minutes, and generates real sympathy for kids who are either misunderstood or misguided—or both. Leave it to Darnielle to chant "Hail Satan!" at the end of "Death Metal Band" and have it come off like a rallying cry for the underestimated.
19. "Damn These Vampires" (2011)
Here's one of the prettiest imaginable songs about the old ghosts that suck a person's life away. Like "Birth Of Serpents," "Damn These Vampires" is an All Eternals Deck track that works allusively, layering images that don't seem to have any specific meaning, but which cumulatively describe what it's like to walk through the day wincing, remembering past mistakes. As with so many later Mountain Goats songs, the lightly swinging rhythm section of drummer Jon Wurster and bassist Peter Hughes is a major factor in how well "Damn These Vampires" comes across, creating atmosphere and gentle echo.
20. "This Year" (2005)
The juxtaposition of Darnielle's amiable stage persona and his hard, cold words could be seen as a calculated expression of irony. But it's more like there's some distance between where he is now and what he's describing. He knows that everything will get better. Even though The Sunset Tree's "This Year" is sung mostly in the present tense, it looks back at where the singer was at 17, when he was experimenting with intoxicants and living in fear of his stepdad. The lyrics keep returning to a girl who gave Darnielle something to look forward to during an otherwise lousy time, and as he yelps, "I am going to make it through this year, if it kills me," the line is less angry than determined. Keep it together long enough, the song suggests, and there will be rewards.
Total time: 1:00:18