For some reason, no Competition titles were screened today, so I wound up checking in with three filmmakers of whom I'm not especially fond, hoping against hope to be surprised. (It happens - after despising the first two films directed by Carlos Reygadas, his third, Silent Light, landed in my top ten for the entire decade.) No such luck, alas.
Russell Crowe is pretty chill about not being in that "Gladiator" sequel
Pretty much the only thing I wanted from Wall Street: Money Never Sleeps was a Charlie Sheen cameo—not as Bud Fox, his character from the 1987 original, but as Two And A Half Men's genial horndog Charlie Harper. And yet I barely cracked a smile when Sheen did in fact turn up halfway through the movie with a statuesque blonde tucked under each arm. By that point, the film had already followed a portentous speech about financial bubbles with a shot of little kids blowing actual bubbles on a playground, the camera craning skyward to follow their doomed path. By that point, we'd already seen Sheen replacement Shia LaBeouf answer a call from intense colleague Vanessa Ferlito while driving alongside girlfriend Carey Mulligan, then seen Ferlito's face appear onscreen in a circular superimposed portrait, then seen the superimposed Ferlito portrait zip sideways and settle directly on top of Mulligan's face. Oliver Stone has never been known for his subtlety, but this baldly opportunistic sequel is so overstuffed with dumb metaphors, stupid graphic tricks and actorly flourishes (Josh Brolin, as an amoral corporate raider in the Gordon Gekko mold, performs what can only be termed a double-take gasp) that it becomes impossible to watch with a straight face, even though fully half of the picture is devoted to a soggy subplot about Gekko's desire to reconcile with his daughter. The other half is basically just a lot of finger-wagging about leveraged debt, with poor Michael Douglas, whose wily performance was the original's only real virtue, so neutered here that he's reduced to dispensing fatherly advice. (He also looks like he's still in Wonder Boys—apparently, Gekko needs at least $100 million to afford hair gel.) Money Never Sleeps is never boring, but for all the jabbering about moral hazards and renewable energy sources (LaBeouf's character, rather improbably, is a treehugger at heart), it feels even more like empty calories than do many recent superhero pictures. Two And A Half Men arguably provides the same shallow pleasure in a quarter of the time. Grade: C
Nobody, on the other hand, could credibly call Aurora shallow, given how determined director Cristi Puiu is to bore the viewer into submission. I should confess immediately that I was not a fan of Puiu's wildly acclaimed The Death Of Mr. Lazarescu, which spent nearly three hours watching an ailing (if also irascible) geezer get dogpiled by the entire Romanian medical establishment. Aurora, too, runs a punishing three hours, during which so little happens, by even the broadest definition of narrative incident, that any mention whatsoever of what does happen constitutes a spoiler. (You are hereby warned.) Basically, the film depicts 48 hours or so in the life of a man, played with a frightening lack of affect by Puiu himself, who's decided to commit several murders, for reasons left pointedly unstated until the final scene. Occurring at unpredictable intervals, the killings, and specific preparations for same (e.g. purchasing and test-firing a shotgun), take up only five or ten minutes of screen time; the bulk of the movie consists of utterly mundane activities, ranging from eating silent meals to directing some workers who are renovating the killer's apartment. This idea of juxtaposing long, long stretches of quotidian detail with short bursts of shocking violence goes all the way back to Chantal Akerman's masterful Jeanne Dielman (made in 1975), but where Akerman and her lead actress, Delphine Seyrig, managed to construct a fascinating neurotic ballet from ordinary bits of business, Puiu merely seems to be inflicting tedium as an intellectual weapon. (Expect plenty of critics to take the bait.) With few exceptions, individual "scenes" possess no conceivable interest apart from being expressly mundane—one could argue that a truly ballsy (and Warholian) version of Aurora would have run 10 hours or more and included several consecutive hours of its protagonist soundly sleeping. I confess that I did thoroughly enjoy the movie's final scene, which pushes its modus operandi so far into the red that it finally becomes laugh-out-loud funny, but only the most patient and masochistic among you will want to slog it out for three hours getting there. Grade: D+
Returning from the soporific to the ridiculous, Hideo Nakata's laughably dated Chatroom finds a quintet of annoying British teens, including Kick-Ass' Aaron Johnson, gathering in virtual reality to humiliate and abuse one another from the comfort of their individual laptops. Since watching a bunch of pretty actors furiously typing for an hour and a half wouldn't be terribly exciting, the film represents their cyber-interaction via an imaginary room, which looks like a neon-suffused cross between a classroom and a clubhouse. Oddly, though, the kids' avatars (now there's an idea for a movie!) look more or less as they do in real life—apart from the brief, jokey appearance of a middle-aged pedophile posing as a nymphette, the idea that people use the Internet to construct alternate identities remains completely unexplored. Instead, the angry one (Johnson) works to provoke the timid one (Matthew Beard) into committing suicide, while the hot one (Imogen Poots) strikes up a sadistic, phony friendship with the gawky one (Hannah Murray). (There's also the black one, who seems just about that token, to be honest.) Shrill and insipid, Chatroom doesn't work on any level—the dialogue is risible, the character dynamics are preposterous, and the rise of Chatroulette makes the entire concept of a tight-knit virtual community seem like a sad anachronism. Incredibly, the film was based on a play by Enda Walsh, who cowrote Hunger with Steve McQueen; it would be hard to imagine two films with less in common. EXIT. Grade: C-
G/O Media may get a commission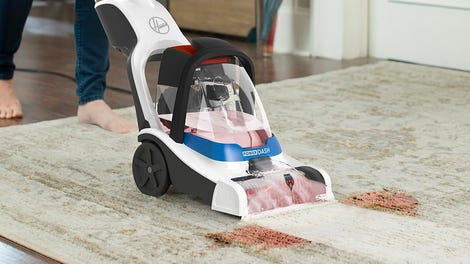 26% Off
Hoover PowerDash Pet Compact Carpet Cleaner
Tomorrow: A major day, with new films by Mike Leigh, Woody Allen, and Gregg Araki, plus (already?) the second feature by I Killed My Mother's Xavier Dolan.