First things first. I jokingly said last week that I hoped Childrens Hospital would address the mystery of what happened to the supposedly-dead Cutter Spindell at the end of last season, just as it addressed the resurrection of Blake Downs. After all, this is a show that maintains a weird internal logic about its meta-universe, even as it flouts those same rules as much as it likes. Well, someone who I'll just call a concerned fan pointed out to me that "Rory Spindell" is now credited as playing Blake. I'm so sorry I missed that. I can't wait to learn more about Rory on the next Newsreaders episode.
Another thing I didn't realize—we're on the Japan base for the whole season, huh? Or at least some of it. I wonder if that has to do with the (apparently very necessary) destruction of the horrible hospital set the show used for its first four years, the same one used by Scrubs, that Rob Corddry definitely called a "shithole" more than once. Fine by me! It nicely expands the scope of the show, which had long since broken out of its original territory, spoofing Grey's Anatomy and other hospital shows of its ilk.
This week, we get a "previously on" segment to actually remind us of two crucial events. Blake knocked up Nurse Dori, and now they have a clown son that he ignores. And, well, remember Chance Briggs (Nick Offerman)? Cat thinks she does. "What about him?" "I dunno, just something to keep in mind, I guess."
That should be enough to get any Childrens fan clapping with glee. Chance Briggs episodes are always among my favorites. "Ward 8" remains an underrated gem, I feel. Also, "Triangles" is written by Michael Showalter, who we all know as a frequent collaborator with Childrens mainstay David Wain. It's his first credit on the show and it's an excellent one.
G/O Media may get a commission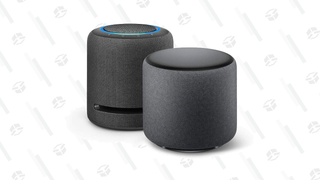 25% off - Prime Exclusive
Echo Studio + Echo Sub Bundle
It perhaps doesn't quite link its two plots perfectly: there's Dori and her clown son, who get mixed up in a Yakuza plot somehow. Then there's Chance and his partner (played by Jaleel White AKA URKEL HOW DID I MISS THAT) who are going after the gangsters, led by Francois Chau (who we all recognize from his great work as Pierre Chang on Lost). When it all mixes together, even Dori is annoyed. "Oh, right. That whole thing," she sighs when her son is being held at gunpoint.
Whatever. "Triangles" is hilarious. Chance Briggs joins the army and will apparently die in 12 years, but I hope this isn't the last we see of him, because Offerman delivers lines like "I live at 456 Lick My Butthole Lane" like it was written by Shakespeare. And he seduces Dori like nobody's business. "Can you feel it? My erection?" I know Nick Offerman has a job as Ron Swanson and he's crucial to Parks & Recreation. But a Chance Briggs spinoff that sees him bedding ladies and shooting bad guys in the head would be a ratings bonanza, there's just no doubt about it. The man is Wolverine crossed with Dirty Harry.
Stray observations:
Michael Cera's having some fun on the military base. "Atten-shun! Staff. That is all."
Offerman even takes on Leslie Nielsen and wins. "Surely you can't be serious." "Oh, I am serious. And don't ever question my seriousness."
Dori tries to explain sex to her son. "You know when mommy tries to fit a Pringles can in the garbage disposal?"