In Podmass, The A.V. Club sifts through the ever-expanding world of podcasts and recommends 10–15 of the previous week's best episodes. Have your own favorite? Let us know in the comments or at podmass@avclub.com.
Comedy podcast production often comes across as an afterthought. Of course, the conversation-based shows that compose a large swath of the genre have little need for editing or anything beyond the occasional music bed. A podcast like Beef And Dairy Network, however, is something of a masterclass in how expert-level production elevates material and helps a show differentiate itself. Beef And Dairy is also an impressively funny program, featuring bizarrely hilarious and deadpan dispatches from a fictitious British, cattle-obsessed publication. With this week's episode, host Benjamin Partridge catches Olympics fever, decamping to Rio De Janeiro to profile the bovine aspects of the games. This includes delusional dressage rider William Hester (Miles Jupp), disqualified from the 2016 games for riding a cow instead of a horse, and a series of protests over whether consuming lamb instead of beef has performance-enhancing abilities. The Brazil sections are where the show's production sparkles. Partridge's vérité recordings are actually spoken in Portuguese—with translations read by the great Helen Zaltzman (of The Allusionist and Answer Me This! fame)—giving the show the feeling of a BBC foreign correspondent's field piece. When dealing with the absurd, few things help heighten comedy quite like commitment, something that Beef And Dairy does better than most.
[Ben Cannon]
---
G/O Media may get a commission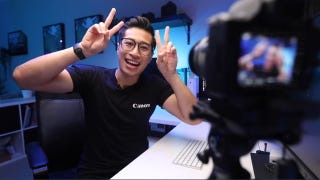 Up to 33% off
Canon Camera National Promotion
Webcam kits, lenses, & more
Since many of us adopted working from home, we've become accustomed to the crappy video quality output of our laptops' built-in webcams. Present yourself professionally with the help of a professional quality camera. Dress to impress now means set dressing and picture definition. Canon has made it easy to take your EOS camera and convert it to a webcam with the help of a variety of kits.
It could be its house size, frequency of use as a recording venue, or generally good comedy juju, but there's something about Los Angeles' Largo At The Coronet that lends itself to stellar podcast episodes. This week, Danielle Schneider and Casey Wilson's all-things-Bravo breakdown hits a milestone with its first show taped in front of an audience. (Hearing throngs of people cheer on a bottle of Tipsy Girl rosé is a beautifully strange experience.) Clad in extra-long-crotched Countess Collection ($37) and Sonja Morgan ($495) jumpers, the hosts discuss the most recent episode of Orange County, which adds another chapter in the Real Housewives franchise's storied history of Tennessee Williams-level sad limousine rides. Jessica St. Clair and Melissa Rauch drop by to perform a scene out of the Danielle Staub New Jersey golden years, and show insider Greg Bennett dishes about his appearance during the infamous charity fashion show debacle. As an added bonus, the audience Q&A is painless—a stylist's story about being offered tweets as pay from one of the housewives is a gem.
[Dan Jakes]
---
This podcast from The Guardian is on a mission to present real and open dialogues about sex and relationships. Listeners are first drawn in by an enchanting and melodic story about dildos. (It's important to note that Close Encounters is explicit in nature, but not for the sake of shock value.) Host Alex Fox has a touch of humor and level of care in her interviews that shines as she speaks to a man in his 50s named Ant, who is the subject of the episode. Ant's feelings about his body and rather small penis have required him to take a long personal journey toward self-love. "I had very little self-awareness as a child," he explains, and in college he discovered that he had "a very small penis compared to the norm." Ant's story brings forth the important topic of male body image that's often disguised by headlines about dad bods. Fox ends things on a high note, saying, "No matter what's going on in your boxers, you've got one hell of a pair of balls and I salute you."
[Tim Barnes]
---
Some of the very best comedy podcasts out there do not work well when recorded in front of a live audience, and others only really shine when there's a crowd to feed off of. With its first foray into the live setting, Doughboys proves that it works brilliantly no matter what context it's in. The crowd is clearly very into the show for all 100 minutes of its run time, and things stay mostly on track, thanks in large part to Nick Wiger's neurotic planning: It results in what still feels like a typical, hilarious, and satisfying episode of the show. Members of Spoon Nation may find themselves feeling a little defensive of Mike Mitchell as he takes a lot of heat from guest Fran Gillespie throughout, but he gets the last laugh with a terrifically mean tribute to his co-host at the end, leaving just one question: Is there anything the 'Boys can't do? (Aside from get along, of course.)
[Colin Griffith]
---
Exploring the medium of podcasting can resemble trying to find a good bar in an unfamiliar city. Any one is capable of providing an enjoyable experience, but knowing that something better is out there puts a damper on those feelings. With that being said, listening to a show as wildly wonderful and joyously unruly as Drink Champs makes listeners feel as if they've just wandered blindly into Cheers on their first try. Hosted by rapper N.O.R.E. (a.k.a. Noreaga, of Capone-N-Noreaga fame) and co-host DJ EFN, the show is focused on getting hip-hop luminaries to open up and tell their most candid tales through the indiscriminate application of liquor. This week the pair welcome Snoop Dogg into the studio and get a phenomenal conversation out of him, though one imagines that the real standout moments are yet to come in the episode's as-of-this-writing unreleased second part. Snoop mellifluously recounts some of his amazing history in the rap game, explains his life philosophy, and talks about his recent peaceful protest in Los Angeles along with rapper The Game. What makes the show such a unique treat is in how it manages to encompass all of the things that make hip-hop a vital facet of American culture.
[Ben Cannon]
---
Here To Make Friends is a Huffington Post podcast about the Bachelor/Bachelorette franchise, hosted by Emma Gray and Claire Fallon. This week, they are joined by everyone's Bachelorette crush, the devastatingly charming contestant Wells Adams, to breakdown the reunion episode "Men Tell All." Adams is a perfect guest for a plethora of reasons: He is clearly comfortable on a podcast platform, being a radio host in Nashville, and is willing and able to provide firsthand insight on what it's like to be on the show. It's an interesting dynamic between the three as they breakdown the happenings on "Men Tell All," since Gray and Fallon have questions that Adams can answer. They discuss the infamous Chad, in which Adams divulges that Chad brought his own scale to the house to weigh his meat. Details like that make the episode endlessly entertaining and include a particularly bizarre anecdote where Adams explains how a clique of guys referred to themselves as "The Garden" and named each other after different flowers. Adams' innate charm would've been enough to carry the episode, but his behind-the-scenes knowledge and understanding of the contestants are what truly make it a must-listen.
[Rebecca Bulnes]
---
Fans of Hollywood Handbook know that advertisements are a particular strong point of the show. What other podcasters might view as a chore, Sean Clements and Hayes Davenport take as an opportunity to further their comedy. This week's show recognizes those strengths and heightens them to the extreme as the entire episode itself flourishes under the guise of one long Howl ad with guest Howard Kremer. As with many episodes, the ad functions as its own act within the show, with a ridiculous story arc and characters like King Scripps. Taking a tip from previous episodes like "Teen Pope" with Brian Huskey, they create an improvised script that conveniently promotes Howl, but remains as ridiculous as ever with Kremer saying things like, "I'm engorged for content," and Clements as King Scripps performing the running-man challenge. Kremer plays himself and is clearly a fan of the show and hosts, and it's an endearing energy that permeates throughout the episode. He is fully on board and enjoying himself, which makes it easy for the three to find their dynamic. The decision to hinge most of the episode around a faux peek behind the curtain is exactly the kind of insider-baseball comedic angle that Hollywood Handbook fans have come to know and love.
[Rebecca Bulnes]
---
This week's episode of How Did This Get Made? might go on record as the most perplexed the hosts have ever been about a movie. Live at Largo with guest Pete Davidson, they attempt to break down The Shadow, and every effort of a logical justification for the film leads them into a rabbit hole of misunderstanding. The three hosts are at their best with the same wild energy they usually draw from a live crowd, but it's enhanced by their pure inability to grasp what the movie is. Their confusion spirals out of control, so much so that they opt to go to the audience in search of some answers, which inevitably leads to more questions. There's a sense of frustration that heightens throughout the episode to a point of pure exhaustion, leading Jason Mantzoukas to declare, "It's a bummer how impossible this movie is." Pete Davidson isn't extremely vocal, but when he does pipe up, it's always perfectly exemplifying the futility of even attempting to understand the movie. The episode is a war of ideas between the hosts, and June Diane Raphael stands by hers vehemently, allowing her to shine within the chaos. The episode takes an incredible turn when an audience member points out that the evil knife in the film is the same knife in The Golden Child, implying that The Shadow could be its prequel. The sheer amazement of the reveal is an unexpected and hilarious twist in an episode that lives in its own bafflement.
[Rebecca Bulnes]
---
One of life's grand inequities is that the stories we find most interesting are also those that were the most harrowing for their tellers to endure. Audiences sit with rapt attention at the recounting of these awful moments more interested in their own internal reaction than for the well-being of the person involved. But listening to this week's episode of augmented-storytelling podcast The Lapse, one gets the sense that for storyteller Andrea Abbate the desire to tell painful stories is driven by the attendant catharsis. Her early life was one riddled with tumult: an alcoholic, philandering father—abusive in every imaginable way—and an insane, continually suicidal mother, worried more about dying with her contacts in than being found dead by her child. That said, there are plenty of moments where the dark details of Abbate's life give way to comedy, even as one wonders at laughter's appropriateness. What makes The Lapse a compelling listen is in how host and producer Kyle Gest fleshes stories out, adding diegetic sounds to help establish mise-en-scène, suggest things unsaid. It is through this artifice that the weight of Abbate's words aren't always allowed to land, propelling the narrative past some of its more unsettling aspects. In the end, a haunting yet blackly comic exploration of enduring destructively narcissistic parents.
[Ben Cannon]
---
At the top of this episode, Brian Koppelman uses a personal anecdote to express how important it is for a filmmaker to make a second movie. "Until we had made a second one, I had this fear…" he explains, "I kept saying: 'It's just a dot.' And a dot on a graph is meaningless." That sentiment kicks his conversation with Mike Birbiglia, whose second film is in theaters, into high gear. What could be the audio equivalent of a five-minute DVD extra is instead a discussion wherein they talk about the emotional stakes of putting their art on the line. Birbiglia shares a lot, from translating the craftsmanship of his stand-up to the screen, to types of notes from Ira Glass. As a fan of the podcast, he even explains why you should listen to it: "You [Brian Koppelman] have made a lot of things, and so your points of reference run deep." There is a wealth of information here for working and aspiring filmmakers.
[Tim Barnes]
---
There is a pervasive feeling vibrating throughout this excellent interview with hip-hop impresario DJ Khaled ahead of the release of Major Key, already his ninth album in 10 years. That feeling is one of a genuine and strikingly exuberant fandom, specifically for the artists with whom he has had the chance to work. In some ways the tone Khaled strikes makes him seem like a music-industry Billy Batson—the teenage alter-ego of DC superhero Shazam—gushing about how lucky he has been to go from being a fan of the Justice League to one of their members. His effusive conversation with Rap Radar hosts Brian "B.Dot" Miller and Elliott Wilson mostly skirts the familiar tropes of Khaled's Snapchat persona, instead allowing for a portrait of the artist as a nervous, excitable human still coming to terms with his own status and influence to emerge. Of particular interest is the saga of Khaled's Ocean's Eleven-level-intricate scheme to lock in Jay Z's participation on Major Key. This included some masterful psychological power moves, like calling anyone even remotely associated with Jay Z and mentioning the project in order to give the illusion that he was already on board. With such determination, cunning, and self-assuredness, one suddenly understands how Khaled has risen so far in such a short time.
[Ben Cannon]
---
Some podcasts are ostensibly about sports, but they're really just about a couple of friends bullshitting. Some are ostensibly about role-playing games, but they're really just about a couple of friends bullshitting, but in a nerdier way. Save It For The Show is ostensibly about a couple of friends bullshitting, and this one really delivers on the promise of the premise. Every week, Dan Fields and his brother-in-law Eddie Galindo sit down in front of some microphones and start talking. About stuff. Often, rather crude stuff. Anyone who makes it three seconds into this episode will be treated to information about where Fields' wife will and will not engage in matrimonial congress. This sort of aeriform podcasting is not for everyone, but no podcast with a steely structure is for everyone either. These two guys do the genre right. They're charismatic and funny; the conversation moves along steadily and quickly. Unlike so many other podcast hosts, Fields and Galindo seem completely at ease on a public platform. And since they exhibit such honesty (maybe sometimes too much honesty?) with each other and all of us, it seems like a very easy show to slip into on a weekly basis.
[Dennis DiClaudio]
---
Gimlet Media is the proud new parent of Science Vs, an Australian import wherein cheery host Wendy Zukerman weighs scientific evidence against the seductive forces of popular opinion and conventional wisdom. Gimlet was wise to acquire it, as the show's main methods of investigation—bipartisan interviews with experts and laypeople, backed by a fun soundtrack—fit snugly within the podcast network's slate of convincingly altruistic programming. This week, Zukerman walks listeners through the cardinal rules of increasingly trendy "attachment parenting," respectfully dismantling its tenets one by one. Manhattan mother of two Judy might believe that strollers, cribs, and bottles risk psychologically damaging her children, but other parents feeling the pressure to co-sleep and breastfeed indefinitely can rest assured there is no evidence such practices strengthen the already remarkably strong bond a baby shares with its mother. If anything, prominent researchers insist, a child's development is downright awe-inspiring no matter how we choose to parent them. In the words of field expert Alan Sroufe, "We were amazed at how robust infants were, how broad the boundaries are of what adequate care is." Whether or not Science Vs is a death knell for the Moby Wrap remains to be seen, but it's a fun, informative, and vindicating series.
[Marnie Shure]
---
The week of July 25, 2016, will be remembered primarily for two genuinely historic incidents: a major political party selecting a woman as its presidential nominee for the first time in 228 years, and Donald Trump publicly inviting Russian hackers to steal sensitive national security information. The first is obviously a momentous event with huge emotional resonance, regardless of one's political party. The second is terrifying as shit. It would be one thing if the appeal were—as the Republican candidate eventually got around to claiming—simply a joke. But it falls too easily in line with a long series of sycophantic comments that Trump has made over the years in praise of Russian President Vladimir Putin and his nationalist authoritarian regime. Not to mention recent allegations that his personal wealth is near-completely dependent upon Eastern European investors. On this episode of Trumpcast, host Jacob Weisberg talks to Pulitzer Prize-winning journalist Anne Applebaum about the likelihood that the DNC's email servers were hacked by Russia for the Republican candidate and what is to be made of the weird mutual admiration on display between Trump and Putin. Are we witnessing a Ukraine-like annexation of the United States? Sad!
[Dennis DiClaudio]
---
Climate change is just one of those things that you're never going to be able to edify your uncle about, like President Obama's country of birth and whether anybody wants to hear about the Battle Of Antietam during Thanksgiving dinner. It's one of those issues that, once a person forms the inchoate germ of an opinion about, becomes fixed forever in the folds of their brain matter. As it turns out, a person's inability to make others accept basic scientific facts and statistics concerning temperatures and carbon levels has very little to do with their communicative and persuasive skills. Norwegian psychologist Per Espen Stoknes—author of What We Think About When We Try Not To Think About Global Warming—has done the research and concluded that the more global warming deniers are presented with evidence contrary to their beliefs, the deeper they burrow into those beliefs. In his hour-long conversation with You Are Not So Smart's David McRaney, he identifies the "five Ds," psychological barriers to our ability to take meaningful action against climate change: Distance, Doom, Dissonance, Denial, and iDentity. Never mind the fact that that last one is a cheat. It's worth putting up with some disingenuous capitalization to hear his advice for overcoming these obstacles.
[Dennis DiClaudio]
---
We see what you said there
"I'm not a flip-flops guy, either—that's why I didn't vote for John McCain."—Sean Clements, Hollywood Handbook
"Genetics matter. It plays an important role in our personality, our intelligence, and our mental health. But it's really hard to build a movement and sell books with the message, 'Sorry, your kid's just born that way.'"—Wendy Zukerman, Science Vs