If there's one thing that Covert Affairs' writers regularly get wrong, it's connecting the weekly spy plot du jour to the show's characters beyond a tentative, "Well, let's see where this week's adventures will take us" impetus. There are four different mini-stories in "What's The Frequency, Kenneth?" and it's hard to tell how they any of them really affect Annie Walker, the show's heroine and audience surrogate. Every time Annie goes on a mission, we are introduced to a new and different aspect of being a secret agent. But what do these adventures really matter if Annie never seems phased by her work-related experiences?
I feel most of what was wrong with "A Girl Like You" is also applicable to "What's The Frequency, Kenneth," right down to the clichés that define Kenneth Martin, an MI6 agent that tries to recruit Annie, thinking that she's actually just a worker for the Smithsonian. Episode writer Donald Joh explains why Martin's success could potentially reap great benefits for him. But he never explains what Annie gets out of the bargain. Martin's ultimately just another exotic foreigner that's meant to teach Annie some lesson or another.
But in this case, it's hard to tell how Martin's supposed to mentor Annie in light of how inconsequential his story, as well as the three other subplots in tonight's episode, are. While I watched "What's The Frequency, Kenneth," I never got the sense that failing to help Martin in his mission would result in something really serious happening to Annie.
Right from the start, Martin insinuates himself into Annie's life by trying to make a connection with her, a connection that is poorly developed and rarely explicitly linked to Annie's present concerns, or lack thereof. Martin shows up at the Smithsonian, where Annie periodically has to check in to keep her cover. He tries to recruit Annie on the off chance that she, a hapless Smithsonian employee, would want to come onboard to help the MI6. Martin's technique for recruiting Annie? He tells her she's just like him and that the job would satisfy her innate curiosity. "I had your number the moment I saw you," Martin tells her with a subdued but cocky grin.
G/O Media may get a commission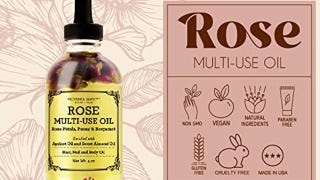 Provence Beauty Rose Multi-Use Oil
Martin goes on to say, "Admit it—you're just as much of a romantic as me." These lines are corny, but they seem to work, even though Joan tells Annie to go along with Martin no matter what. Still, on some level, the focus on Martin and his sales pitch suggests that we're supposed to take him and his insinuations seriously on some level. I mean, aren't we supposed to agree that he's right for saying to Annie that, "You're like me: You know when something doesn't feel right"? Annie even confirms to him later in the episode that yes, Martin was right for thinking that he knew exactly who Annie was: "You had me pegged from the moment you saw me." But what does that even mean?
Well, it's hard to say since Annie's only personal interactions occur in one of the episode's other three subplots, the one in which Danielle laments to Annie about how hard it is to raise children without her husband Michael's active help. Plus, Martin's story is mostly about Martin, which wouldn't be such a bad thing if his character weren't established by clichéd traits and bad dialogue. Martin is, as Annie puts it, "a working class James Bond." And even though he describes himself as "a romantic," Martin also describes himself as "a janitor. We do all the dirty work." He's not, in other words, a typical member of MI6, an organization that Augie glibly pegs as an "old boys club comprised of squeaky clean Cambridge grads." So when Martin boasts, "I wasn't like other lads before—and I'm still not," he's not wrong.
But where are "the other lads" that he and Augie allude to, and why aren't there any potential negative repercussions to Martin's mission with Annie? We know why Joan wants Annie to humor Martin: They want to know what MI6 is up to. And Martin wants to prove himself with this mission. ("Where I'm from, no one gives you anything.") But what happens if he fails? There don't seem to be any potential repercussions looming over him. This is especially irritating since the take-away moral to Jai's story arc, as voiced by Arthur, is simply that when "real lives" are at stake, the spy business is "not all about politics." But if it's not all about Martin's quest to get more respect and a better job, what is this mission really about?
It's certainly not really about Annie. She doesn't show signs of having either the kind of ambition that gets Jai and Hadley, his operative in Bolivia, in trouble or even the benign kind that defines Martin as a character. In fact, she's pretty much just along for the ride. Annie never really shows signs that Martin's problems affect her beyond an immediate, "Aww, I feel bad for this guy" kind of way. But didn't Annie just learn how to use a gun at the end of last week's episode? Shouldn't this be a significant enough development that it's brought up again tonight? Unfortunately, nothing so lofty is ventured in tonight's episode, so nothing is really risked in "What's the Frequency, Kenneth."
Tonight's episode is generally rather stiff. The two or three times Martin uses British slang terms like, "Wanker!" and "Bugger," were extremely un-smooth, and many lines of dialogue were nakedly declarative and generally misconceived. I nominate "Ambition has clouded your judgment," as the worst line in tonight's episode; if hearing Peter Gallagher talk down to that dude from Heroes as if he were Yoda doesn't make you cringe, nothing will.
If this weren't a regular problem for Covert Affairs, I wouldn't think "What's The Frequency, Kenneth" really mattered that much. But the show's writers aren't learning from their mistakes, and oftentimes, that's because the show's creators have great difficulty developing their characters. And for a show airing on USA, a network whose tagline is "Characters welcome," that's more than a little problematic.