As the recent death of Frank McCourt so poignantly reminded us, once upon a time, your life had to suck at least a little bit to be worthy of a memoir. After all, without hardscrabble roots to blossom from, where is the hero's journey—the arc of obstacle and redemption that makes the story compelling? If everything starts off great for you and just keeps getting better, without any inkling of growth along the way, that's not a life worth rehashing, in print or otherwise. That is an episode of Entourage, and there are already 12 too many of those every year.
Nevertheless, the recent trend in memoirs is away from presenting "a life examined," or rewarding brutal honesty in the hopes that lessons learned under extreme duress contribute to the general betterment of mankind. These days people prefer to read a series of anecdotes that would be deemed as too lightweight by a producer for Tyra Banks, cobbled together with an emphasis on "relatability" and lots! of! exclamation! points! Of course, this breed of celebrity memoir isn't exactly new; we've been listening to the prattle of self-indulgent big shots ever since St. Augustine confessed to his wild, lustful, pear-stealing youth, then got all high and mighty about how he cleaned up and found Jesus and then got ultra mega famous—a story that's really not so different from your average NBA star. But even if your life's saga wasn't particularly unique, it used to be that you had to at least go from rags to riches before anyone wanted to hear from you. How is it, then, that the "riches to riches" saga of Tori Spelling was such a huge, honking success? And what can we extrapolate from that to prove a cranky point about the devaluation of the human experience?
For starters, how about the fact that celebrities are no longer required to have lived particularly fascinating lives in order to secure a book deal? When Eric Clapton set out to write his 2007 autobiography, for example, he'd already lived through four decades of musical history, been inducted into the Rock 'N' Roll Hall Of Fame three times, and had suffered from a host of private peccadilloes and personal tragedies that could have sustained whole autobiographies by a dozen lesser artists. By contrast, Joel Madden—who announced this week that he's "lightly working" on his own memoir—fronts a band so derivative it's "inspired by Blink-182," and is currently stretching the definition of "reflected glory" so thin, it'll be a wonder if his book isn't titled Impregnating Nicole Richie by The Guy Who Impregnated Nicole Richie (Lionel Richie's Daughter… You Know… Paris Hilton's Friend).
According to Madden, who gave People an exclusive glimpse of his "literary aspirations" just before taking the field in a Celebrity Softball tournament (guess that chapter is already written!), the book will be "about, mostly, the big changes in my life: Kids, relationships, moving to L.A…the big life changes that I've gone through." Because really, who's more qualified to write a book about the richness of life than a 30-year-old guy who had some kids, some relationships, and once moved to L.A.? Just think of all there is to learn from him: We'll find out how Hollywood is full of lots of fake actress types—which is totally weird to a regular rock 'n' roll guy from Maryland! And how dating someone like Hillary Duff is harder than it looks—because the spotlight is always following the two of you, and she's always expected to be "on," and when you're both working it can be exhausting trying to reconcile your busy schedules! And then there's the whole "having kids" thing, which can totally turn your life upside down and make you realize what's really important! Also, every day is a gift and you never know what tomorrow will bring, and in conclusion, die choking on your madelienes, Marcel Proust.
Still, Madden's tome is likely to be A Portrait Of The Artist As A Young Man compared to the "humorous, relatable, fish-out-of-water tale" forthcoming from Kendra Wilkinson, America's favorite walking, braying Electra complex. The former Girls Next Door star is said to be working on a memoir that will (finally!) tell us everything you couldn't possibly have gleaned already from watching her two (!) reality shows, reading 50 years' worth of stories about Hugh Hefner and the Playboy Mansion, or even just by, you know, looking at a photo of Hef surrounded by three twentysomething blondes who cling desperately to him like a weathered buoy in the middle of a gray, desolate ocean, just barely keeping their heads above water and those roiling, endless waves of life's expectations and all the scary, scary choices contained within. But, you know, there's probably also going to be a few chapters about how Kendra always enjoyed being naked as a kid, and really loved being the center of attention even way back then—which explains so much about (what we already know too much about) the way she is right now!
But of course, today's memoir is not meant to be a remembrance of things past so much as an added dimension to the present, part of an overall "packaging" that's crucial to maintaining the celebrity brand. It's no different from, say, an actor making an album: No one really expects any level of artistry—just a Q rating worthy of moving enough units to justify the production costs, whether through fan curiosity or the ironic purchasing of snarky bloggers. (By the way, would anyone like a slightly used copy of Anywhere I Lay My Head?) And sometimes the boldest of insults to your audience's sense of integrity pay the greatest dividends, as with Lauren Conrad's best-selling L.A. Candy, a "novel" that is essentially a season of The Hills condensed into eight ounces of awkward, self-flattering prose, and which is currently in the early stages of being adapted into a movie—with Lauren Conrad possibly even pegged to play her own barely fictionalized of herself (which is, of course, based on the totally fictionalized version of herself that was engineered by MTV)—thus creating an endless hall of mirrors where the notion of "reality" is distorted beyond all recognition, and everybody is jerking off while staring into their own dead eyes.
G/O Media may get a commission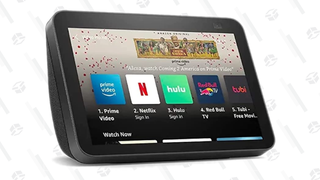 And because fate hasn't scoffed enough at your failed artistic ambitions lately, Conrad is also reportedly working on her second novel, which we really hope will be all about a beautiful girl in Los Angeles who writes a novel about herself that becomes a bestseller even though all those jerks in the media say nasty things about it, but the joke is on them, because it's later optioned for a movie deal, which makes all of her friends jealous, especially after she meets the handsome actor who plays the part of the handsome guy she—or rather, her character—meets in the first book. And then, defying the odds, this totally made-up character gets started on her second book, and this one is all about a beautiful girl in Los Angeles who comes up with the brilliant idea to simply print her name in 48-point font on a bundle of pink, perfume-scented construction paper and sell that to her idiot fans, because they are so gullible and stupid and dear God, how she secretly loathes them. And then, perhaps someday, Conrad will write her own memoir, and share all her precious memories about her experiences with creating a day-to-day televised diary of her life, then filtering that into both a barely fictionalized novel and subsequent film, and thus she'll finally fulfill her insatiable desire to create a rip in the very fabric of reality, driving mankind to the brink of madness—and making it impossible for us to read any more fucking memoirs.