The good news about Let's Explore Diabetes With Owls, the latest from David Sedaris, is that it's not a collection of modern comic fables about talking animals. (Readers of Sedaris' previous book, Squirrel Seeks Chipmunk, might be forgiven for taking the new book's title as something between a taunt and a warning label.) Instead, it's a mopping-up of all the New Yorker casuals and other magazine and newspaper essays that Sedaris has published in the last few years. The not-so-good news is that it's the sixth time Sedaris has done this since 1994's Barrel Fever.
Sedaris appeared in the early '90s, seemingly full-blown, with a stockpile of observations and stories based on a family background like no other, and a work history that was undreamt of even for the most highly sought-after Creative Nonfiction grad student. The fact that he was so funny about it all practically secured his fortune, but the cherry on top was the fact that he had a special instinct for written prose that played so well when spoken aloud on the radio. It's now been more than 20 years since "SantaLand Diaries," Sedaris' account of working as a Macy's Christmas elf, made him an NPR superstar and guaranteed a berth on the New York Times bestseller list for anything he plants between covers.
Sedaris is still funny, but there's a considerable difference between his early essays—which revealed the lengths to which an American who has sacrificed his credit rating to dedicate his life to art has to go just to make his rent—and this book's many descriptions of the indignities and misunderstandings that Sedaris and his boyfriend, Hugh, have to endure in their former adopted home of Paris and their new adopted home of London. It's nice that he's made good, but Sedaris still insists on weighing in on the foibles of American life, something that he may no longer be especially qualified for. The most incisive observation about the changing state of the U.S. economy comes when he recalls that his domestic book tours used to find him visiting independent and chain bookstores, but that the most recent one "started and finished at a Costco." (Sedaris hits a Costco at the start of his tour and loads up on condoms, so that he can dispense them as thank-you presents to fans who take the trouble to come to his readings. This adventure in contrived wackiness says a lot about how much harder he has to work these days to find his material.)
One of the silliest literary debates of the last several years turned on whether Sedaris, whose essays tend to be labeled "nonfiction," deserves to be respected as a true creative nonfictioneer or if he's—shudder—a fabulist, like Stephen Glass. When someone like Mike Daisey cobbles together some factoids and guesses about how Apple's workers in China are treated and presents it as a piece of reportage based on first-person observation, that's one thing, but Sedaris' madcap family chronicles are deemed "nonfiction" mainly because, many years ago, someone who had to make a judgment call applied that term to James Thurber or someone like him, and it stuck. Sedaris may be a little ticked off about all this, because he deliberately muddies the waters in this book by including, tucked in at random intervals between his own first-person essays, little "monologues" in which he takes on the voices of different characters.
G/O Media may get a commission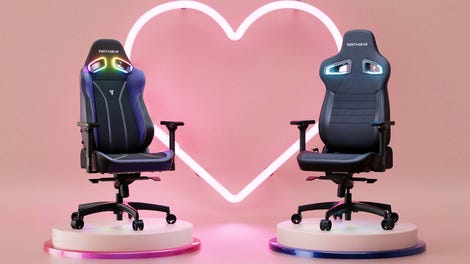 Up to $150 off
Vertagear Gaming Chairs
They aren't identified as such, and the first one could easily be taken for another of Sedaris' own confessionals, until the speaker reveals that he's a married heterosexual. Sure, he claims to have told his mother that he's sorry that his father isn't alive anymore, only to be reminded that it was his father who picked up the phone and handed it to mom, but that's no odder than most of the actual Sedaris family incidents and habits that are supposed to have inured him to weirdness. The monologues themselves satirize unhip Tea Party types—whose weirdness Sedaris is very much not comfortable with—like the woman who, for her first rally, prepares a sign reading, "Indonesian Muslim Welfare Thug Hands Off My Healthcare You Kenyan Socialist Baby Grandma Killer." Many a faithful NPR listener will appreciate the effort, but this stuff is delivered with a sledgehammer, and has dated fast.
Sedaris can still be virtuosic when his present and past rub up against each other and strike just the right sparks, as in "Loggerheads," one of the longest and best stories here, in which a trip to Hawaii calls up a bittersweet memory of a doomed childhood attempt to raise a bunch of baby turtles freshly hatched on the beach. Aside from those monologues, most of Let's Explore Diabetes isn't bad. It's about on the level of an early-'80s Ramones album—the work of an inspired beginner who's now a professional, with enough craft to almost make up for the fact that he has to keep turning out new product, even if he's no longer particularly inspired. It should probably be read by any Sedaris fan, at the right time—i.e., after they've already read all his earlier ones.