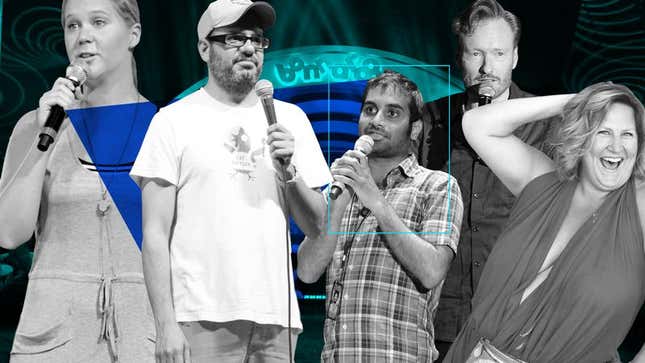 When Bonnaroo bopped onto the festival scene in 2002, it was just another big jam-friendly fest, with performers like Ween, Trey Anastasio, and The String Cheese Incident and two back-to-back nights of sets from Widespread Panic. Over time, the Tennessee-based festival has become more than just a gathering for drugged-out camping and good vibes. It's become a celebration of all things cultural, including comedy.
When Bonnaroo's comedy tent was introduced in 2004, it was little more than 500 folding chairs and a small platform stage. Since then, it's grown into 1,200 chairs in an air-conditioned circus tent and hosted everyone from Aziz Ansari to Eddie Vedder. To get a look at how Bonnaroo's comedy scene came to be, The A.V. Club talked to a number of the key players for an oral history that details not only the fest's stand-up origins, but also its most self-referential highlights.
---
Although Bonnaroo was already a thriving festival by 2004, organizers still felt that it could grow and change. They weren't sure what to add, though, until a trip to Europe.
Rick Farman, festival organizer: We were looking for new, creative programming ideas, and during the early days of Bonnaroo, my partners and I were spending a lot of time going to other festivals around the world trying to see what ideas we could cop.
I ended up going to a festival called Lowlands in Holland, which is really an amazing event. They had a performing arts tent where they had all sorts of different stuff, including dance and Shakespeare. They also had comedy. I didn't understand the comedy, because it was all in Dutch, but I remember walking into the tent and seeing people laughing and seeing the comedian up onstage and just thinking, "Oh, people at Bonnaroo would really dig this."
G/O Media may get a commission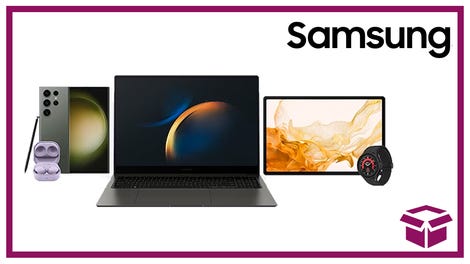 24 hour deals
Discover Samsung - Daily Deal
Rocky Benloulou-Dubin, comedy booker: I got a call from [Rick Farman] about six to eight weeks out of the 2004 festival, and he was given my name, he was referred to someone else who was already busy working on a TV show, and they gave him my name, and then we got on the phone, chatted. It was a very easy conversation. He wanted to bring in some diverse type of programming. Of course they were covered in the music space, and they felt that comedy was an important performing art… It happened really quickly. The first-year was probably the most challenging out of all of them. It was a last-minute addition to the overall scope. But that first-year lineup, really looking at it now, it's like, "Wow." Jim Norton, Rich Vos, Louis CK, Upright Citizens Brigade with Paul Scheer and Rob Huebel, Ted Alexander, Todd Barry, Tony Woods.
Fabrice Fabrice (Nick Kroll) with Fans at Bonnaroo 2007 from Adam Dubin on Vimeo.
Each year, Benloulou-Dubin tried to create a unique lineup, drawing heavily on both her New York club roots and acts she'd seen at festivals throughout the year.
Rocky Benloulou-Dubin, comedy booker: What I wanted to do was to create things that you didn't necessarily see if you were out going to a comedy club. You wouldn't see certain pairings. You wouldn't be able to see these handful of people at the same time. They would be unique in that way as much as they could. Of course, over the years, there were some packaged shows that fit really well into programming.
A lot of it was me really creating shows that I wanted to see, with different styles, different voices, and having the showcase, as opposed to having one headliner. We got into headliners a little later. It started off being shows where you had a host and four to five comics doing 15 or so minutes. So there was a lot of variety.
There are, of course, challenges for the acts that play the festival's comedy tent. Namely, that it's a tent in the middle of a music festival.
Rocky Benloulou-Dubin: What became instantly clear was that it wasn't a space for people who were just starting out in comedy. It is not a traditional stand-up performing space, and it doesn't have the usual conditions of a nice, quiet room. It didn't have solid walls… The sound did not sound pristine, and it never will be, just because of what it is.
Over the years, all the production people that are still there to this day, they'd come in, and they'd hear it, they'd see it, and figure it out.
Lewis Black Meets Jesus At Bonnaroo 2011 from Adam Dubin on Vimeo.
One year there was a challenge where the music from the closest stage was coming through the sound system. Lewis Black was performing, and it was coming through his mic. So while the audience didn't hear it as much, for Lewis it was literally in his ears, and he was hearing all the other stuff. That is where people get thrown off, when they can't hear themselves.
They addressed it, but then they changed the direction of the speakers that were on one of the main stages that we were closer to, altering the distribution of audio, and then they added more of the baffling over the stage to try and catch the sound. We wound up moving.
Although some comedians were able to roll with the challenges, some needed a little more coaxing.
Rocky Benloulou-Dubin, comedy booker: I would prepare the artist and say, "Listen, don't try anything new. Don't work material out here. Do your 'A' game. I want you to know that the audience hears you. You may not hear them the way you're used to, because there's all this other sound pollution, though." We don't mic the audience, so [the comedians] don't necessarily hear as much, but we reassure them that the audience does hear them and not to worry, that the audience can hear them even with the background music and so on. The artist is behind the speakers, so they're not really hearing the force and the impact of the audience. They're hearing the stuff that's behind them, which is distracting.
Hannibal Burress at Bonnaroo 2011 from Adam Dubin on Vimeo.
David Cross: It's kind of similar to colleges sometimes, in the sense that you don't have the most discerning audience. I do the same thing with bands. You kind of make your schedule, like, "Oh, I want to see them, but these guys are playing, and maybe I'll see these guys for half an hour, and then I'll scoot and go see these guys. I love that one song, but I wasn't that into the rest of the album, but maybe I'll go and check them out." So you get people that are kind of walking by, and they've paid their entrance fee for the whole day, so they're checking you out, and then they leave. Not that that's a bad thing, but it's not ideal.
Rocky Benloulou-Dubin, comedy booker: The environment is not for everyone. It was only four years ago that I got actual comfort stations. We were port-o-lets before that, for the whole time. The least amount of roughing it would be around the comedy tent or in the artist compound. But still, there are no structures. There's no running water throughout the whole thing. So it became clear that I would not look to some artists, because they're not going to vibe. This is not what they do, and they're not going to have a good time.
The ones that did get it, though, came back again and again.
Rocky Benloulou-Dubin: The current record-holder is Aziz Ansari, who has had the most comedy appearances. He's been there five times in the 14 years… Lewis Black is right behind him with four. Reggie Watts has been there also four times…
Zach Galifianakis comes to mind as another favorite human of mine who's just a generous, nice person, and really authentic. You feel it. He has his farm in the Carolinas, and it's not far. Every year or every other year, I'll throw out a text and say, "If you're around, you're welcome to come. Your buddies are around." I'd let him know what the lineup was. I remember one year Janeane Garofalo was there, Brian Posehn was there, Louis CK was there, and Zach said, "This is like camp. All my friends are here. I don't get to see my friends." If they're all working, they're all working separately. It's this wonderful time.
I got a text from him that he was working in Atlanta, and he asked if it would be all right if he came down. My Morning Jacket was playing, and he's friends with them… so he grabbed Jon Hamm and came to the fest.
Zach Galifianakis: One year, Jon Hamm and I were working near there and decided to drive up. I did stand-up. I asked Jon to throw gummy bears in my mouth as part of my show because that's how we killed time on set. We would throw things at each other's mouth. Why would anyone want to see this? I am not sure they did, but we did it regardless, and it was dumb and fun. It's not that experimental when I think about it but more in the moment. Later we introduced Belle & Sebastian and continued with the gummy mouth trick there, too. You won't get that kind of high-end entertainment at some of these other festivals.
Rocky Benloulou-Dubin, comedy booker: My Morning Jacket was also playing another year that Zach was there, and he participated in their overnight set, which was in the pouring rain. He put on his Annie dress and skipped around in the pouring rain.
Zach Galifianakis: I was dressed as Little Orphan Annie to make some political points during my set. I think I left the outfit on when I went to perform with My Morning Jacket. I am not sure, but that year was very magical. I had seen My Morning Jacket years earlier performing in a strip mall with basically no one in the audience. To witness their ascent onstage that night was somewhat breathtaking.
Other artists have worked with the fest to create unique collaborations and experiences.
Rick Farman, festival organizer: We had Chris Rock essentially open for Metallica, and the Metallica guys came out and introduced Chris Rock, and then Chris Rock came out and introduced Metallica before their set, and that was really special. Conan [O'Brien] did a really special thing there with Jack White. He did a performance with him onstage…
We had David Cross, Aziz, and [Nick] Kroll all on a bill together, and this was way before Aziz and Kroll were the stars that they are today. They were opening for Cross. They did this bit called "You Know You're A Deadneck When," which was a riff on the Jeff Foxworthy "You Know You're A Redneck When" stuff. They explained that Deadneck was a cross between a Deadhead and a redneck. It's still to this day one of my favorite comedy bits.
David Cross: We just did all these jokes. We sat on stools and just traded off one-liners for like 20 minutes. "You might be a Deadneck if…" or whatever it is. I don't remember any of the jokes, but they were pretty funny. It was fun to do.
The A.V. Club: Had you worked on those before you came in?
David Cross: Oh god, no. Somebody came up with the idea and we just ended up—I don't know if it was 20 minutes before, an hour before, a day before—but we just came up with an idea shortly before, and we all just wrote down a shitload of dumb jokes and just sat and traded off. I hadn't heard the other guys'—I don't think they heard mine either. It was fun. A little something special just for Bonnaroo.
Other acts thrive on more than comedy.
Rocky Benloulou-Dubin, comedy booker: Bob Saget was playing, and then he goes into his song, he does this song on Full House, and then he starts singing about Uncle Jesse, and of course, John Stamos walks out onstage and the place loses their minds. They just riffed, they do bits, and then he went off. So for Bob and John Stamos, they were popping around the festival, and people were going crazy whenever they were seeing them together. I'm like, "Oh, my god, are you kidding me?" But that's their generation of kids: people who literally grew up on the show.
Steven Wright also got a warm welcome to the Bonnaroo stage.
Rocky Benloulou-Dubin: A personal highlight was when I booked Steven Wright to headline. I've been a fan of his since I knew how to laugh and understand things, pretty much. I just thought that what I'd like to do is have all the young and emerging comics, but also the known. I feel it's important to include the elder statesmen, the icons, as much as possible. The ones that you may have missed, but they are unreal.
I remember [Wright] was nervous about it. "Do they even know who I am? They're kids." I was like, "Oh, don't worry, they know just who you are." The sound issue, I was concerned a lot for him, just because of his style and his deliveries. For months, I was talking with the production. I was like, "Hey, listen, he's not jumping around screaming all over the place, right? So let's really juice it up," which they did as best as they could. I told him, "They hear you, don't worry." Then we announce him, he steps onstage, and for the first time ever in his career, he got a standing ovation stepping out onstage.
A comedian comes onstage, you clap, whatever. At the end, they get the ovation. He was introduced, walked out onstage, and the whole place was on their feet. They knew who they were seeing. They knew what it meant for him to be there. He really was blown away. I was really emotional about it. He felt like, "They don't know me, I'm this old dog," and I had said, "No, no, no, no, Steven." But I didn't expect that. I knew they would love him. But it was such a great affirmation.
Rick Farman, festival organizer: It showed a little bit that comedy audiences had become a little more sophisticated. His comedy is obviously a little mellower, and to see that audience react in the way they did to that was really special.
In 2010, while on his Legally Prohibited From Being Funny On Television Tour, Conan O'Brien stopped by Bonnaroo. A year earlier, one of his pals made an appearance.
Rick Farman: We had (Robert) Smigel one year with Triumph, The Insult Comic Dog, and that's one of my favorite video bits that exists. When Conan did his top 50 moments of his career a few years ago, it made the cut. It has one of my favorite lines about kids realizing that the moment they became Republicans was at the Kidz Jam area. I thought that was one of the best lines ever.
Other acts were a little more risqué.
Rocky Benloulou-Dubin, comedy booker: Bridget Everett, the minute I saw her… I mean, forget it. I'm a disciple, for sure. I've taken many people to see her at Joe's Pub.
The first year she came, it was with The Tender Moments, which is a band. It was epic. She was getting into the crowd and pulling people up. And then she came back a couple years ago solo.
She has a bit where she goes and pulls someone onstage, and she's either going to fly them in an airplane or sit on them. She was in the crowd and talking to this girl and said, "Who's this guy?" The girl says it's her dad. And so Bridget was like, "I'm so pulling you up onstage." So she starts to pull him, and he starts running away from her. He's literally running away. And she's chasing him through the tent to get him onstage. He would not have it. There was no way he was going up there. So she went back and got the daughter, brought her onstage, and sat on her face. It was just outrageous.
Bridget Everett: It was Father's Day, and there was a woman in her 20s there with her dad. I thought that was so weird and wonderful, and I couldn't leave them alone. I tried to bring the dad up onstage so I could sing to him, but he ran away from me, so I went back for his daughter. It was incredible. I was dripping with milk and sitting on his daughter's face singing something like "Happy Father's Day" over and over. She loved it, and I hope he did, too. That's not only a great Bonnaroo memory, but also a career highlight.
Sometimes the romance is a little subtler.
Rocky Benloulou-Dubin, comedy booker: Judah Friedlander performed one year—I think it was 2014—and he reached out to me. He goes, "Some kids hit me up on Twitter. They want to get married at Bonnaroo, and they want me to officiate." I was like, "Amazing! That's so great." So he went to get ordained so that he could perform this, and they got married, and then they came to the comedy tent.
I remember reaching out to the sponsorship department. I was like, "Hey, listen, you've got Garnier Fructis on-site. Can we wash her hair for her wedding?" "Here's some shower tokens. Take a shower on your wedding night." The groom wore a tie-dyed tie, of course. It's funny, because I remember looking at the wedding photo, and it's Reggie Watts, Amy Schumer, Judah Friedlander, Rory Scovel, Nick Thune, Glenn Wool… It's like, "Look at you guys! You're doing something right."
This year's Bonnaroo comedy lineup features sets from Hannibal Buress, Natasha Leggero and Moshe Kasher, 2 Dope Queens, Kyle Kinane, Hari Kondabolu, and more. Some are veterans to the tent, and some are returning.
Rick Farman, festival organizer: At this point, we've booked almost every major artist in the comedy space. There's certainly still some that we haven't, but if you look at the roster over the last 10, 12 years, it's pretty phenomenal.
David Cross: It's kind of like a paid vacation. You get to see all these bands that you want to see. Plus, invariably, you know, like, half of the comics that are playing the festival. The other half that you don't know, you'll become friends with, and they're awesome, and you get to see new talent.
Bridget Everett: At first I was like, "What the fuck are all these people doing smiling and high-fiving," but then I got into it. There's nothing wrong with a bunch of people out to have the time of their lives.