There is no shortage of things to get steamed up about these days, resulting in an odd combination of white-hot anger mixed with a universe-lurching nausea. Turning our attention from world events for the moment, the latest such stomach-churner appears in the New York Post, boasting "Why I Won't Date Hot Women Anymore" in an article that appeared earlier this week. Lucky thirtysomething finance guy "Dan Rochkind had no problem snagging the city's most beautiful women," particularly models, but in a tragic turn of events, he found them to be "flighty, selfish, and vapid."
Rochkind dropped his considerable standards to get engaged to 5-feet, 2-inch 30-year-old Carly: The caption underneath their photo in the story—not even making this up—reads: "Dan Rochkind used to date swimsuit models, but he's happier now that he's engaged to a merely beautiful woman." The rest of the article surmises that less-attractive people are more interesting (presumably because they have so much free time because no one wants to date them), so they learn languages and play musical instruments. However, the article then runs this inexplicable picture of a ripped, shirtless violinist. It also cites a research study that looked at IMDB and found that movie stars often have unhappy marriages. The only thing more surprising than that is that the Post had to research this.
At least this misogynist horror show made for some fun responses online, especially Jezebel's sarcastic rebuttal: "As A Hot Woman, I'm Heartbroken." Twitter, of course, also had a field day with this asshole:
@jessieopie "Why are we posing for this picture honey?"
"Tell you later babe" https://t.co/Yo1EFOgphD pic.twitter.com/dqr8ByMOLY

— Don Moynihan (@donmoyn) April 13, 2017
G/O Media may get a commission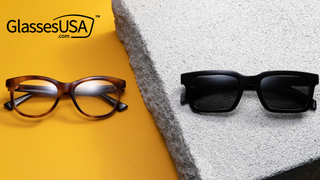 60% off frames
GlassesUSA.com Back to School Sales
It's such a fucked-up article that we can only think that the Post is trolling us. Since the obvious intent is to make us click on that headline, well, mission accomplished. But we can only pray that Carly has dumped Rochkind's ass already, as the correct reason for him not be dating anymore is the fact that he is an engaged person. For now.
Note: Jezebel, like The A.V. Club, is owned by Univision Communications.