Here's what's up in the world of TV for Wednesday, May 18. All times are Eastern.
Top picks
Heartbeat (NBC, 8 p.m.): "I will remember you / Will you remember me?"
Empire (Fox, 9 p.m.): Empire ends its second season—yes, it's still only in its second season—with absolute nonsense. "After a life-changing experience, Jamal refuses to make music until his family ends its seemingly endless cycle of violence and fighting." Guess that solves that cliffhanger. "Meanwhile, the Feds are tailing Anika because they want to force her to testify against Lucious." That seems like the wrong way to go about anything, but you do you, Feds. Joshua Alston is still trying to wrap his head around Jamal's absolute nonsense. Anyway, here's "Drip Drop":

The Last Panthers (Sundance, 10 p.m.): The Last Panthers' first season ends with "The Last Panther," singular. "Naomi desperately tries to protect Milan, who is hell-bent on revenge, but she soon experiences a betrayal of her own. Mokhtar tries to convince his brother that they have incited a gang war, and when his loose-cannon sibling goes rogue, Khalil is forced to admit that despite his own best intentions, they are in deep, deep trouble." (Not to be confused with trouble, trouble, trouble, trouble, trouble, trouble, trouble, though.) Brandon Nowalk gave the penultimate episode of the season a shiny "A" grade, so "The Last Panther" has to deliver.

Premieres and finales
The Middle/The Goldbergs (ABC, 8/8:30 p.m.): The Middle ends its seventh season with the episode "The Show Must Go On": "After almost forgetting that Brick's middle school graduation is only days away, Frankie goes on a mission to right a wrong when Brick discovers that the song he was supposed to sing at the ceremony has been cut." Let Brick sing his song, you middle school monsters! There's no way that could possibly go wrong! Then, in The Goldbergs season-three finale, "Have A Summer": "Adam and his friends are stressing out about Hell Week, where the incoming freshmen are hazed by the seniors. Adam gains the respect of the old kids at school when he body slams Barry. Meanwhile, Erica and her friends discuss what they are going to put in their school's time capsule." Yes, we've got ourselves a time-capsule plot. We love the '80s, don't we, Will Harris?
Survivor (CBS, 8 p.m.): The two-hour, 32nd (32nd!) season finale of Survivor is titled "Not Going Down Without A Fight," so we're guessing this all ends in a bloodbath? Finally, Survivor gets interesting, 32 seasons in. There's a reunion special at 10 p.m., but considering the aforementioned bloodbath, we're pretty sure that will just be an hour of Jeff Probst introducing clips with, "Remember how lively so-and-so was before the bloodbath? Let's go back and take a look." That pretty much guarantees another Emmy, right, Carrie Raisler?
Modern Family (ABC, 9 p.m.): "Claire can't seem to find the right time to fire one of her employees, while, back at home, Phil thinks he caught Luke with a girl in his bed, and no one seems to notice that Alex has moved back home for the summer." This is only one-third of the episode and we're already exhausted. Have fun, Kyle Fowle!
G/O Media may get a commission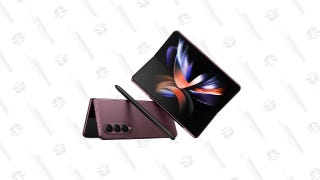 Save Up to $300
Galaxy Z Fold4
Genius By Stephen Hawking (PBS, 9 p.m.): "Can We Time Travel?" We don't know, can we, Stephen Hawking? Those are just the kind of questions you can expect to ask while watching Genius By Stephen Hawking. Basically, "Hawking serves as the host and narrator, inviting viewers to follow along with the journey that unfolds in each episode, as ordinary people use large-scale experiments and incredible stunts to come to grips with molecular biology, astrophysics and even quantum mechanics." This week's premiere is time travel. Get it? You get it.
Black-ish (ABC, 9:30 p.m.): If Black-ish wants to end all of its seasons with a fabulous gimmick, LaToya Ferguson has absolutely no problem with that. This time around, Black-ish has some "Good-ish Times" for all of us: "Dre is left exhausted after wrestling with a lot of stress at work and while at home, he drifts to sleep watching a TV marathon of Good Times—cue the dream sequence. The Johnson family goes back in time to the 1970s transforming into the classic TV show's characters."
Royal Pains (USA, 10 p.m.): With the title "Stranger Danger," we can only assume that Royal Pains' eighth and final season premiere is a public service announcement about how if you see anyone from the Royal Pains cast in your vicinity, you run. Far, far away.

Regular coverage
The Path (Hulu, midnight)
Grace And Frankie (Netflix)
Arrow (The CW, 8 p.m.)
The Americans (FX, 10 p.m.)
Streaming pick
Law & Order: Special Victims Unit, "Wildlife" (Hulu, Amazon Video): Your friendly neighborhood What's On Tonight contributor has realized that even when she doesn't mention Law & Order: SVU, she needs to be mentioning Law & Order: SVU. So that's how this episode of television become a streaming pick. This is the episode with Outkast's Big Boi and a tiger. That barely scratches the surface.